We recently watched Paulina Cerrilla star as one of three main characters in the epic rom-com film Tell Me I Love You. Upon the release of the film, we were honoured to be able to interview her about the role she played and her music career to-date.
The film is completely enjoyable to watch from start to finish, and we highly recommend you check out our film review of Tell Me I Love You. It is about three friends who all live together and have big plans for their music careers but they need to find the money to record a demo, but when an opportunity to do so leads to two fake marriages and difficulties in keeping up the lies, their own lives completely unravel.
Paulina Cerrilla plays Ally in the film and it's great to watch how her character unfolds throughout, she's definitely the one most people will relate to. We chatted to this rising actress about the film, her career to date, and her music plans.
Hi Paulina, we hope you are safe and well. How is your day going? And how are you coping with the pandemic?
Hey! I'm doing great! I'm coping well, I'm taking this extra time to really focus on making my music, spending time with family, and better myself!
You star as one of the three main characters in the new film Tell Me I Love You. Can you tell us more about the film?
Ahh! Yes! Tell Me I Love You is a film that is really close to home for me! I can't tell you how stoked I am. Tell Me I Love You touches on multicultural and LGBTQ relationships, the not-so-glamorous side of music, and finding your tribe.
You play the character Ally, how did you get the role?
I remember going into the audition thinking I would never get the role. I am 100% Mexican, but I have pale skin and red hair. Shortly before this, I would get into disagreements with my manager, who pushed me to dye my hair black and spray tan my skin so that I could fit more stereotypically into what a Mexican woman looks like… I know.
Shortly before this audition, I washed off the tan and dyed my hair back to red, and went as 100% myself. I sang a cover of a song I had re-written to be in both English and Spanish, and I left feeling really good but knowing I probably wasn't what they were looking for. Needless to say, I was really shocked when I got the call!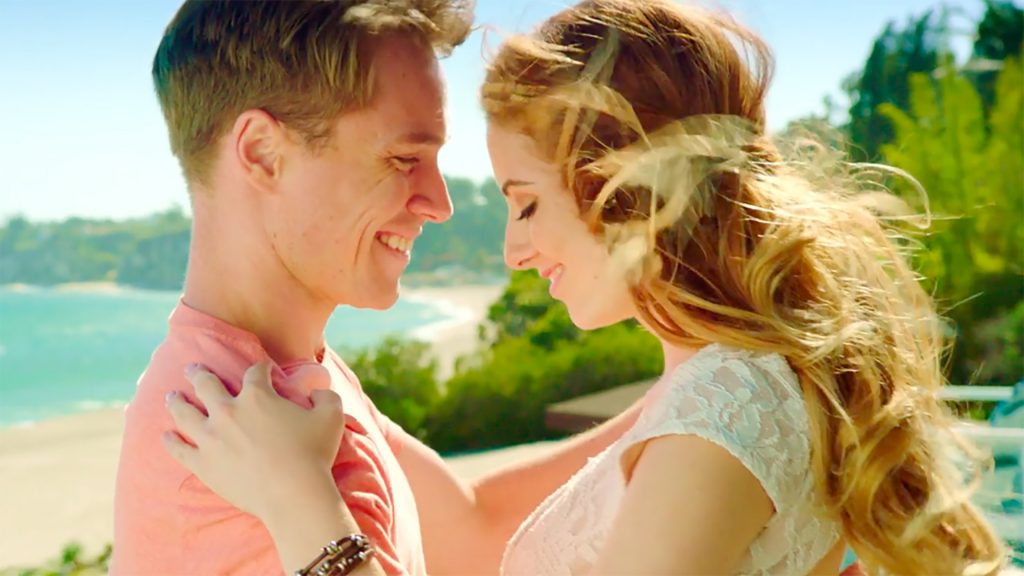 Can you tell us more about your character Ally, and how would you describe her?
Ally is a big lover. She cares fiercely about her friendships and her family, and would do just about anything to make them happy — but she finds her own happiness along the way.
What character traits, would you say, that you share with Ally?
I always joke that I wasn't acting in this film. I see so much of myself in Ally, which is why this project is so near and dear to my heart. Ally's half Mexican, half Texan – I'm full Mexican, but I was born in Texas! (Weird little coincidences like this are littered all over the movie.) We also share that we're both passionate about music and writing.
What was your favourite scene from the film, and why?
It's difficult to say which scene was my favorite because I haven't seen the film yet! I do remember really enjoying filming a scene where Ally is in the recording studio auditioning for a jingle singing gig. All the script said was the words from the jingle that had to be said, so I had to come up with my own little melody! It was also really fun to capture the not so glamorous side of singing jobs!
You starred alongside Sam Clark and Kaniehtiio Horn, who play Ben and Melanie respectively. What were they like to work with?
Sam and Tiio were a blast. I remember in the callbacks, they actually put the three of us together to test our chemistry, and it definitely felt the most natural. When I got to the set in this gorgeous house in Malibu, I was like, "Oh, yeah, that makes perfect sense."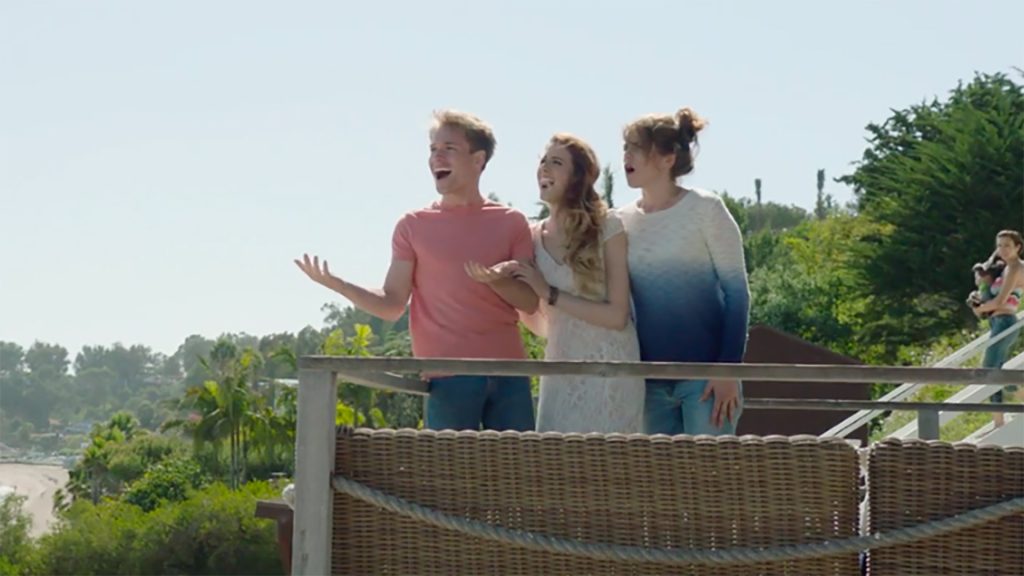 Tell Me I Love You is set in the beautiful location of Malibu, what was it like to film there?
OH MY GOODNESS. It was like walking onto paradise every day, are you kidding me? I could always find a moment of peace looking out over the ocean in between scenes. The only other times we weren't in Malibu was when we were in the iconic Conway and Henson recording studios. I was like a kid in a candy store in both scenarios!
It has been created and directed by Fiona MacKenzie. What was she like as a director?
Fiona was awesome. She was always very hands-on, and truly a joy to work with. She'd always make sure I was comfortable and really felt like a friend through the journey.
We loved the songs you sang in the film, your voice is so good! How does music shape the film?
Thank you! I can't wait to see how it turned out! Music is the heart, soul, base of this film, and that's what attracted me so much to this project.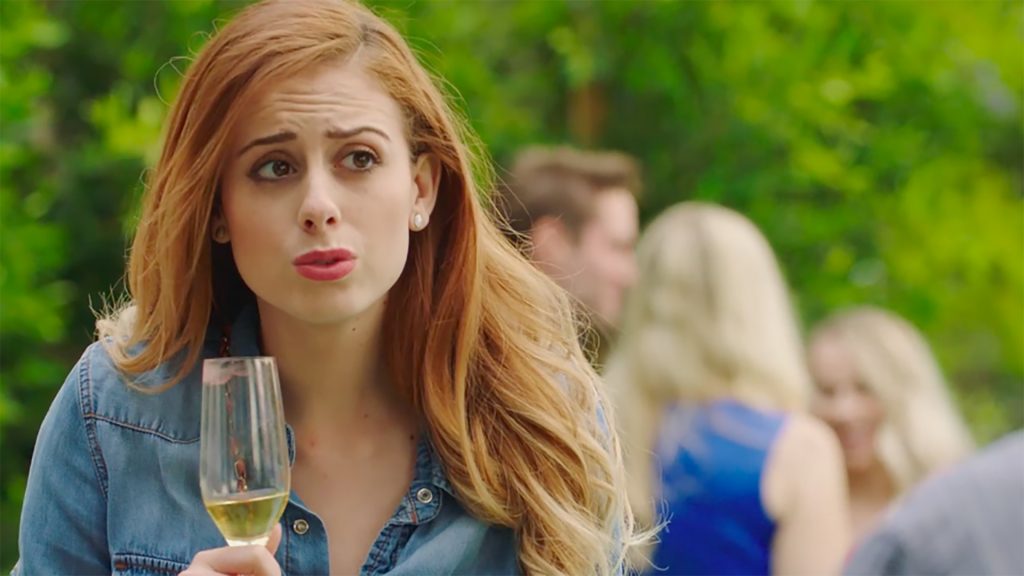 Now let's talk about your career to-date, you started off as a contestant on The Voice at just 16, what was it like being on the show?
You did your homework! Yes, I was on The Voice. It was lovely! It pushed me to learn a lot about myself and what I was truly capable of doing, working under pressure, and the practice of discipline. A lot to learn at 16.
Christina Aguilera was your coach, what was it like to meet her?
A dream! It was so incredible meeting Christina and being coached by her. When I didn't have my jaw on the floor from hearing her sing two feet away from me, we were chatting up about our Latin roots and what it means to be an artist.
You've continued to write and record music, can you tell us more about your music career, to-date?
Sure! I've been doing a lot of songwriting, especially internationally, and I've been fortunate enough to have an album I've worked on, be Grammy Nominated, and I've had a blast working on music for Disney as well! I have too many songs on my hard drive, so I'm thinking pretty soon I'll make an EP or album because I have too many songs I feel passionate about that I can't wait for people to hear!
What is the favourite song you have written, and why?
That's like asking a mother to pick a favorite child! A lot of my favorite songs are unreleased as of now, but among the ones that are out, I really love lyrically what we did with Reik's song, "Spanglish". Not only is the song half in English, half in Spanish, but it's also a metaphor for each person in the relationship bringing something different to the table and creating something new, just like the mash-up of two languages!
You started your acting career in 2013, what has been some of your favourite projects that you've been involved with, and why?
I've always been a singer that accidentally ended up doing movies every now and again, so it's really cool when I get to blend the two together. I particularly hold this project and my first film, String Theory, close to home, because both Tell Me I Love You and String Theory are about music, first and foremost, and I do live singing on set.
What's next for Paulina Cerrilla?
More of the same! I'm extremely happy with what I do, and I can only hope that I keep this going for the rest of my life!
What do you hope to achieve in the next couple of years?
Nothing big, just win a Grammy.
Back to the Tell Me I Love You film. How would you describe the film? And how would you encourage our readers to watch it?
I'd describe Tell Me I Love You as a feel-good romantic comedy that's about the love of music, culture, and family. Not just the family you're born into, but the family you find along the way.
WATCH. IT.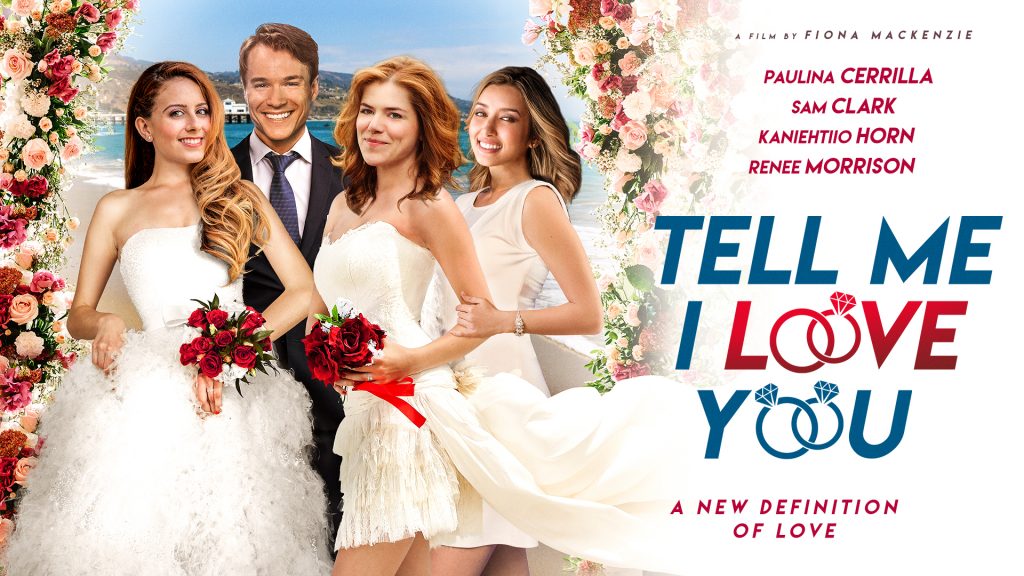 Are there any moments during your time on the set of this film, that you'll never forget?
There was one scene that I did with Ashley that was entirely improvised. We were sitting by the pool and just talking absolute nonsense about memories these two best friends had lived together. I remember having so much fun just playing pretend with this beautiful human.
And, finally, do you have a message for your fans?
Um, hey guys! Que onda? I love you always, always, always. Thank you for being there. I hope you guys love this movie as much as I loved making it. Un besote!
Thank you, Paulina Cerrilla, for taking the time out to answer our questions. We loved watching you star as Ally in this film and we're excited to see where your career takes you next.
Make sure you check out our film review of Tell Me I Love You which is available to watch on DVD and VOD right now.
Let us know your thoughts on our exclusive interview with Paulina Cerrilla on Twitter @CelebMix.