Plested is a name CelebMix readers might not have heard of but it's likely you've already heard one of the tracks he's worked on; whether this is The Vamps' Just My Type, Little Mix's Touch or one of the many other in his back catalogue. Last year he stepped out into the spotlight with debut release First & Foremost, now he has released his heartfelt new single Either You Love Me Or You Don't alongside announcing all the details of his debut UK tour. We chatted to Plested about his musical journey so far and all the exciting things coming up for him in the future.
Hey Plested, how are you today?
I'm great thank you, the sun's out and I'm just grabbing some breakfast (favourite meal of the day). Then I'm on my way into the studio to write with the one and only James Bay!!!!
Can you sum yourself up in five words?
Singer. Songwriter. Freckles. Films. Food.
You recently released your new single Either You Love Me Or You Don't can you tell readers more about the track and recording process?
I wrote EYLMOYD with my best buds, we're super open and honest with each other, so we spent the session talking about a massive friend zone I'd just plummeted in to. We thought it would be great for everyone in the friend zone to have an anthem they could relate to. A song that just asks the simple question of "what do you want, where do I stand?".
Last year you released First & Foremost which felt like the perfect introduction to your sound. For you how was the whole experience of the project?
Making F&F was incredible, it was the first time I could make a body of work that was so honest and true to me and my story. All the songs are about trying to find love, trying to make it in music and trying to balance the two situations. The songs are raw and rough around the edges, which came from a lot of late nights and long days with my friends. My favourite thing about is, is that everyone I ask seems to have a different favourite song from the project! Which is exactly what I was aiming for.
People may not know but you've been behind the likes of tracks such as Touch by Little Mix, Bloodstream by The Chainsmokers and Just My Type by The Vamps to name a few. But how did you get into songwriting as a career?
Earlier in my career, I'd written a song for the band I was in at the time, James Arthur heard it (Certain Things) and it ended up on his first album. I just remember feeling so excited that the music I write didn't have to just follow my voice and genre and could find its way to wider audiences. And so ever since I've been writing all sorts of songs.
Do you prefer writing songs for others or taking the centre stage? When did you decide to take the step from song-writing into the performing spotlight?
I honestly feel 50/50, I need a bit of both to keep my writing brain on the move. It would also be such a shame to waste the opportunity of collaboration in this industry. So many of my friendships with artists have just come from getting emotional and writing songs with them!
What's your favourite lyric you've written whether in a song you've released yourself or been released by another artist?
I have a song called Ribcage that says – "That's why they call it a ribcage, to lock all of my feelings up, to make sure my heart never escapes, I'll never be the same if it does". That one seems to resonate with a lot of fans.
Can you name your craziest/most 'pinch me' moment?
A couple of years back I got to write with James Morrison. His first album was the reason I even picked up and guitar and started writing. So to sing alongside him was an absolute dream.
This year has already seen you playing with Nina Nesbitt in the US and Mogli across Europe but when can fans expect to see your live show hit the UK shores again? 
In October I have MY FIRST HEADLINE TOUR and I am so ridiculously excited. I'll be driving up and down the UK as well as a few dates in Europe!!! Tickets are on sale online!
Which artists or songs are you loving at the moment?
I have so much love for anything and everything written by Maisie Peters, she's a good friend now and I'm really happy she's getting more recognition from radio and TV. She deserves to be huge!!!
What's left on the music bucket list?
I would die to win a songwriting award in any shape or form, to put on my parent's fireplace. As well as a little tour over in Asia, I have this massive urge to go sing songs over there.
In terms of the rest of 2019, what else is on the cards?
I'm going to be dropping a brand new song in a month or two, which is literally my favourite song of all time (without being biased). And I'm aiming to write an album before the end of 2019!!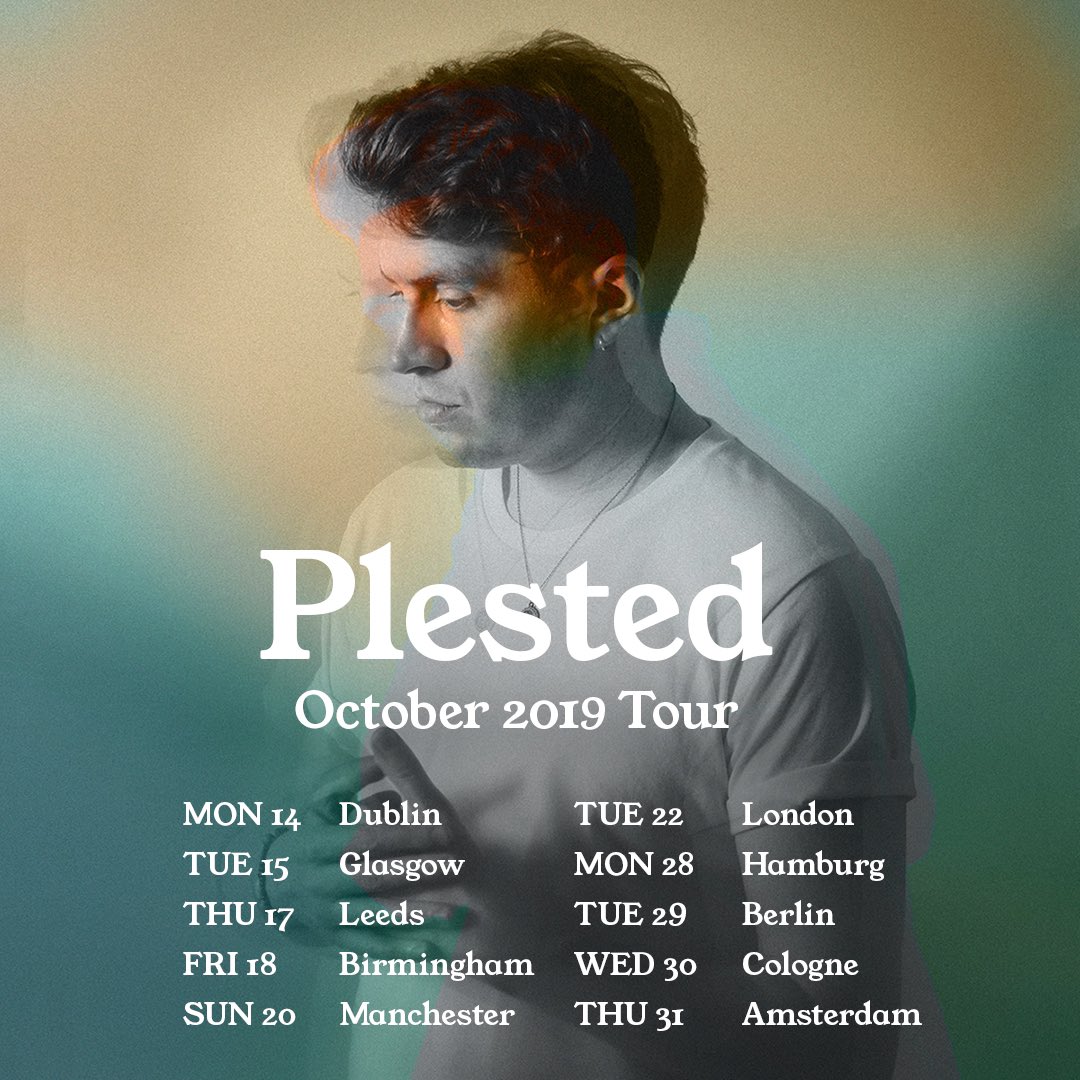 Tickets for all of Plested's headline shows can be purchased from here. Keep up to date with Plested on Facebook, Official Website and Twitter.
Will you be heading to any of Plested's live dates? Tweet us @CelebMix and let us know!