The Longest Johns has had a surreal couple of years. The band is made up of members of Andy Yates, Dave Robinson, Jonathan Darley and Robbie Sattin. Their version of The Wellerman went viral on Tiktok, thrusting Shanty music firmly into the mainstream music scene and into the public conscious. They signed a record deal with Universals Decca Records and have released their album Smoke & Oakum.
"Shanty Music is catchy", is one of the first things band member Dave Robinson says when we had a brief chat with the band over zoom.
"It's a very simple way of putting it. adds Robbie Satin "It gets stuck in your head. It's like old time dance music." A sentiment the whole band shares. "I always thought it has the same type of effect as when people go to a club. It's that feeling of everyone can join in, even if you've never heard the song before. You know whats going to happen, you know there is going to be a drop and it's going to be exciting. Everyone is going to dance and have a great time."
"With shanty music, you hear the chorus and you know it's coming again a million times and you can join in again straight afterwards."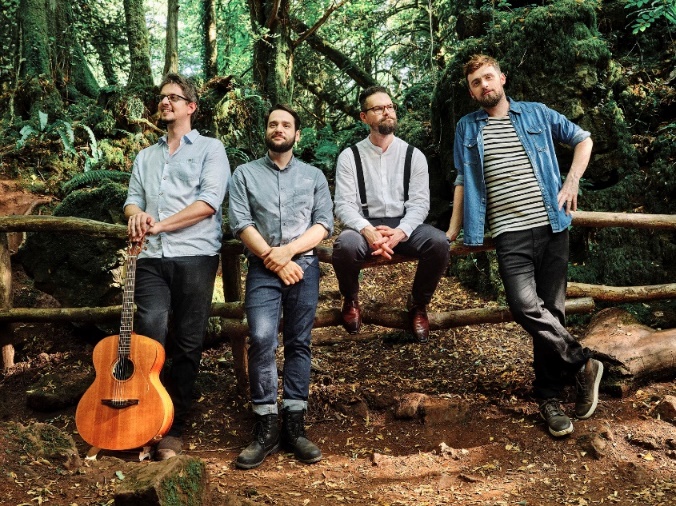 The bands take on The Wellerman blew on social media, especially Tik Tok, Opening the band up up a whole new fanbase.
"It's something we'd seen coming for about a year and a half. Not to that degree because we've been surprised every step of the way but we released the song back in 2018, We'd already been performing for a while "says Dave " Then in August 2019 we made a video of us playing the game Sea of Thieves and singing at random players in the game. Having a nice time and basically surprising players with a song. It did really well. Off the back of that it kept on being reshared around loads of the different news websites, So it was on like Tumblr and Reddit, and even on Tiktok actually. It had quite a big moment on there earlier. And every couple of months or so every time this happened it seemed like our listeners doubled overnight. And were like oh wow. Every step of the way were like we can't believe it's reached this point."
"One of the favourite things we've done over the years is the community project videos. Getting as many people as possible to record themselves singing along and stick them all together in a video. That's what's so special. It's that anyone can join in and have a great time and feel part of something."
The new album Smoke and Oakum is the band's first album on a major label, having released their previous work independently.
"We basically took a big 'ole holiday together as originally we had a list of about thirty odd songs which were pretty great and we knew we could get them album ready. "Dave explains " We recorded various different demo versions and played around with them, then basically did a big vote on what do we think feels right together, We basically unanimously came up with this set of songs. It really does create this wonderful piece, rather than just being like a collection of random songs."
"Our favourite track keeps changing, but they are all pretty good", the laughter after his remark signalling the rest of the band agree. " For me though there is track called Hog Eye Man, which Andy leads that I'm really looking forward to performing live. It's a really good old-time folk stomper kind of feel which has really good sort of banjo lick and it's got full to the floor kick drum going most of the way through. It's got violins on it and all sorts of things that we are going to have to figure out how to do live and it's just great, it's one everyone can join in with."
The band will be playing tracks from Smoke and Oakum in various locations across the world, including New York, London and Manchester. You can find out more, here!