On Friday 9 July Jake Quickenden will be one of the hosts of Boycott Your Bed, the fundraising event created by Action for Children.
"It's going to be such a fun event," He says when we speak to him over Zoom. "I am presenting it with Lydia Bright who is a mate of mine so it's going to be a right laugh."
Boycott Your Bed aims to encourage people all across the country to boycott their beds and sleep somewhere different for one night. The aim of the event is for the money raised to go towards Action for Children's core aim of making dreams of a safe and happy childhood come true for all children.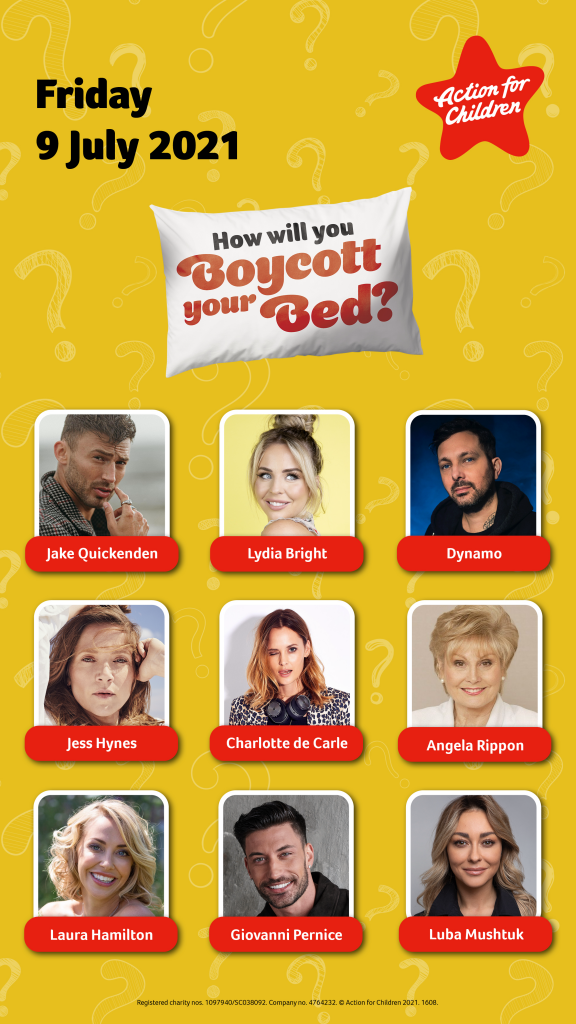 Jake will be taking part in the event at home too as well as presenting the night of star-studded entertainment. "I'd be a bit of a hypocrite if I didn't. To present it and then come home to my double king and sleep the night away. So I might sleep on the floor, or sleep in a tent in the garden with Freddie, as he's been asking to do it for a while. But I'll definitely not be sleeping in my bed."
Action for Children is a charity whose aims Jake feels very connected to since recently welcoming his son Leo. " You realise when you have kids like I did when I became a dad a new dad to Leo that nobody has all the things you take for granted every day. Especially with the year we've had and all the lockdowns. Many have struggled and are struggling,so events like this are important to raise awareness and help as much as you can."
Before the pandemic, there were over 4.3 million children living in poverty across the UK. Covid has made things even harder. The number of families relying?on Universal Credit has doubled. Households with children are twice as likely to?have suffered financial hardship – like falling behind?on bills or borrowing?to pay for?basics?– because of?coronavirus.
Last year Action for Children was able to 387,000 children, young people and families across the UK providing them with vital help. The charity's Coronavirus Emergency Fund has provided essentials,?like food and warm clothes,?to?around 20,000 children and young people.?Our frontline?key workers have kept 99% of services open. ?And Parent Talk, our online support service, has?been a vital lifeline for more than 350,000 children and families seeking reassurance and advice.
Helping charities like Action for Children is something Jake feels very passionate about and is a strong advocate for using his platform to promote, help and work with as many charities as he can. He has previously worked with Teenage Cancer Trust, raised thousands shaving his head to support the NHS and is currently an ambassador for Sarcoma UK.
"I like to use my platform to help people rather than just posting topless photos, it gives the whole thing a purpose and does some good. If I can be positive and help lift peoples spirits then I'm doing something right."
Boycott Your Bed is taking place on Friday 9th July to raise money for vulnerable children in the UK. To donate/sign up visit https://boycottyourbed.actionforchildren.org.uk