Liverpool-based producer NAVOS recently teamed up with rising singer-songwriter HARLEE for their collaborative effort, "You & I", a striking club banger with house influences and an euthanistic, catchy energy that can crossover into chart success.
So far the track has achieved over one million streams on Spotify and has become a popular fixture on social media app TikTok.
The song's official music video depicts a connection between two lovers forming as they both attend an indoor daytime rave.
Here at CelebMix, we spoke to both NAVOS and HARLEE to find out more about "You & I", and what it was like filming the music video!
Hi guys, how are you both?
NAVOS: "Feeling amazing at the minute! Everything is going so well, so glad to be releasing and working on so many great things!"
HARLEE: "Really good thanks!"
How does it feel your collab "You & I" is finally out there in the world?
NAVOS: "It's so good! I'm so glad it's out there for people to listen to. I absolutely love this record so it's so good to see it out there."
HARLEE: "It feels great! It's always a buzz when something you've created and kept secret for a while is then shared with the world! Makes me so happy that people can listen to it."
What was the inspiration behind the song (both lyrically and musically)?
NAVOS: "Lyrically for me this record was all about someone who just wants to be with that one special person and how happy they make them feel, wanting to spend the rest of their lives together.
"Musically for me, because the vocals are all about a couple who are just wanting to be together and be with no one else, it had to be really happy and uplifting. So I used the chords etc. to really portray this."
HARLEE: "I was in an Uber one day when the verse/chorus melodies popped in my head.
Soon came the verse lyrics and slowly the song was piecing itself together naturally. I knew there was something special about it! I took it into a session I had with Kingdoms the following day and we finished the song together and felt super strong about it!"
How did you guys come about to collaborate on the song together?
NAVOS: "I got sent the vocals from HARLEE's team around Feb time and as soon as I heard them I said straight away, 'That's my next record'. Thankfully, HARLEE and her team liked what I did with it and here we are today with the banger that it is!!"
HARLEE: "NAVOS was looking for his next follow up single and my publisher dropped the song into his mail box and he immediately took a shine to it! He put his own NAVOS spin on it and we knew that was the perfect home for it! We both felt like it needed to sound energetic, positive yet anthemic. We knew it was the perfect song for when lockdown eased! It's put so many smiles on people's faces and being able to perform it live is an unbeatable feeling."
What was the actual process of working with each other like?
NAVOS: "Great, Harlee is really talented and she is really cool to work with. We work really well together so everything just flowed."
HARLEE: "We've had so much fun working on this track together and that always makes the collab process so smooth! We get each other and both have an ear for the bangers haha. We're both into the upbeat dance/pop records so working together was bound to happen! Being from similar areas/backgrounds, we've been able to relate to each other and voice our opinions on our goals with this song!"
Will you guys do more songs together in the future?
NAVOS: "I'd love to! I think we could definitely get something else banging going."
HARLEE: "Definitely wouldn't say no! I think we're a pretty good team."
Now onto the music video… it was a really fun watch! What inspired the concept?
NAVOS: "I think the whole storyline of the lyrics, it was all about a couple who meet at a party and then they hit it off. I think it's really relatable because if it hasn't happened to you I'm sure this scenario has happened to someone who you know!!"
HARLEE: "Thanks very much! We wanted the video to really focus on two people being infatuated with each other. 'You & I' is exactly about that. So even though there's other people in the video you can clearly tell who the main characters are. It was the two of them against the world."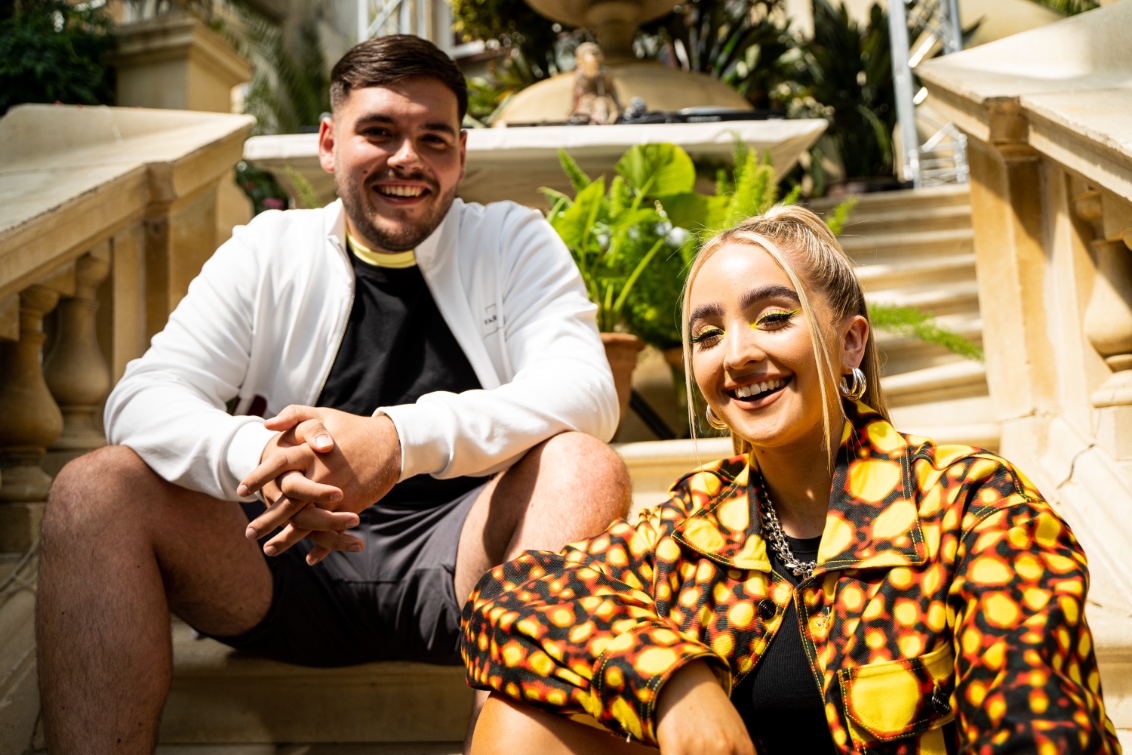 It was great to see how so many people having fun in the same environment, especially after the many lockdowns we have had. Did you face any pandemic-related challenges filming the video? What did you do to keep people safe?
NAVOS: "So we filmed the video after restrictions were lifted. However, we still made sure that everyone was safe, wearing masks etc. as that's the main priority."
HARLEE: "Everyone was tested before and on the day of the video to make sure everyone was safe. It was refreshing to see so many people together having fun. That's what life's about. Everyone's had a tough year and a half so being able to make a music video again was a pleasure."
The video is often filmed from the love interest's point of view, looking directly at the camera. Was there any significance behind this?
NAVOS: "I think mainly to catch the pure emotion of the person when they see their love interest. I think to really get across that these people love each other, you have to make sure you are seeing every emotion going on because the face shows a lot of emotion, even when you don't mean to show it."
HARLEE: "The reason for this camera angle is that everyone else around the couple are in the background. The couple are front and centre because there's no love triangles or complications it's just two people clearly infatuated with each other. We didn't want any confusion with the story line either so having everyone else in view but the couple in clear view was important!
"Me and NAVOS were also centre as we're the artists behind the song! We also used this angle to make it more personal. Almost like you knew this couple and how they felt about one another. They were having a good time with everyone else however it was really them two the whole time.."
Will you guys perform the song together anytime soon?
HARLEE: "We're performing 'You & I' for the first time in Liverpool (near our home towns) in October and we're so excited!!!"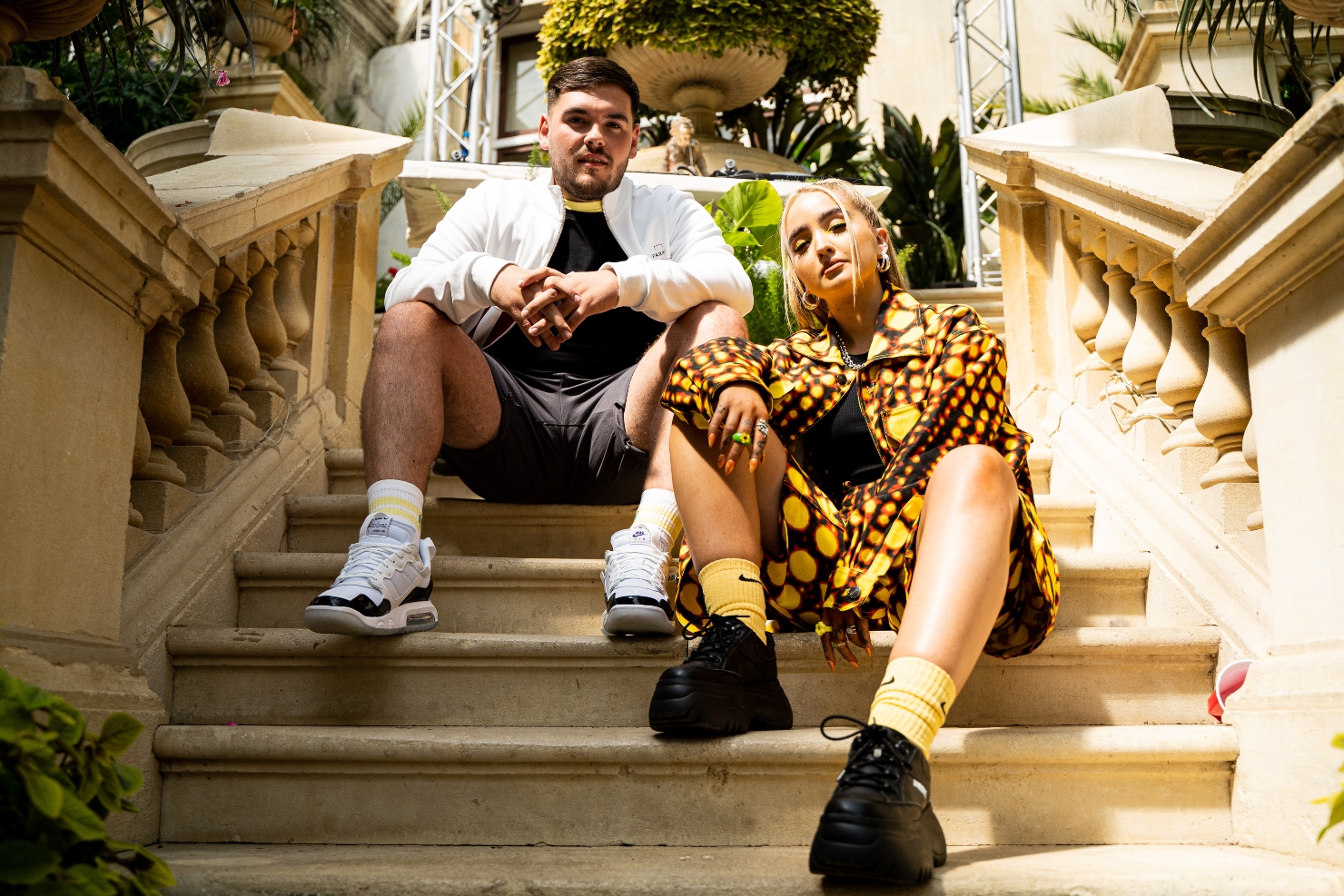 Is there any other artists you'd like to collaborate with?
NAVOS: "I would love to do something with MK, Joel Corry, Jax Jones or Sonny Fodera."
HARLEE: "I'd love to collab with Adele on a ballad, Justin Bieber for a pop song, Drake for a rap track, The Weeknd for a disco tune and Calvin Harris for a dance anthem! There's so many more though the list is endless.."
Finally, do you have anything to say to your supporters?
NAVOS: "I love every single one of you. Wouldn't be where I am now if it wasn't for you, so for that, I'm forever grateful. Love you guys."
HARLEE: "Thank you so much for all the support. Without everyone's love and support there would be no HARLEE. Hearing people sing my lyrics back to me is a feeling I can't explain. For people to not even know me personally but love me through my songs is honestly so surreal. Warms my heart knowing people resonate and connect to my music. Here's to many more!"
We would also like to thank both NAVOS and HARLEE for taking the time out to talk to us!
"You & I" by NAVOS and HARLEE is out now.
Make sure to follow both on social media:
NAVOS: Twitter | Facebook | Instagram
HARLEE: Twitter | Facebook | Instagram
Let us know your thoughts on the song over on Twitter @CelebMix!