Welcome back, bibliophiles! Timely with the 12-year anniversary of the ongoing civil war in Syria, Ream Shukairy unveils her powerful and poignant debut YA book, "The Next New Syrian Girl," today, on March 14, 2023.
In the vein of "A Very Large Expanse of Sea" and "I Am Not Your Perfect Mexican Daughter," "The Next New Syrian Girl" effortlessly navigates the complexity of diaspora, of feeling 'not enough' — not enough Syrian, not enough American — with a poignant blend of guilt, nostalgia, and devotion. The story follows the unlikely friendship of two sharp-witted bad-ass hijabees, Khadija and Leene, taking the readers through their struggles with the pressures and expectations of becoming the "perfect" Syrian daughter, and the repercussions of the Syrian Revolution both at home and abroad.
On one hand, we meet Khadija Shami, a Syrian American high school senior with a passion for football and boxing, who has a monstrous ego and a tough mother who puts it to the test as she longs to leave her sheltered life behind and travels the world with her best friend. On the other hand, Leene Tahir is a Syrian refugee, doing her best to adjust to the wildly unfamiliar society of a suburban Detroit high school while battling panic attacks and family pressures.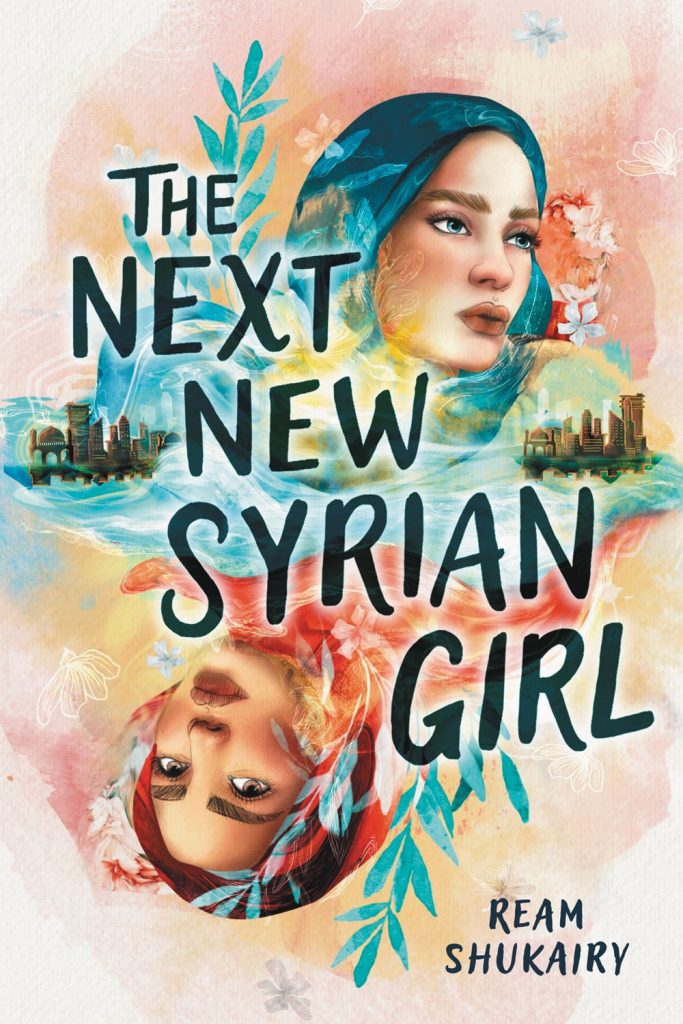 When their worlds collide, the result is catastrophic. What's intriguing to see is how their friendship slowly blossoms as Khadija and Leene race to unravel the startling and life-changing truth, overcome their misgivings, and discover their commonalities which send them on a journey all the way to Jordan and puts each person's perceptions of both the other and herself to the test.
With her debut, Ream Shukairy excelled in authentically portraying hijabi characters, thus rejecting the notion that they aren't romantically desirable with the barriers, as she artfully captured their exquisite beauty, elegance, honesty, and vulnerability on the inside as much as the outside. This story affirms its idea as we progress further on their quest to discover who they are outside of what others project on them resonates with characters that feel real and flawed. Alongside, she brilliantly plunged into halal romance, deeply rooted and seared in a friendship, sprinkled with just the right amount of electric tension between the characters when they experience their first love, making readers root for them all the way to the end.
Recently, we had the pleasure of sitting down and speaking with Ream Shukairy about her debut book, as we explored the story's primary inspiration, her publication journey and personal anecdotes, BIPOC representation in the literary world, and what's more to come in 2024!
Without further ado, let's dive right in!
---
Content Warnings
Islamophobia, the Syrian Revolution, depression, the reality of socioeconomic gaps, generational trauma, PTSD of a Syrian refugee.
---
Congratulations on your debut novel, "The Next New Syrian Girl," which is utterly gorgeous and unputdownable. How does it feel to be a young, published author and receive all the appreciation for your work, including author Zoulfa Katou saying, "As a Syrian, I was seen!"
Ream Shukairy: Thank you so much! I'm honestly feeling so blessed to receive the appreciation for a work that is so close to my heart and that means so much to so many Syrians. I wrote it for Syrians, Arab-Americans, young Muslims, and first-generation kids who don't often see themselves authentically represented in media to see it more widely accepted and recognised is such an honour.
I always enjoy learning authors' POVs of how their books go from abstract ideas to tangible products to becoming legacies. Tell us about the process you underwent from writing to publishing "The Next New Syrian Girl". What inspired the story idea and did it turn out how you imagined it?
Ream Shukairy: The story was inspired by my experiences [of] processing how the Syrian revolution changed my life and the life of Syrians everywhere. In a lot of ways, this book helped me process the loss and heartbreak. I started writing it when I was at grappling with multiple identities and deciding where I fit in the world, and I know so many first-generation (and second-gen and immigrants, etc.) who have their own experience with that, so I wanted a story out there to make us feel seen.
When I didn't find enough art to help me make sense of what was happening around me, I wanted to make it for others. Through writing "The Next New Syrian Girl," I found a more comfortable place within [both] my identities, and I processed more grief about losing all that I've lost in Syria over the last ten years. This book was a big part of how I needed to grow in my young adult life, and it is, essentially, my love letter to Syria.
What advice would you impart to aspiring authors looking for new representation, including querying, rejection, and waiting for publishing deals, given that this could be a lengthy process requiring patience?
Ream Shukairy: For the publishing side, I might not be the best person to give advice because I forget easily and I don't fixate on the negative parts of the process. I don't dwell long on rejections, and I forget difficulties I've had in the past once they're over. Thankfully, this mindset helped me deal with the rough industry and keep writing without getting stuck on one project. At the same time, I'm not patient, so I surrounded myself with patient people who kept waiting even when I'd moved on. Every writer has their strengths and weaknesses, so surrounding yourself with others who can best support your needs is essential to surviving the publishing process.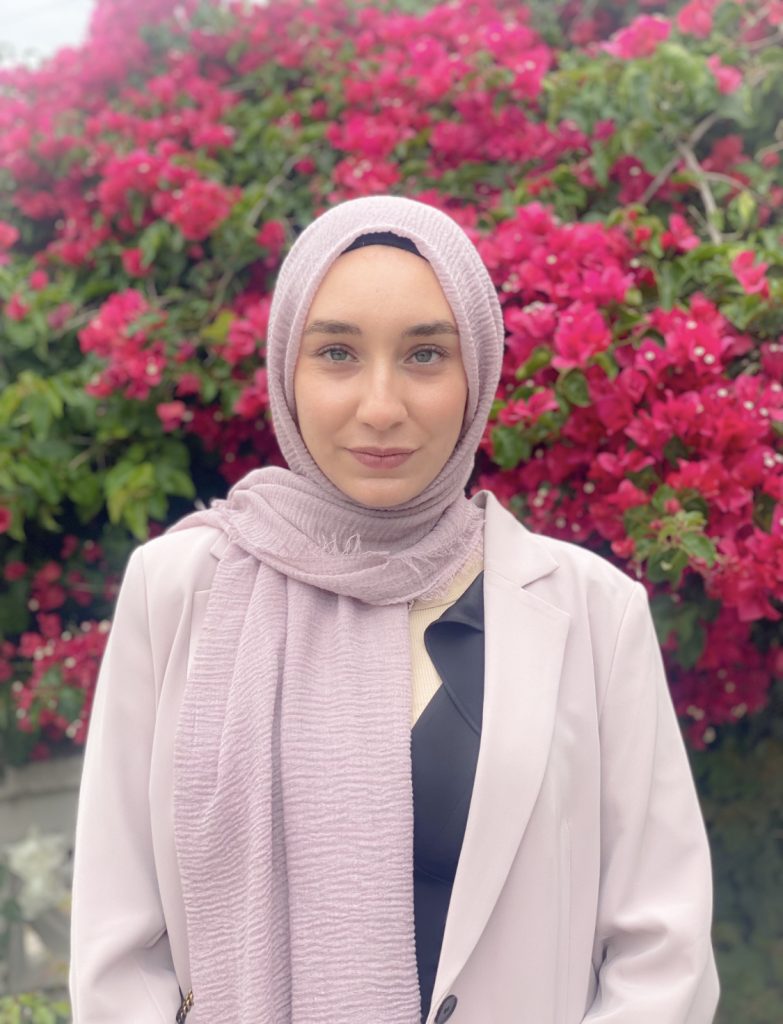 While reading your book, I felt the descriptions were marvellously vivid and immersive, with a mastery of sharp, cutting prose that made me feel as though I were a part of the narrative. How did your writing process develop throughout the draft as you unpacked so many emotions, including self-growth, nostalgia, devotion, turbulent relationships, and burgeoning friendships on every page? Did you aim for a balance of happiness and sombre?
Ream Shukairy: When I wrote my first draft, I didn't know any writing craft terms—voice, prose, pacing—I was just writing and emulating everything I felt about Syria into my characters. Even after a few drafts and when I queried and got my agent, I still didn't know what any of those terms were. I think writing such a raw story and writing it at such a young age made the essence of the story vivid, real, and authentically 'young adult'. Because over time, I revised the storyline with my agent and editor, but the most vivid moments and the quotes that stick out most were probably from that first one — the most unfiltered draft. I translated all the happiness and love, all the grief and nostalgia, all the self-growth and youthful self-consciousness that I had at 22, into the rocky relationships and the heartbreaking storyline. The voice of the characters and the prose came naturally then, but needed drafts and time to grow as a writer to refine it into what you read today.
When you started writing TNNSG, did you have a clear readership in mind? What do you hope readers who resonate with this theme walk away with after reading your book?
Ream Shukairy: I did! My readership was immigrants, first-generation, or second-generation Americans (or insert another country that is your second home). I wanted to write a book for people like me first. I wanted it to be relatable to people like me, so I didn't write it intending to explain culture, religion, or traditions. Even the way Khadija talks about traditions or 'translates' words is through humour. So first it is fun for readers with a similar background, and secondarily, it is education for people who aren't familiar with the terms or traditions. And while there is a lot to walk away from in TNNSG, I would hope that people walk away feeling like they don't need to explain their existence anymore. They can just be, just like this book can simply be, while also being enjoyed and appreciated and loved.
I love how your characters are not picture-perfect. They have their own imperfections which make them feel more authentic and human. How did you develop their distinctive voices while they faced similar dilemmas in life? And which one was the most challenging to bring to life? 
Ream Shukairy: I knew I wanted the lead characters to be a foil for each other, so I created characters who have opposite flaws and strengths. At their core, they're quite similar. They both have a complicated sense of belonging to the place that shaped both of them. But they express that belonging differently. Their eventual friendship is because the two girls are able to bridge their differences and truly see each other. It was more challenging for me to write Leene because she is less like me, and like Khadija, I need extra effort to understand what it's like to be just Syrian without also being American and seeing the world through both lenses. That said, I learned a lot from writing Leene, and just like Khadija learns to understand her, I also learned to be more compassionate and understanding.
While we're at it, how much of Khadija and Leene's experiences, expressions and attributes can you resonate with in real life?
Ream Shukairy: There's a lot I resonate with, it's hard to pick just a couple! I really resonate with the survivor's guilt, which is a theme for both characters in their own ways. There's also a theme of what it is to be a sister to a younger brother, and I really resonate with that. Like Khadija, I'm always looking for the next adventure and need that daily workout to clear my head and release my energy. Like Leene, I see the world based on context and what something might mean if we look at it from a different perspective. There is so much more I can list, but ……. *shrugs*
If you, as Ream, get the chance to chat with Khadija and Leene, what advice would you give them on their quest to discover the truth and come to terms with who they are, navigating their way in a world so bent on tearing them down?
Ream Shukairy: Rather than advice, I might nudge them to think about the journey they're on and what they're learning about themselves through the book. Khadija and Leene worry a lot about the discovery and the truths that they're in search of that they often don't realize what they're looking for is already in front of them. But that's typical of young girls, and reflecting on that is a big theme in the book as well!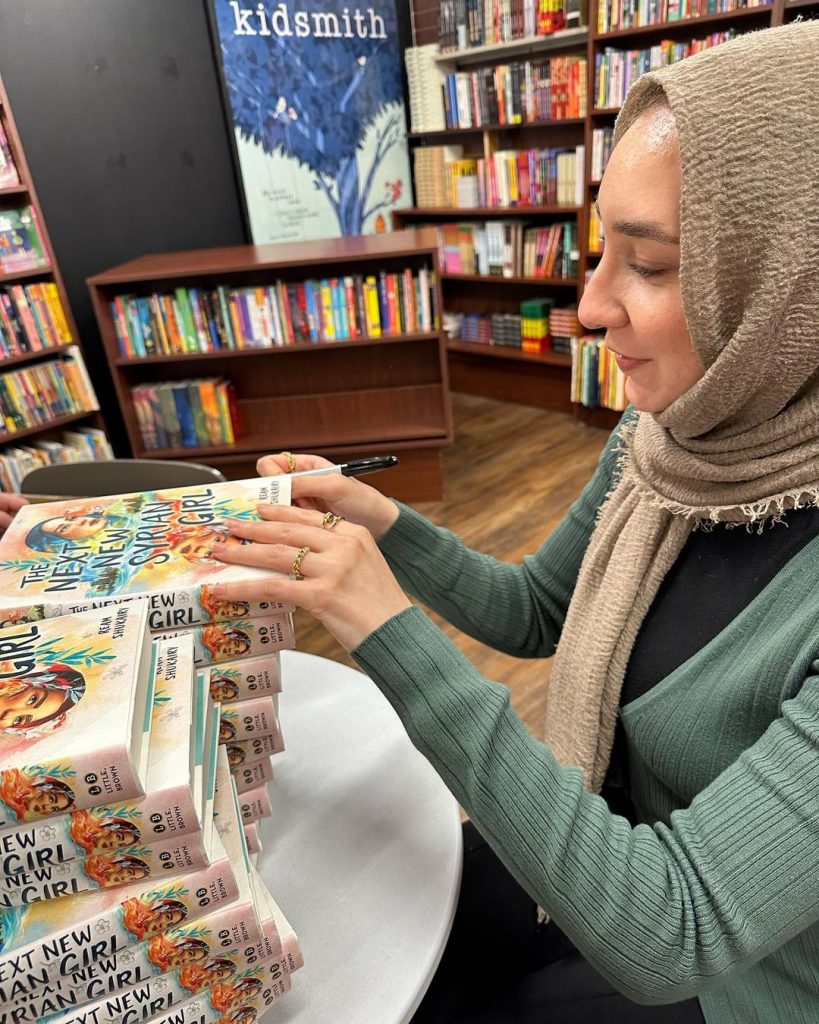 Let's go back a little in time. When did you discover your love for writing? Any exciting 2023 releases we should look out for?
Ream Shukairy: I used to be a big reader in middle and high school, and I first started writing in high school. I didn't write *well*, but I realized how much I needed that release of getting the stories in my head on a page. So I kept writing and I felt inspired by readers like me, wanting a book that represented myself and my community in my way, so I wrote to fulfil that dream.
As for 2023 releases, I'm really excited for Shannon C.F. Roger's I'd Rather Burn Than Bloom, Sara Hashem's The Jasad Heir, Hanna Alkaf's Hamra and the Jungle of Memories, and Hannah V. Sawyer's All the Fighting Parts!
How do you think BIPOC representation has expanded in recent years? What can be done, according to you, to improve as a reader, writer, and publisher in bringing their literature to new heights?
Ream Shukairy: We're getting a lot more perspectives and more depth within BIPOC representation that we didn't have before, and we're having more mainstream exposure to authentic representation. I still think that there are too many barriers to publishing BIPOC representation, [for instance], when the representation is written for the people it's representing rather than the executives who get the final say of whether or not our books are acquired and published. We're getting there, and we have more amazing BIPOC editors who are looking for authentic stories and are championing our books, so I'm hopeful.
Have you ever considered writing under a pseudonym? Why or why not?
Ream Shukairy: I didn't consider writing under a pseudonym until my book was an ARC and it was too late to go back! I always thought I'd want my name on my work and in bookstores, and that feeling is still there, but it comes and goes. It's easy for readers that know me to transfer my work onto me personally, and sometimes I wish I could have that separation. No going back now, though!
You've expressed your desire to write stories that centre young Muslim voices offering readers a glimpse into the bigger world while breaking stereotypes and embracing empathy. Did that impulse come from your own life experiences? How crucial is it for you to become the voice of your community?
Ream Shukairy: I've always wanted to see myself represented in the media. Muslim stories that are historically projected in media feel like they're written for everyone else except for Muslims. While those stories are representative of some Muslims, they just fit into the narrative that has been historically accepted by gatekeepers who have the final say. So it's really important to provide my stories that are written for Muslims first.
As I went through the publication process, I realised it's impossible to make everyone happy because I'm writing from an unapologetically young Muslim, Arab-American voice. Not everyone will be happy with the portrayal. But I also want to write stories that show what it's really like to be a young practising Muslim in America, without sugarcoating it or pushing an agenda to make it seem like it's always amazing or an ultra-religious experience. My community (similar to Khadija's in the book) comprises Muslims from so many countries and exists on a spectrum of religious experiences so I won't claim that I'm a voice for them. I want to be one voice of many young Muslims that tells a genuine story of being a young, first-generation Muslim in America. There are many other Muslim stories out there that can give insight into the experience that my stories haven't yet touched upon, so I encourage readers to check those out!
Were there any significant scenes, ideas, or subtle moments you deliberately excluded while writing? Which moments and scenes did you really enjoy writing and exploring?
Ream Shukairy: Khadija and Leene both have strong and complex family dynamics, so I really enjoyed writing about the relatable moments they have with their families. Some of the most memorable scenes are the flashback scene and the conversations and themes surrounding the siblings in the story (no spoilers!). I also loved exploring the inside jokes and relatability of the characters.
Ream, how do you juggle the responsibilities of graduate school, deadlines, and writing professionally every day under your contract? Do you know when you're at risk of burnout, and what is your go-to self-care routine?
Ream Shukairy: Unfortunately, I usually know I'm burnt out after the worst of the burnout has passed! I have a high-stress tolerance, and self-care is probably the highest on my list of priorities, which helps. I make sure I get my workout every day, eat well, go on walks in the city, hang out with friends and family, and get in some volleyball when I can. After I've gotten one of those in a day, I know I'm mentally more prepared to write or get work done. I'm a huge advocate for making sure we all get our self-care in before doing work, because if we're not in a good mental space and if we aren't taking care of ourselves, then it's going to make everything more difficult. 
So how's your next novel SIX TRUTHS AND A LIE coming along for the 2024 release? Is there anything you can tell us about the project? How would it differ from the world of TNNSG?
Ream Shukairy: I'm so excited for SIX TRUTHS AND A LIE! It's very different from the themes and voices in TNNSG because it's got crime and mystery, but it's similar in the sense that it's an authentic voice for young Muslim Americans. It's six points of view, and the characters are all so unique, so you get to know six Muslim teens with very different experiences and outlooks. It's also set in Los Angeles and since I'm from Orange County, I really loved writing a book set in Southern California!
Thank you for your time. Before we wrap up, what advice would you give to our readers wanting to stay updated on and help with the still ongoing and very real crisis in Syria? Do you want to emphasise any charities, support groups and communities that people can join or contribute to?
Ream Shukairy: Thank you so much for this question, especially since TNNSG's release date is the anniversary of the Syrian revolution and the recent earthquakes in northwestern Syrian and southern Turkey have created a greater need for aid. Some reliable charities for Syrian aid are the Syrian Sunrise Foundation — a leader in humanitarian aid, White Helmets — a rescue force of sorts comprising humanitarian volunteers in Syria, and Syrian American Medical Society focuses on medical relief for those affected by the crisis.
"The Next New Syrian Girl" is now available to purchase. Grab your copy here!
Share your thoughts with us on Twitter at @CelebMix!