Eating before a gig to see your favourite artist live can almost be as much fun as going to the gig itself, or even after the gig to dissect every amazing part of what you just saw. Byron Burger caters to all your pre and post-gig needs. Especially with their "Easy Cheesy" Burger.
Byron Burger caters for all needs from meat lovers to, gluten-free, vegans and vegetarians. Serving up delicious burgers, perfect sides and the best milkshakes.
They recently launched a brand new( and the company's first) vegetarian burger the "Easy Cheesy"  The Easy Cheesy is a homage to cheese lovers, vegetarians and everyone in between.
This delicious deep-fried halloumi burger will set your taste buds alight, with the crunch of a deep-fried Halloumi patty, the tang of pickled red onions and a crispy fried onion ring, with the spice of jalapenos and the delicious combination of smoky BBQ sauce and Byron sauce, all encased in a glazed brioche bun!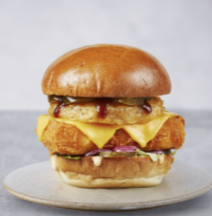 For those looking for a complete cheese blowout, why not add a gooey mac & cheese on the side, perhaps some cheesy chips, or additional halloumi fries! Or simply a shake, some slaw, deep-fried onion rings, or some good old regular fries!

Sitting eating an Easy Cheesy Burger and some cheesy fries and sipping a milkshake as you sit and look at the videos and photos you've taken and see what other fans who attended the gig are saying about it is the perfect way to end a night. It's also a great way to start the evening especially if you have standing tickets as it will help you keep your energy up as you dance and sing the night away.
Easy Cheesy Burger £11.99
Sides start from £3.50
Shakes start from £5.50 
You can find your nearest Byron Burger here! Let us know your favourite places to eat before and after a gig on @CelebMix!