A week ago Louis Tomlinson welcomed back live music with the epic Away From Home Festival. In what was without a doubt a career-defining moment for the Walls singer/songwriter. It was aFestival created and curated by Louis himself with help from his management team at s e v e n 7 management.
The Away From Home Global Livestream event was the chance fans who couldn't attend in person were given to witness the very special event that Louis and his team had created, which was all artfully captured by Charlie Lightening and his team at Lightening Productions in association with Louis own company 78 Productions.
Both Louis and his manager Matt Vines were executive producers for the entire project. They once again teamed up with Veeps to host the Livestream, after a record-breaking and hugely successful partnership last year.
Not only did The Away From Home Global Livestream event allow fans to watch (and in some cases relive) his unforgettable headline set, it gave a real insight into how the entire project came about, as Charlie had been filming Louis and his team planning it for the better part of the year. It also gave the fans chance to learn more about the businessman side of the guy that many of them have been a fan of for over 10 years.
Louis spoke about how he feels the importance of shows for people and how he'd first had the idea to do some sort of free gig as a thank you for fans when he was in One Direction, and it's an idea that stayed with him.
When it became apparent 18 months ago while on his tour that it was looking extremely likely that the rest of the dates would have to be rescheduled to the global Corona Virus pandemic, he sat down for a chat with Matt. He was realistic and very pragmatic about the cancellations, asking about possibilities to reschedule and re-route the tour if necessary. They talked through options.
It was then that Louis brought up a conversation they'd had before about doing a free gig for fans. With the possibility of his tour being cancelled, Louis knew it was something he had to do. He wanted to thank fans and he wanted to be people's first gig back after not being able to.
Ever determined and not one to give up on an idea when he knows he's on to something good, Louis piled the pressure on Matt to help him bring his idea to life. Matt and the wider team at s e v e n 7 management were supportive of the idea and were ready to help make Louis vision a reality. And so the Away From Home Festival was born.
Between 20-30 meetings took place over the course of 12 months took place, it became clear early on despite having a venue and a date secured, it may still not happen because of the pandemic, but everyone involved was determined it would happen at some point. People needed live music.
As the Away From Home Festival took shape the acts were secured with Jess Iszatt, Bilk and The Snuts all down to make an appearance. It all became very real when they announced the festival in July.
Talking about the idea for the festival when it was announced Louis said "I've been sat on this idea for the last 12 months at least and now to see it come to life makes me very excited. Personally, playing live shows is the best part of what I do and it's been far too long since I've seen my fans, so I wanted to put this festival on to say thank you for all the support and celebrate the return of live music. I've got a really good feeling it's going to be a really special night. We all deserve that!"
With two weeks to go to the festival, Louis and his vocal coach the lovely Helene Horlyck got down to getting his voice ready to give one of the most significant performances of his career. Louis had also been working with Helene during the lockdown with sessions via Zoom to keep his voice in tip-top condition, ready for the moment he was given the green light to be able to perform again.
"Your power lies in steering through what's going on…"

Helene Horlyck
Watching the documentary it's clear that Helene and Louis share a deep bond, as they have worked together since Louis's days in One Direction. The moments they shared prior to Louis taking the stage at the festival and once he'd finished his set, and she told him how she'd cried just highlighted perfectly the depth of affection they share.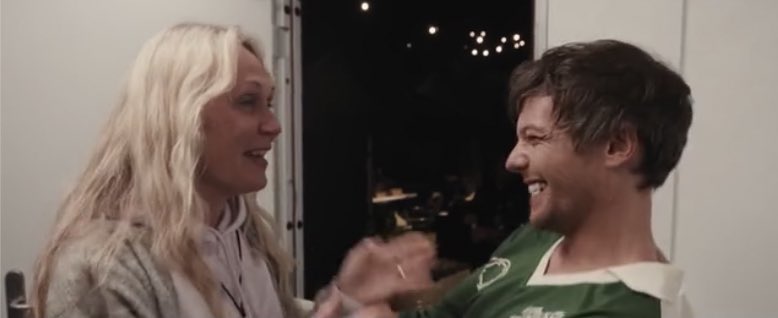 What The Away From Home Global Livestream highlighted most is that Louis truly does appreciate the passionate people who call themselves his fans, those individuals are what drives him to continue to do what he does. And now with a team that has people like Matt in it who listen to his ideas and make them happen, the question becomes what else could Louis Tomlinson do, as the world really is his oyster and with the backing of his team and fans he is an artist that can do anything he sets his mind to!
What was your favourite moment from event? Let us know on @CelebMix!