Loved for bringing characters to life so immaculately, Logan Lerman has more than one occasion to celebrate today. On this remarkable day (19/01), the acting star celebrates his 24th birthday!
This 24-year-old was born in Beverly Hills, which made "acting accessible", he says.
"There's always a place to wait in line for an audition and I kind of begged my parents to take me."
Citing his mother's nurturing as a crucial help in "[climbing] the ladder", Logan has previously stated that his interest in acting came about at around age four. He claimed to be the "black sheep" in his family, as he deviated from the precedent of working in a medical profession. However, he's certainly one proud son!
My dad's fine work! He built a prosthetic leg for this pup so he could walk for the first time. Too cool. pic.twitter.com/FG35ialDQx

— Logan Lerman (@LoganLerman) March 13, 2015
As a young fan of films, the actor wasn't set on having his name in lights. Instead, he started acting in commercials and small roles as a means of avoiding school.
Having acquired an incredible fanbase with the help of breakout film Percy Jackson & the Olympians: the Lightning Thief, Logan's acting career took off when he was just 17 years old. He played leading role, Percy Jackson, in both film adaptations of the novel series, alongside actress Alexandra Daddario and Brandon T. Jackson.
Follow-up film success, Perks of Being a Wallflower, saw Logan being cast as the lead character, Charlie. In the coming-of-age film, he proved his acting credibility; several film critics call the performance his best.
Perhaps his superb portrayal of Charlie is down to the fact that "a lot of the situations in the script [of Perks] have actually happened to me in real life, so I just connected with it."
The admiration doesn't just stop at public opinion — Logan's performances have been nominated for many awards, such as Teen Choice awards (he won "Choice Movie Actor: Drama" for Perks) and an Online Film & Television award (he was nominated for "Best Actor in a Supporting Role" for Fury).
Future acting ventures are also an exciting prospect for the 24-year-old.
According to variety.com, film executives behind the new Star Wars spin-off have whittled down potential actors to reprise the role of Han Solo to just a dozen. This shortlist includes household names, like Ansel Elgort, Scott Eastwood and, indeed, Logan Lerman!
We have our fingers crossed that the Percy Jackson star will make the final cut. (Although, the other names on that list don't seem too shabby either…)
Seriously. How can anyone resist this acting?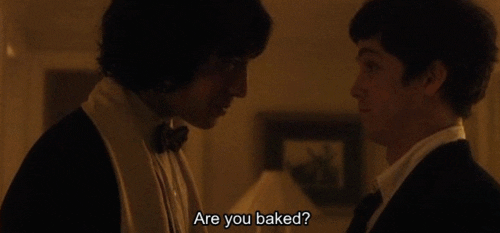 Not only is Logan Lerman an absolute acting star — he also has a heart of gold.
In 2010, the actor appeared in a video campaign, called "Change the Odds" for Stand Up to Cancer, alongside fellow celebrities.
He suited up in an astronaut suit, ready to deal the facts to viewers.
"We, as the younger generation, can help by educating ourselves and spreading the awareness."
Now, as a 24-year-old, Logan has inspired many of his generation to leave their mark. Just take a look at some of his tweets!
People are risking their lives to cross the Med. Please read this account by @douglasbooth http://t.co/U9Ug5nIfmT #WorldRefugeeDay

— Logan Lerman (@LoganLerman) June 20, 2015
He's shared Emma Watson's feminist campaign, #HeForShe, to his 1.57 million Twitter followers!
My friend @EmWatson delivered a powerful speech to the UN http://t.co/yWtW3mjqBh I support equality. #HeForShe pic.twitter.com/gCNTK1BNvx

— Logan Lerman (@LoganLerman) September 23, 2014
Logan also retweeted this gem. He's an animal activist, too!
For all those asking..my sister Rooney made this shirt (we can't remember which site) after watching #BLACKFISH. pic.twitter.com/aOD1tpV6kS

— Kate Mara (@katemara) October 25, 2013
Being 24 comes with a lot of responsibilities, especially when you're a Hollywood hot shot, but Logan seems to take it in his stride. Combined with his acting ability and social activism, this young star will certainly continue to impress.
Thank you for the birthday wishes!!! I'm grateful for everyone single one of ya. Truly means a lot.

— Logan Lerman (@LoganLerman) January 19, 2016
Happy 24th birthday, Logan!
Have a watch behind the scenes of Logan's "Change the Odds" video below!