Today marks a big milestone for The Vamps vocalist, Brad Simpson… it's his 21st birthday! Since their formation in 2012 fans have watched the loveable quartet go from strength to strength, with many of the fans growing up alongside the band.
Here are just five of the many reasons we and so many other people absolutely love the talented vocalist.
5. How much he loves his dog Jesse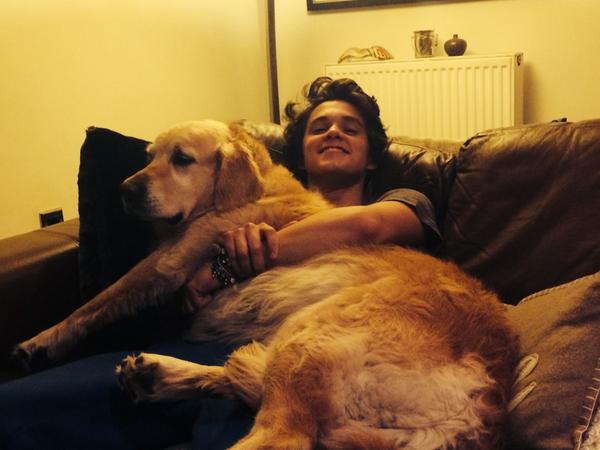 We can't help but be a little bit jealous of the amount of love Brad has for his adorable dog, Jesse. Every so often the fanbase is blessed with one of their many photos together, which make us fall a little bit more in love with Brad every time.
4. The love he has for his fans
http://connorsjbll.tumblr.com/post/139555847692
This applies to each of The Vamps but Brad has a penchant for providing regular bursts of love and happiness towards the fans. Brad shows that he never forgets the support given towards the band from both old and new fans and honestly we absolutely love him for it.
3. His rare but hilarious use of Twitter
Went for main at KFC then wandered over to Burger King for dessert. #healthyliving #asecondonthelipsalifetimeonthehips #chickenofthecave

— Bradley Will Simpson (@TheVampsBrad) August 2, 2015
Brad might not be the most active on social media, but that means when he does make an appearance it's usually with a hilarious gem like this one.
2. That cheeky smile
If there's a smile that could light up a thousand lives, then it's Brad's. Whenever we see it our mood immediately brightens and everything just feels a little bit better in the world. Thank you, Brad, for putting a smile on our face when there's one on yours.
1. His voice
Anyone who says Brad doesn't have a voice which can send your heart into a flutter and make you listen in awe then they're lying. We've been lucky enough to witness Brad's vocals live but also recorded on stripped back videos such as this one. Maybe it's true, things do get better with age.
From all of us at CelebMix we'd like to wish Brad the happiest of birthdays. Make sure to send him some birthday love @TheVampsBrad!