Strictly favourites Aljaž Škorjanec and Janette Manrara are a couple of a mission to spread a little festive cheer this winter with the launch of their yuletide jukebox show, 'A Christmas To Remember'.
---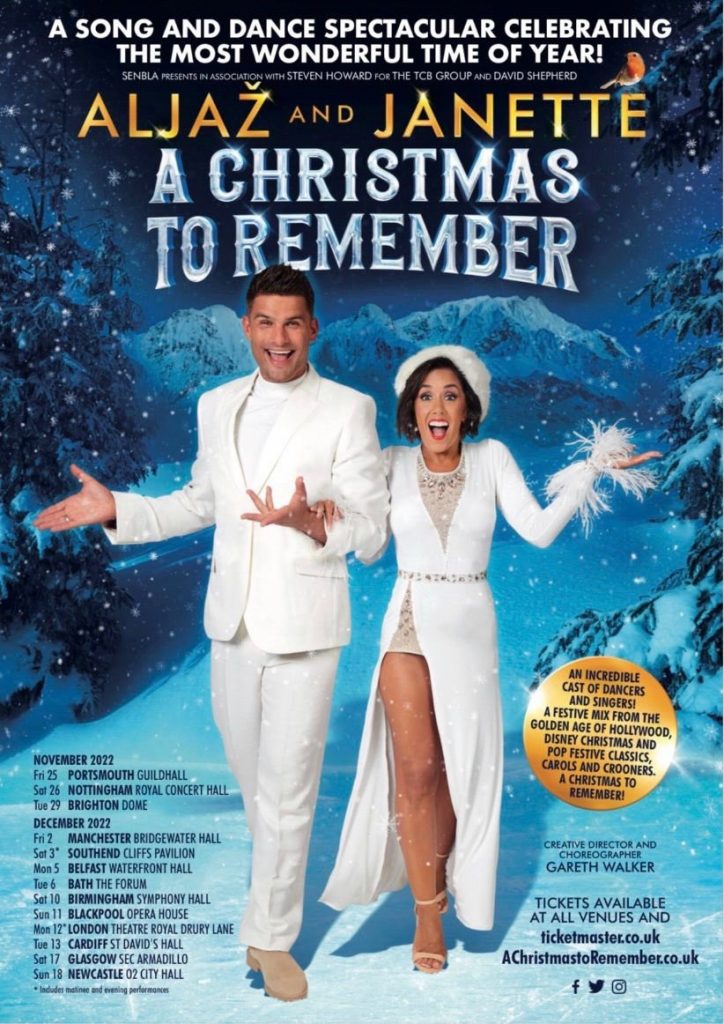 ---
Featuring an assortment of festive favourites, pop classics, some carols and some crooners, the production promises to be an occasion filled with unbridled amounts of glad tidings and joy, as Škorjanec and Manrara (along with their super talented cast of dancers and singers) perform a series of numbers that will to pay tribute to some of the nation's most beloved Christmas hits!
Scheduled the kick off in Portsmouth on Friday, November 25th, before visiting Nottingham, Brighton, Manchester, Southend, Belfast, Bath, Birmingham, Blackpool, London, Cardiff and Glasgow, the tour will wrap in Newcastle on Sunday, December 18th. (Additional matinee shows with take place in both Southend and London.)
Check out the dates in full below:
Friday, November 25, Portsmouth, Guildhall
Saturday, November, 26, Nottingham, Royal Concert Hall
Tuesday, November 29, Brighton, Dome
Friday, December 2, Manchester, Bridgewater Hall
Saturday, December 3, Southend, Cliffs Pavilion
Monday, December 5, Belfast, Waterfront Hall
Tuesday, December 6, Bath, The Forum
Saturday, December 10, Birmingham, Symphony Hall
Sunday, December 11, Blackpool, Blackpool Opera House
Monday, December 12, London, Theatre Royal Drury Lane
Tuesday, December 13, Cardiff, St David's Hall
Saturday, December 17, Glasgow, SEC Armadillo
Sunday, December 18, Newcastle, O2 City Hall Newcastle
To celebrate the upcoming launch of their brand new tour, we caught up with Aljaž and Janette to talk the couples creative process and love of all things Christmas, family holiday traditions, Strictly Come Dancing, the importance of unity, and why sometimes taking a leap of faith into the unknown is the bravest thing a person can do…
The opening night of your new tour 'A Christmas To Remember' is just one month away – what inspired you to create this show?
Janette: I think the whole idea for us to do a show like this, really came about from a conversation we were having at home one day. Aljaž and I love, love, love Christmas, and so we were talking about how for the past 9 nine years of our lives we've not really been able to celebrate the holidays, or indulge ourselves in all of the festivities, in the way we would have liked because for us it's Christmas coincides with Strictly season! So usually the days, weeks and months leading up to December 25th are all about the programme. Like it's honestly sad, the extent to our Christmas decor at home has been this one small, white, plastic tree – decorated with beautiful ornaments made by our niece – that we put up in the corner of the living room, and that's it (laughs). So we sort of said to one another, look because we're going to have a lot more time this year, we need to go all out and really celebrate! We started to brainstorm a few ideas and then we came up with this reference of Michael Bublé, and his Christmas special 'Michael Bublé and Friends' that we just LOVE and watch every year with our families, so we just thought we've got to do our own version of a variety style show like that… and now here we are!
Once you have your initial idea set, what helps to spark that first creative thought in your mind, that then allows you to go on and devise the overall concept for one of your shows – is it a particular song, a piece of music, a specific style of dance, or a staging idea?
Aljaž: That's a very good question! When you're starting out and creating a concept for a new show, the first thing you need to try to do is devise some sort of framework that encapsulates the mood you're wanting to exude, and the story you're hoping to tell. From there you just try to then work within those parameters, and throw everything you've got at the project to make the best show possible. For us, as dancers, I would say music is the thing that tends to spark a lot of our early ideas because the feel of the beat, or a certain melody can help to inspire us in terms of how we wish to move our bodies, what dance steps we want to include and what various styles and techniques we're keen to explore throughout the performance. A lot of people probably think the first thing we do is go into the dance studio and create all of the dance steps and choreography, but it's actually one of the last things we do. More than anything, Jannette and I just love telling stories through dance, so as long as we feel like we have a solid storyline that runs throughout, everything else just falls into place.
The process of

putting a new production together must just be the most fun ever!
J: It really is! As Aljaž just said though, for us it's all about telling a story. As dancers, we're artists who express emotion and tell stories through our bodies, without using words in the same way a painter tells a story with a paintbrush or a photographer captures a moment with a camera. So I would say the most exciting part of devising our shows is coming up with new and innovative choreography that will hopefully convey the message of the story we're trying to tell to our audiences.
Sometimes you don't need to use words to say what you want to say, sometimes moving your body in certain way can convey an emotion better than any written verse or monologue… 
A: You're absolutely right! I've always, always believed that to be true but never quite knew how to express it until last year when I was working with my last celebrity partner on Strictly, Sara Davies. She obviously comes from a business background, and she said to me one day during rehearsals: "when I'm in a meeting and having a conversation with someone, 93% of that conversation is body language, and 7% is the actual words you're speaking out loud" and it just kind of floored me because it's so true! Our bodies, our movements and the way we carry ourselves a lot of the time tells more of a story than we realise. So for us when we're out there on stage performing, we have to be aware that every move we make is integral in telling the story of our show.
---
"As dancers, we're artists who express emotion and tell stories through our bodies without using words in the same way a painter tells a story with a paintbrush or a photographer captures a moment with a camera."

Janette on the expressive nature of dance as an art form.
---
With regards to

choreography – is that something the two of you work on together, or do you have a team of people that come in and take control of that aspect of the production?
J: I'd say a little bit of both, it's always a collaborative effort. We actually have an amazing team that we're working with on this show – headed up by our brilliant director, and our head choreographer Gareth Walker who is incredible! We've been working with him for about six years now, he's done every single one of our tours, and we adore him! Then there's a wonderful production company TCB we work with too, so it's a real team effort. In the beginning there's usually about four of us – Aljaž, Gareth, our producer Steven Howard and myself, who sit down together and really create the tone of the show. We all throw around a bunch of ideas around, we discuss how we want to the show to pan out and evolve, and then I write the script. When it comes to actual dance steps, Gareth takes control of the overall picture of it, but Aljaž and I really do dig our hands in when it comes to overseeing all aspects of the creative process, especially the choreography!
A: Yeah, we take real pride in the fact that we're across all of the components and parts that make up one of our shows. With regards to the dance side of things, it's just something we simply have to be involved in, because coming up with choreography and then executing it on stage, gives us this unexplainable buzz! I love creating a routine from scratch; it's so much fun!
J: On Strictly we always choreographed together, all of the events we do up and down the country are choreographed by Aljaž – it's something we're always very involved in, we enjoy the process and pushing ourselves to try new things. So for us to be able to choreograph a whole new show again, and to explore new styles and steps, and music, is so exciting!
Whilst we obviously don't want to give too much away, would it be fair to say that basic premise of the show is going to be similar to those classic variety performances we all know and love? Lots of dancing, singing, live music, audience interaction, costume changes…
J: YES! That's exactly it! For anybody who has come along to see one of our shows in the past, whether it be 'Remembering The Oscars', 'Remembering the Movies', or 'Remembering Fred', it's basically a similar setup in the sense that we're again going to be celebrating all aspects of a person or an occasion – in this instance, Christmas! There's literally something for everyone – it's not just a dance show, it's not just a singing show, and it's not just something that's visually beautiful to watch, it's all of those things in one! I get so giddy talking about it because I just love Christmas! I have this phrase I use called 'Christmas magic' because the holiday itself just seems to bring out the best in people – there's a love in the air, there's a feeling of kindness and we all seem so much more connected and together! With this show we want to give people that feeling and bring everyone together.
Audiences are going to really enjoy having the opportunity to see the two of you dancing together again! Your chemistry both on and off the stage is palpable, and the British public have really warmed to as a couple after watching you for all those years on Strictly…
A: That's a really nice thing to say, thank you! Obviously we don't get to dance together as much as we used to, so that's why these tours always feel so special to us on a personal level. But aside from that, both Janette and I have always loved the idea of being able to do something that makes people happy, and their days feel that little bit better – I think that's one of the main reasons why we do what we do to be honest with you. So when we see all of those smiling faces in the audience night after night, and we hear those cheers at the end of the every show, it makes it all that more rewarding – you feel like you've accomplished something! It's a contagious feeling – almost addictive, to the point where you don't ever want to stop doing what you're doing, and why would you? We have the best job in the world.
Talk to us about life on the road – we would imagine it's quite nice to have the opportunity to get away and explore new places together?
J: Yes it is but… ok I'm just going to be really honest right now (laughs). 'A Christmas To Remember' is going to be our fourth tour this year… our fourth! So we've been out on the road for quite a large chunk of time this year, so for this tour – and I almost don't want to say it – the only downside is that we're going to be away from home again. Focusing on the positive though (laughs) I obviously have 'It Takes Two' which I'm hosting at least two days of the week, so we have to come back to London for that, so it's going to be fine, but… yeah, it's hard being away from home. Don't get me wrong, we are incredibly lucky to do what we love to do and call it 'work', and we get to stay in some amazing hotels and see some beautiful places, but being away from home for maybe 7 or 8 weeks on tour can be tough.
A: We love our home can you tell? (Laughs). There are sacrifices in every job right? And like Janette says, we're very lucky to be able to travel for work and visit places we wouldn't normally, so it's all balances itself out and it's all worth it in the end.
---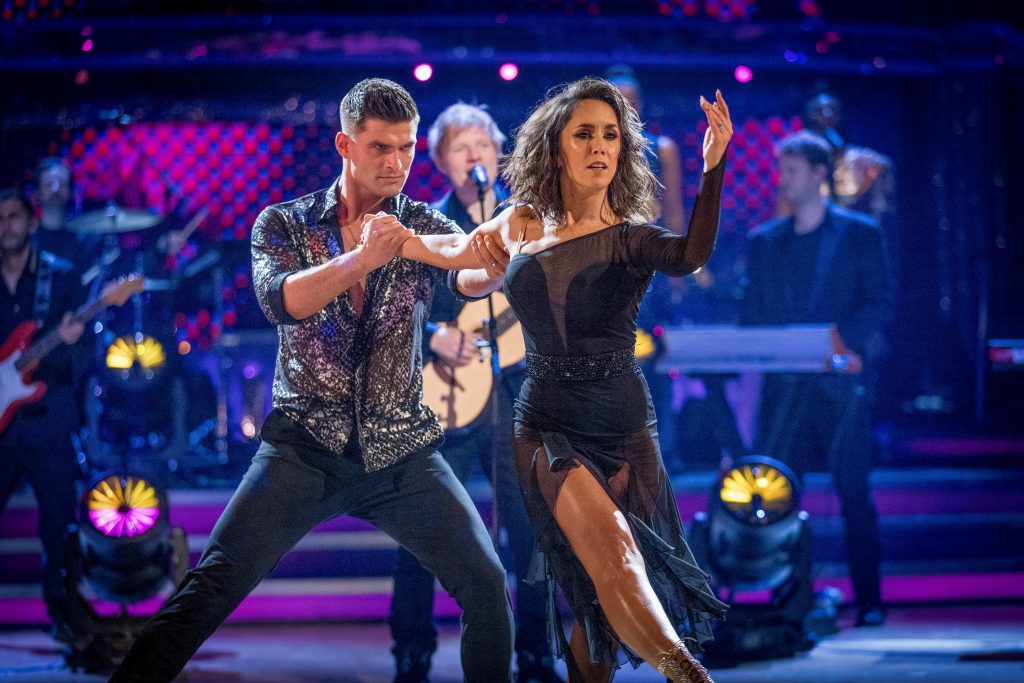 ---
Now, it would be remiss of us to not ask you about that popular dance show on BBC1…
J: Oh that show, yeah… 'Strictly Come Dancing' is it? (Laughs).
That's the one! Has it hit you both yet that you're not a part of the main competition this year?
A: Do know what, I don't know if it has! (Laughs) Obviously Janette is doing 'It Takes Two' – which she is smashing by the way – so there's still lots of 'Strictly' talk going on in our home so in some ways it feels like we're very much still a part of the show, which is nice because I love the show! I just think because I'd been there for so long – you know I did nine seasons of the show – I just had this feeling that I needed to branch out and try something else.
Taking a step back from such a massive programme like 'Strictly' means you a little more time now to go off and explore other opportunities – both personally and professionally – which must be pretty exciting?
A: Yeah it is, it's a really exciting time for us. Life is all about taking risks and taking chances! It's about stepping out of your comfort zone sometimes, and pushing yourself to do something you never thought possible. When you really think about it, our time on earth is limited, so it's important that we never become complacent or get too comfortable doing what we're doing to the point where it feels like we're just coasting and existing. I know everybody's different, but for us as creative people, I think it's really important that we keep challenging ourselves and trying new things. As a show 'Strictly' has taught us so much, and I'm so grateful for everything that it has done for me, but I'm excited to now throw myself into doing something else.
J: I always say to Aljaž, one of the bravest things he's ever done is say goodbye to 'Strictly' – for no reason other than he wanted to explore other avenues in his career. It's not like he had this big plan, or another project ready to go and that's why he left the show, it was simply just to go out into the world to find a new way to challenge himself. To me, that is brave! Taking a chance, taking a leap of faith and not knowing what's on the other side… that's amazing to me, and I'm so, so proud of him! I also think it's a really nice message to put out into the world, and a fantastic way to show people that if they too want to make a change in their life, they can.
What would you both like to do next?
A: There's lots that I want to do! But I'm not putting any pressure on myself. 15 years ago I was a competitive ballroom and latin dancer that came from a country with 2 million people. 13 years ago I was a ballroom and latin dancer who was performing on stages all around the world. 9 years ago I was given the opportunity of a lifetime, as a ballroom and latin dancer, to appear on one of the most popular TV shows in the UK and I ran with it! Today I'm a ballroom and latin dancer that can go around the country on tour, in his own show, with his wife, talk on stage in his second language for an hour, and perform and entertain people on a level that I never, ever thought possible. Every single step I've taken up until now has happened without me ever pushing or forcing 'something' to happen. I firmly believe the right things happen to us, at the right time. So I'm just going to take my time, and do what feels right. I just want to say though, that I'm incredibly inspired by my wife! To see her flourish the way she has in her new role as a presenter on 'It Takes Two' is just amazing! She teaches me that anything is possible if you're willing to work hard for what you want.
J: It's so easy to get put in a box in this industry, and I think because we became known for being on this huge TV show that is so well known all across the country, it would have been very easy for both Aljaž and I to stay on as 'Strictly' professionals until the day we retired, because it can be really hard to cross over and do something else. But that's not in either of our natures, we don't want to boxed in, we want to smash out of the box and try new things and discover new passions.
Finally, focusing back on the tour and the upcoming holiday season – what does Christmas mean to each of you?
A: For me, I think that Christmas in general is a time for people to come together and forget about all of their troubles. It's a time for reflecting, and it's a time to show support and gratitude to loved ones. I love all of the classic Christmas traditions, and I think it's important to carry them out each year so they don't ever get forgotten by younger generations.
J: I just think it gives all of us (who celebrate the holiday) a sense of peace within, because it's something so familiar and warm. You know it's going to make you happy and fuzzy inside… even if you're in Miami and it's hot outside, you still get that same fuzzy feeling (laughs).
A: I love how it brings people closer together. You can feel the love, the happiness and the positivity in the air can't you? And I think the world needs more of that right now, so I say it should be Christmas everyday… or at least once a month!
Tickets for 'A Christmas To Remember' are on-sale now.
---
Let us know your thoughts on Aljaž Škorjanec and Janette Manrara over on Twitter @CelebMix now!