21 year-old British recording artist Benji Brown is currently riding high following the release of his debut single, Déjà Vu – an introspective and soulful R&B slow jam that sees the Northampton natives heart conflicted, as he yearns to break free from a toxic and painful, one-sided relationship.
Co-written by prolific songwriter and music producer Ben Stancombe, Déjà Vu, with it's alluring melody and introspective lyrics, serves as the perfect introduction to one of Britain's most exciting new stars…
"I just wanna be someone…"
Having grown up in a household consumed by music, it was only a matter of time before this talented young artist was making musical waves of his own, posting his first 'singing video' online 6 years ago.
"I remember getting my first follow on YouTube and was so shocked!" Benji admits. "But music has always been a part of my life. Growing up I was surrounded by powerful songwriters so I've never felt I could compete, until now. With age has come a maturity in my music and artistry that is a commentary of emotions over the past year."
With that maturity, came momentum – and ambitions to make 2020 a career defining year to remember! However, in light of the global pandemic that has stopped us all in our tracks, those plans have had to be paused… that's not to say though, that Brown has given up his hustle…
"Right now, because of being in isolation, I'm working on a lot of music." Benji tells us we begin our interview. "I'm always writing and creating new stuff, it's keeping me busy so I can't complain…" 
Forgetting for a minute the obvious chaos that we are all experiencing right now, this must be a really exciting time for you in your career, how does it feel to have just released your debut single Déjà Vu?
Honestly, it feels so amazing! I recorded Déjà Vu over a year ago and I knew right away that it signalled the start of something new for me – and like I was about to embark on this amazing adventure because of it. I've waited over a year to release it, and it's been super hard not to play it to anyone, but it's like my baby, a piece of art that I poured my heart and soul into, so the timing had to be right… I really didn't want to rush anything.
Can you tell us a little about the inspiration behind the track?
So, Déjá Vu was written about a broken on and off relationship I was in. The chorus starts with the lyrics "I just wanna be someone, I just wanna be someone to you" which were totally inspired by the relationship being so up and down and me just wanting to be someone to that person. Musically I'd say I massively inspired by artists like Khalid and Jeremy Zucker whilst I was writing it – I really look up to them and I love their vision and Artistry.
You worked with Ben Stancombe on the track, what was your experience like collaborating with him?
Ben is an incredible producer, I'm so grateful I had the chance to work with him on this single… we actually have a few more projects coming out soon!
You have such an incredible voice – and beautiful, soothing soulful tone – is singing something you've always enjoyed?
Thank you so much! When I was really young I learnt to play the piano and drums, and during that time I always used to think about wanting to sing too, but I was very shy and never wanted to perform in front of anyone. But singing was something I always enjoyed for sure.
Who were your musical hero's growing up and how do you think they have influenced the music you're now making in any way?
My main musical hero is my big sister Vanessa, a.k.a VV Brown (the incomparable British indie/pop singer-songwriter, model and record producer who has sold over 1 million records worldwide) I have looked up to her my whole life! Growing up she was just my big sister but… my big sister who just happened to be off touring the world, making music and creating this amazing career for herself in the States. To be able to do what you love for a career is so inspirational – she's incredible and deserves nothing but the world. Everyone has their own idol, hopefully I can be that to someone like Vanessa was to me.
For any of our readers being introduced to you for the first time, how would you describe your sound and yourself as an artist?
My sound is very much pop/R&B – I like to adventure and experiment with both genres. Lyrically I like to write songs that are very meaningful and relatable – the music that I'm making right now, feels like I'm telling a story. 
Social media plays such a huge part in the career of all musicians and celebrities these days, what's your relationship like with social networking?
I spend a lot of time on social media – I like Instagram and Twitter, they are the two main platforms I use to make contact with my audience.
Do you enjoy connecting with fans online and creating fresh, new content for them?
Yeah I love catching up with them and seeing how they are doing, especially during this pandemic – I find it more important than ever to check on them. And creating content is fun, I like to keep everyone updated with what I'm doing and what I'm working on.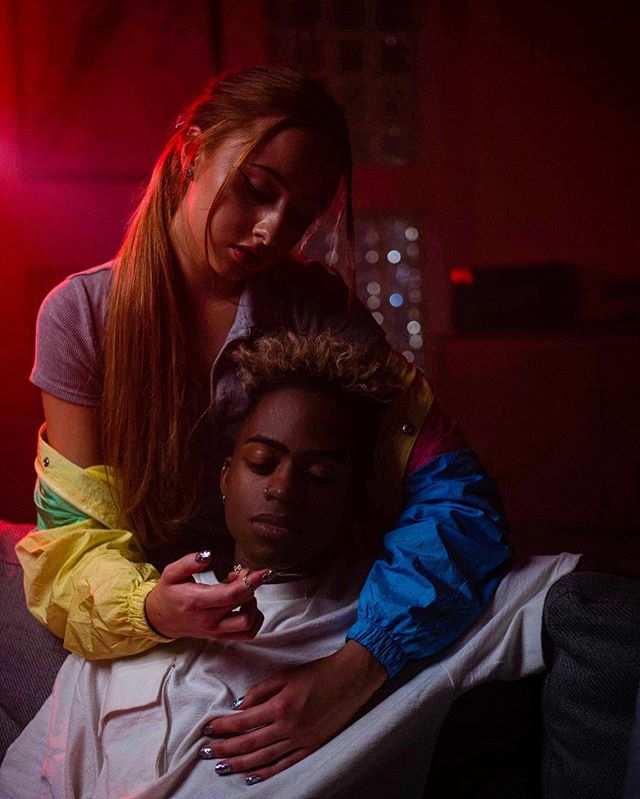 As well as making music, you've also created your own clothing line – can you tell us a little bit about the idea behind the collection and how it came to be? 
So last year I dropped my first line which was all hoodies… and they were sold out within 24 hours which is such an achievement! I had the phrase "YOU DON'T REALLY KNOW ME" printed on them which is a line from a song by one of my idols, Jessie J. That particular song and its lyrics really spoke volumes to me and it represented how I felt at the time. The clothing line holds a very special place in my heart. 
Who would you say is your biggest style inspiration?
My style is very much urban streetwear, so I get a lot of inspiration from Instagram and niche brands like Collusion, who I'm completely in love with at the minute! To be honest, I'm not into big high fashion brands, I'm happy to rock a whole outfit from Topman to events. 
Music and fashion so often go hand in hand – do you enjoy mixing it up between the two?
I love bringing the two together! I love fashion and for me, it plays a big part in my thinking when it comes to things like the artwork for single and album covers, music videos and photoshoots. I think both the artist and the music greatly influence the fashion industry. 
What can fans expect from you for the rest of the year?
New music and potential collaborations with other artists. It's going to be good! 
---
Let us know your thoughts on Benji Brown and his single 'Déjà Vu' over on Twitter @CelebMix now!