As a brutally honest and fearless recording artist, who finds solace in self-reflection, and healing in the power of self-forgiveness, British singer/songwriter Charlotte OC turns her vulnerability into her greatest strength on her sophomore album, Here Comes Trouble – a deeply personal collection of 12 songs that detail the aftermath of the breakdown of her relationship.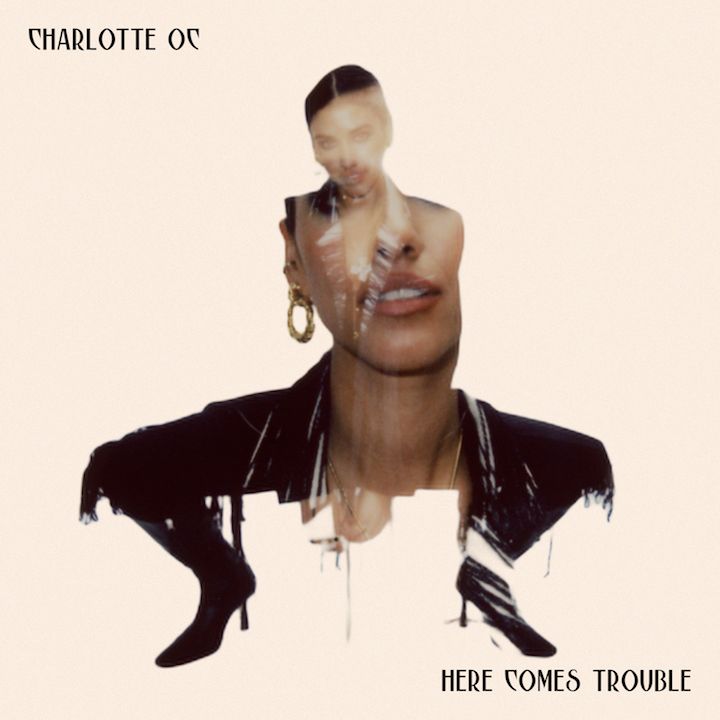 ---
"To love and lose is inevitable…"
"In August 2020, my world fell apart; everything that had once been, was no longer and I lost control of everything. My heart had been broken in a way I could never have imagined and there was nothing I could do about it." Charlotte says as she begins to explain her state of mind, and the emotional turmoil she felt in the time leading up to making the record. "I started drinking a lot, partying too much, not eating enough, smoking like a chimney and generally just not looking after myself at all… my self destruct mode, was well and truly activated."
"After one particular night out, where I drank so much I forgot about all the shit that was going on, I got into bed in the early hours of the morning and I just lay there, alone in my thoughts and it honestly felt like there were 3 demons sitting on the end of my bed going over all of the things that had gone wrong, all the things I'd lost and all the things I couldn't change. It was in that moment that I released just how totally lost in space I felt, and how nobody was going to be able to bring me back to earth."
Reflecting further Charlotte adds: "Through that dark time I was forced to acknowledge things about myself, and sometimes not in the most positive of ways. This whole album is me self-deprecating, this is me standing up for myself , this is me madly in love, horrifically heartbroken, angry, this is me praying to a God I don't believe in about a life I couldn't lead, because I had nothing left to lose."
---
Charlotte OC x Inevitable
---
Hearing Charlotte's story and listening to her speak so eloquently, makes it abundantly clear just how much of a saving grace music has been for her, and how the simple act of putting pen to paper to write this record has afforded her the clarity and sense of healing she craved for most, at this point in her life.
"Honestly, the whole process of making music is very therapeutic for me." The Darkest Hour singer admits. "Sometimes walking away from the studio with a song you love is… dare I say it? Orgasmic! It lifts you, even if you've got no money in your pocket or you've just been dumped, if you write a good song that day, it gives you this ultimate high and it helps to keep you going; I'd be lost without it."
To be so open and honest, and essentially bare her heart and soul in front of the whole world takes real courage, especially in a time where the court of public opinion aka social media, is rife with people seemingly always ready, and willing, to pass comment and judgement on every move an artist makes. With this in mind, we wonder where does Charlotte find the strength to let her guard down, and share with her audience some, if not all, of her deepest and most personal thoughts and feelings.
"I'm very open and very to the point as a person, it's just who I am, I think I got it from my Dad as he was a deeply emotional person." Charlotte says with an air of confidence. "Having said that, I can also be very private when it comes to other things, and certain aspects of my life – it's about find the right balance I guess."
---
My heart had been broken in a way I could never have imagined, and there was nothing I could do about it.

Charlotte on how she felt during the making of her sophomore album, Here Comes Trouble.
---
That willingness to be so open and vulnerable, definitely helped to liberate Charlotte from the depths of despair she found herself trapped in last summer, as she explains when we ask how she feels now she's living and thriving on the other side of heartbreak…
"Now that the album is done and it's out there for people to hear, it feels liberating. But at the time, whilst I was living and going through it, it was hard. Walking into that studio with everything that was going on was a struggle to say the least. But It kept me busy, it kept my mind occupied and I feel lucky that I had this, my work, to dive into. Ultimately, it was all in aid to make my family and my Dad proud, and I hope I did that."
"I must say though that I couldn't have done it (the album) without the love and support I received from my producer, Couros, and the small bunch of co-writers I collaborated with on some of these songs. They took both me and this album out out of the darkness, and helped me expel the demons into my work."
As well as using her time in the studio as a form of therapy to address and confront some of her most profound and consequential feelings of heartbreak, sadness and loss, on Here Comes Trouble, Charlotte manages to cut deeper and go past the surface, by pushing the boundaries lyrically to tackle and explore a number of different themes and issues, none more so than on one of the albums stand out tracks, Centre Of The Universe – a beautifully rich sounding, experimental pop song that sees the Blackburn native reflect upon the moment she first realised her own mortality…
---
"As we get older, you noticed the moon don't follow you…"
"Writing that song was really special." Charlotte says with a smile when we ask of the message and inspiration behind Centre Of The Universe. "And I really have to thank the lads of The Howl and The Hum (Sam and Brad), because we co-wrote it together in a studio session that was just pure magic."
Detailing the trios experience further, she adds: "I remember one day we just started talking about some pretty deep shit, and in that moment I just decided to admit that I thought the world revolved around me in a HUGE way… and the concept for the song just sort of flowed from there. We started it on guitar, in the same way I did with most of the tracks on the record, but I think what was different with this particular tune was that I'd been listening to a lot of Portishead and The Chromatics, and I think those influences come through on the track. It's one of my favourites, and I love the reaction it's gotten from people – it's gone down really well which I'm glad about because I remember feeling really proud but also really scared once we'd finished writing it, because it is so different and so honest."
With it's super soulful melody, set against a backdrop of futuristic, sparse, staccato beats, and hypnotic, electronic sounding synths, the timeless and unique track stands out as being one of Charlotte's most candid and confessional songs to date. Something of which seems to both excite, and frighten her in equal measure.
"I've constantly been in a battle with myself when it comes to lyrics, because I feel like I have so much to say, but never quite know how to say it." Charlotte says of the inner conflict she can sometimes feels when it comes songwriting. "I was getting annoyed that all my lyrics were about generic stuff which for me felt huge, but it wasn't enough for me to feel ultra proud. I wanted to say something to make a difference, but the subject matter of 'Centre Of The Universe' it's quite an embarrassing so I was really nervous to put it out (laughs). The lads from The Howl and The Hum really brought it out of me though – please, everyone reading this, check out their stuff!"
With the lyrical content of the record taken care of, Charlotte then says she had to switch her focus and turn her attention to how she wanted the album sound as a whole. Never one to conform or stick to the rules, the Cut The Rope songstress admits that musically, she wanted to do things differently this time around.
"At one point I got consumed by the idea that my album needed to be cohesive but when I was in the midst of making it… nothing was cohesive, nothing flowed. A global pandemic hit, my heart was broken and I wasn't myself, and so I wanted to show the many moods of me through that time."
"Couros my producer, Carys Selvey, Tristan Landymore and of course, The Howl and The Hum really helped me with that. We wrote the majority of the tracks through the semi ease of lockdown, so there was a chill to the environment, but still very odd. I think we were just all feeling very lucky to be back in the studio again – the whole process of making the album has been a unique experience for sure."
---
Now that the album is done and it's out there for people to hear, it feels liberating. But at the time, whilst I was living and going through it, it was hard.

Charlotte on how her new music has saved her from the crushing breakdown of her relationship.
---
"Where Do We Go?"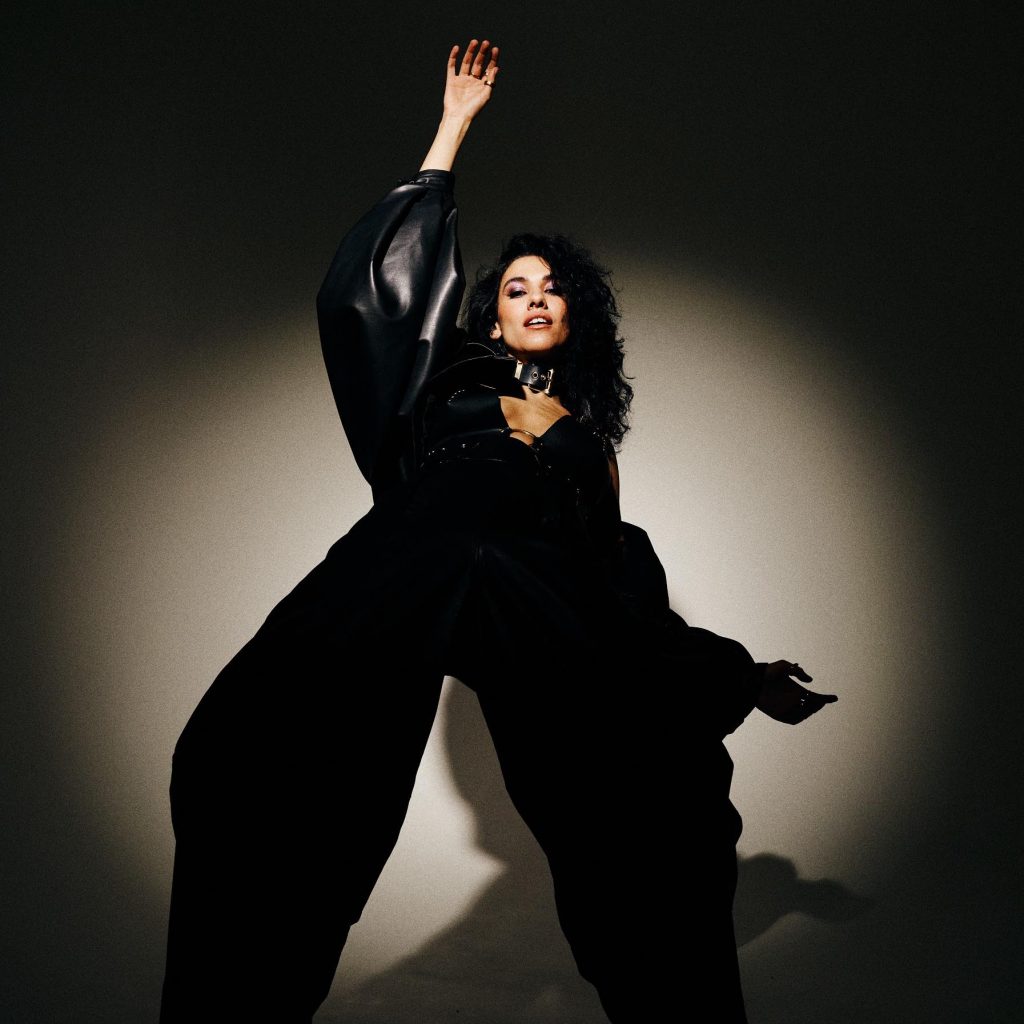 Presenting a body of work that both encapsulates and chronicles one of the most difficult and painful times in your life, must be an incredibly daunting prospect. But for Charlotte OC, a powerful female who fearlessly wears her heart on her sleeve, the whole experience of making and releasing Here Comes Trouble has been as freeing as it has cathartic.
"I'm so proud of this album, I really am." Charlotte says with a sense of pride. "A lot of emotion has gone into it and I can't wait to share every melody and every lyric with people. I hope they really feel it and relate to what I'm singing about… but it's not an album to have on in the background – you need to really turn the fucker up, and go off!"
Here Comes Trouble is available to download / stream now. Be sure to keep up to date with Charlotte by following her official Instagram account @charlotteocofficial.
---
Let us know your thoughts on Charlotte OC over on Twitter @CelebMix now!