As Strictly Come Dancing's longest serving judge, Craig Revel Horwood is known to millions for his stern critiques, sassy attitude and a man who notoriously hard to please on the dance-floor.
This Christmas however, the Australian born star is keen to show fans an all together different side to his personality, by teaming up with long-time friend and fellow performer Rietta Austin to release the super festive single, It's Christmas, Merry Christmas! – out today!
---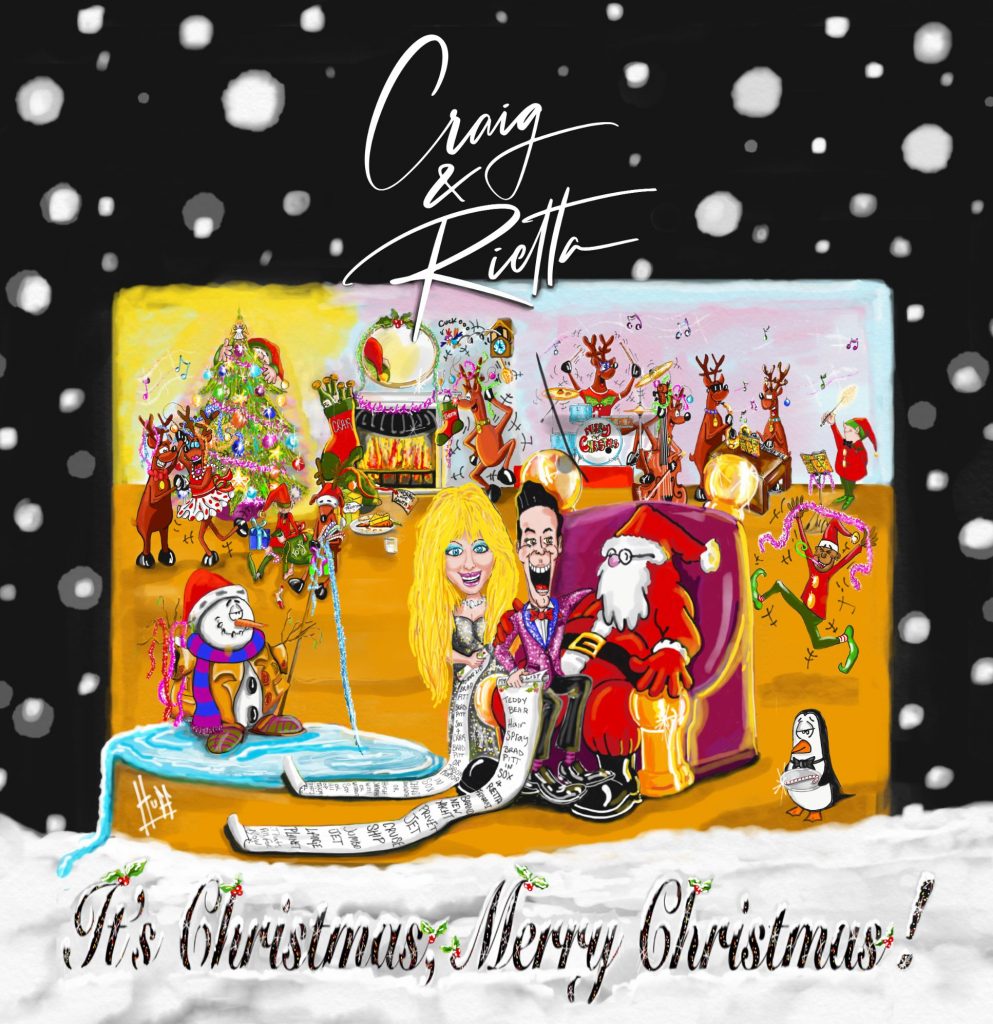 ---
Self-produced by Rietta, and co-written by Revel Horwood himself, along with Austin and Nik Page (who famously starred as Jean Valjean in Les Miserables on the West End), the outrageously joyful and upbeat track looks set to spread some much needed festive cheer this holiday season, something of which both Craig and Rietta agree people all around the world are in dire need of this Christmas!
"Let's be honest, we've had a terrible two years haven't we?" Craig tells us from his home in Hampshire, where he has been self-isolating for the past 10 days having tested positive for COVID-19. "I mean it's been bloody awful for everyone! So Rietta and I wanted to create a song that would inspire people to spring into action, and embrace the festive season again… in fact I demand that everyone grab an eggnog, or a glass of champagne, and get up and dance along to this song immediately!"
Nodding in agreement, Rietta adds: "We didn't want to write a song that was 3 minutes of us harping on about our emotions, or talking about all of the things we've been missing during the past couple of years, now is not the right moment for that. I'm a firmer believer that sometimes, we all just need to forget the world around us exists for a minute, and dance like no-one's watching!.. and let's be honest, if there was ever going to be a Christmas to do that, then it's this Christmas!"
Encapsulating all of the wonderful musical instruments, and sonic elements that fans of the holiday genre love to hear in a traditional Christmas song, the track successfully manages to radiate both a familiar feeling of warmth, and cheery sense of nostalgia, that tugs on heartstrings and leaves listeners feeling reflective, and grateful for celebratory times gone by.
---
Rietta and I wanted to create the kind of song that would inspire people to spring into action, and embrace the festive season again!

Craig on how he hopes his new single will bring a little light back into all of our lives following a difficult two years.
---
Creating any kind of themed, or niche song can be tricky for an artist, so we wonder how did an accomplished songwriter and music producer like Rietta go about creating her first ever Christmas song…
"The writing of this track actually came very naturally to me." Austin admits. "There are a lot of parts to it, so we spent quite a bit of time playing around with the production to make sure we achieved the exact sound, and feeling we wanted. So we have this beautiful, angelic sounding choir on there, a wonderful saxophone solo, some sleigh bells and then there's a this great little percussion section courtesy of a Symphony Orchestra in New Zealand, who I managed to convince to play on the track while I was over there (laughs). I'm really proud of it, and I'm so happy to doing this with my bestie!"
"What Rietta's done in terms of bringing this song to life is amazing darling!" Craig adds, pronouncing and emphasising the word 'darling' in only the way he can. "I've always been inspired by the Jersey Boys, so for me personally that was the vision and sound I had in my head when we first initially started talking about doing a Christmas song, and so I love that she's been able to incorporate my ideas and include them in this record."
"There's a great 1950's / 1960's jive beat to it, which I love – it's my favourite era of music so it's nice to bring back those rhythms and that tonality, that I believe just reminds people of having fun, acting a bit silly and being carefree. It's brilliant, I can't stop listening to it, I think it's FAB-U-LOUS!"
---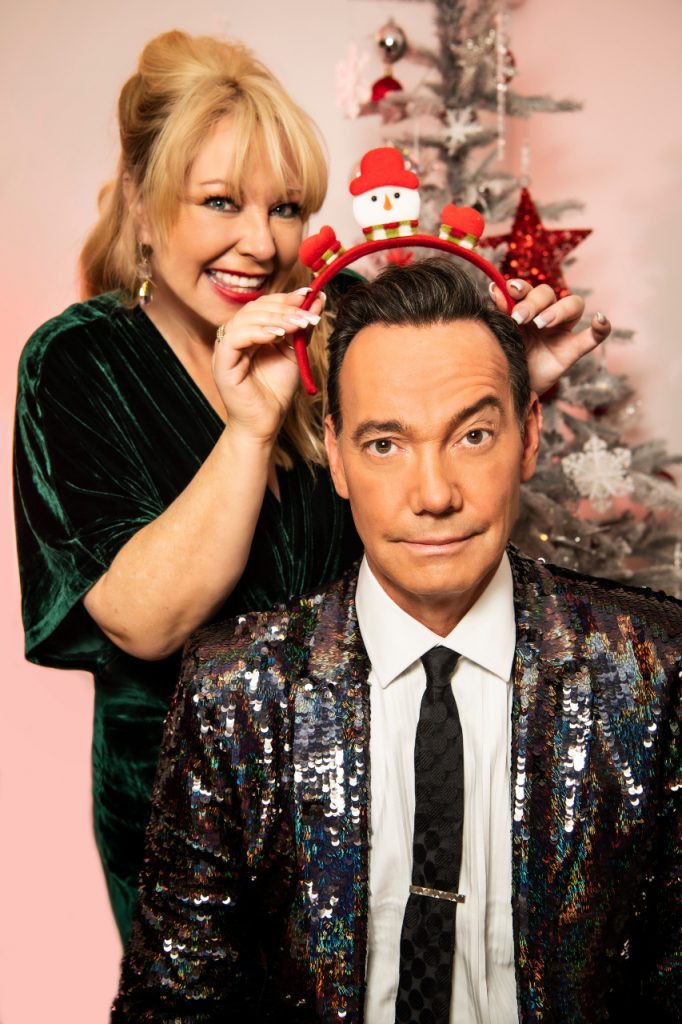 ---
Despite having long-established himself as one of the entertainment industries most sought after choreographers and versatile performers, It's Christmas, Merry Christmas! surprisingly marks Craig's first foray into the world of pop, with the single set to debut ahead of the duets album he and Austin plan to release in the new year.
Treading new ground and exploring uncharted waters at this stage in his career, may be viewed as being somewhat of a bold move to some, but for Revel Horwood who thrives off challenging himself, and understands the need to sometimes diversify in order to maintain a sense of personal excitement and creative fulfilment, now seems as good a time as any to try something new.
That being said, it's important to remember that away from the glitz and glamour of the Strictly ballroom, Craig is a human being with feelings and emotions just like the rest of us! And despite the icy bravado he plays up to on a Saturday night entertainment television show, it's only normal to hear he has some feelings of trepidation as he prepares to step up to the mic…
"Of course I'm a little bit nervous to be trying something new, but I'd say overall I'm a pretty fearless person and have been for the majority of my life. Listen darling, as a director and choreographer I have been judged throughout the whole of my career – sometimes in a good way, sometimes in a bad way, so I'm used to hearing people's opinions about me… and truthfully, I really don't care (laughs). It's a part of the job that I do, so I just have to accept."
Reflecting further, the theatre director adds: "I'll admit, what definitely excites me about releasing music, is having the opportunity to show people a different side to my character and personality. The whole nature and feeling of 'It's Christmas, Merry Christmas' is very fun, very upbeat and super charismatic… which let's be honest aren't necessarily traits the majority of the public would associate with me (laughs). Traditionally I'm not really known for being someone who smiles or laughs am I? I'm recognised as being that miserable man that sits on the end of the Strictly judging panel that only hands out 3's and 4's! But I think at this point in my life, I'm becoming a bit more open to the idea of letting people see who I really am. That's why I decided to do the travel show with Bruno Tonioli – (a six-part ITV series that saw the two Strictly judges and longtime friends leave the dance floor behind to embark on a series of road trips around Britain) – because I wanted to showcase another side to myself. And I had a great time filming that programme. I felt so comfortable and like I could be totally myself and have a laugh, which was really nice, and I think overall it gave viewers a real insight into what I'm really like…"
Clapping her hands and shaking her head, Rietta interjects: "Listen, forget all of that! I just can't wait for the world to hear what I've known for a very long time – that my friend is a fantastic singer!" Rietta interjects with a sense of pride. "I'm honestly so excited that people are finally going to be able to hear what a fabulous voice this man really has, and how much fun he can be! I think everyone is going to be really surprised… in the best way possible!" 
---
It's Christmas, Merry Christmas! (Official Music Video)
---
As we look to the future, post Christmas and post the Strictly final in two weeks, the duo admit their focus in the New Year will be to put the finishing touches to their as-yet-untitled new duets album which is set to be released early 2022.
"I think this single (It's Christmas, Merry Christmas!) sets us up beautifully for our album." Craig states confidently. "There's a real mix of different sounds and styles on there – we've got some really serious songs, some dance tracks, there's a tango, a waltz… a little bit of everything darling, because we want to be inclusive, and create an album that has a little bit of something for everyone. And also… the world needs to know just how talented and incredible Rietta is! She is phenomenal, her voice is insane! She should be the biggest star on the planet, not tucked away in New Zealand! Seriously, she's the best… and I'm not afraid to admit, I was really actually quite daunted at the prospect of having to sing along side her because I just thought 'how can I compete?'
"We're very excited about the music we've produced!" Rietta says proudly. "As Craig has already told you, the album is a real mixed bag that totally reflects both of our personalities and imaginations – not just musically, but lyrically too. I don't want to give too much a way, but an example of that is the single we have coming out around Mother's Day in March, about our Mums, which is really special and we will be dedicating to not just to our Mothers, and everyone else's too."
Pausing for a moment of reflection, Austin adds: "Working together in this way is something new for us, but we've love it, and I personally feel like its been a long time coming… I hope people are ready!"
It's Christmas, Merry Christmas! is available to download / stream now.
---
Let us know your thoughts on Craig Revel Horwood and Rietta Austin's new Christmas single over on Twitter @CelebMix now!