In the fast paced world of pop, the life of a recording artist can take many twists and turns… just ask Denis Coleman; the American born, London based Prince of teen pop who's stratospheric rise to the top shows no signs of stopping anytime soon!
In the same week that saw him celebrate his 19th birthday, embark upon a mass media blitz of press interviews and promotion, and launch his brand new single and music video for 'Narcissist', Denis also took to the stage at the iconic o2 Arena in London to perform one of his biggest gigs to date, as the opening act for Little Mix on the final night of their farewell (for now) 'Confetti' tour.
Despite the relentless nature of his schedule, Coleman remains a creative force to be reckoned with, showing unwavering commitment to his craft, and never faltering in his quest to become the defining pop artist of his generation.
---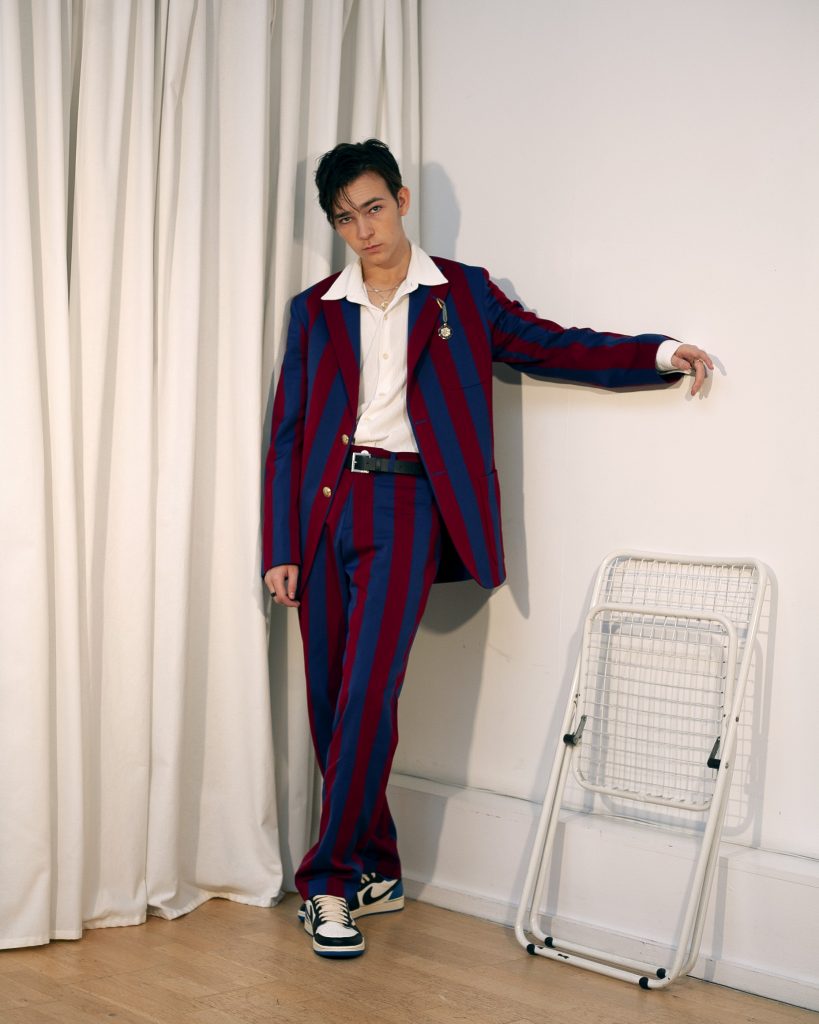 ---
As a fully independent musician, still very much in the infancy of his recording career, Denis Coleman already has many impressive feats on his timeline up until this point, including supporting the tours of The Vamps, HRVY, New Hope Club and Why Don't We, as well as, headlining multiple venues across the UK. 
Coleman's back catalogue stands as equally credit-worthy, having amassed over 7 million streams across DSP's and built an organic cult following of dedicated fans who count towards the 100,000 followers across his social media platforms.
We caught up with Denis to talk musical inspirations, the meaning behind his new single 'Narcissist' and what life was really like on tour with Little Mix…
Denis, tell us how has life been this past month on tour with the mighty Little Mix?
It's been epic, it's been crazy and in many ways mind-boggling, because if I think back on my younger self, and remember those days of me listening to the radio in the car on the way to school in morning, all the DJ's and stations were playing Little Mix! And I'd be there jamming along to their music, totally unaware that one day I'd be opening up for them on tour… it's surreal.
You must have been on cloud 9 when the offer came in…
Oh it was unbelievable! I don't think I was able to take it in to begin with (laughs). Obviously I knew it was going to happen, and I could get my head around the logistics of it all, but mentally I don't think it really hit me, or felt real until I stepped out onto the stage that opening night. Which probably sounds stupid, because obviously in the weeks leading up I'd been in rehearsals, I'd been arranging the setlist, and working on the staging and stuff, yet I don't think I'd fully processed that everything I was doing was in preparation to actually go on tour with Little Mix… I mean what an honour! They are legends in the world of pop music!
If you can, take us back for a minute to the beginning of the tour, what was the energy like backstage on the opening night?
Being backstage, meeting the whole team and of course the girls themselves was so exciting!.. then you remember you have a show to do in front of thousands of people and you maybe start to get a little nervous (laughs). The atmosphere was insane though – the energy of the crowd was electric, Little Mix fans are the best!
---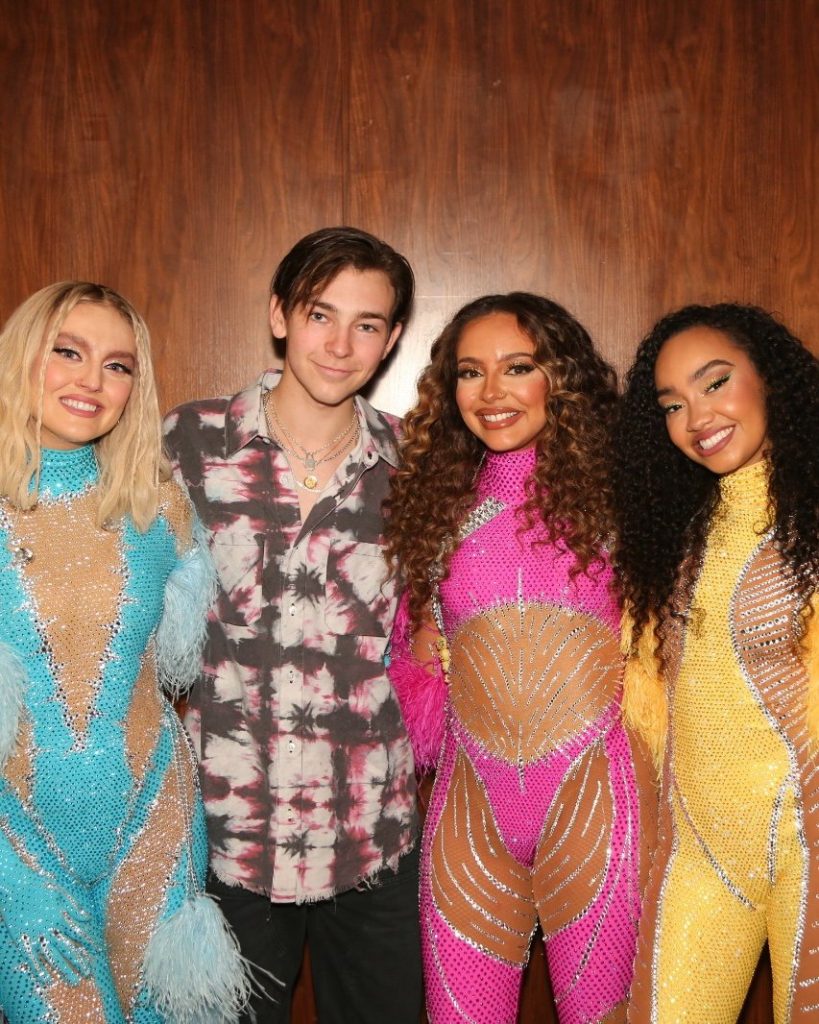 ---
This past month you've played 28 shows up and down the country, and visited some of the U.K.'s most iconic music venues! Where there any particular dates or crowds that stood out at being extra special?
Honestly, and I really mean this, every show in every city was incredible! The crowds were so amped, the girls were on top form and everyone involved just seemed super excited, and happy to be there! It's been a magical month, it really has.
With this being the last Little Mix tour (for now), we would imagine emotions were running pretty high on the final night?
Seriously the energy on the final night, even compared to the rest of the tour, was in a different league. Emotions were definitely heightened both in the crowd and backstage. I saw the girls, their dancers and their team before they went on and everyone was crying, which was super emotional to see. You could tell how much that moment meant to them, it was clearly a huge, monumental night in their lives and I feel so, so lucky to have been a part of it. When I look back on the whole experience now, I feel like it was just this huge celebration of both Little Mix and their incredible 10 year career, but also of live music, and the fact that we can all now enjoy going to gigs and concerts again.
On a personal level, how has it felt for you being back out on the road and performing in front of live audiences again?
I love very aspect of life on the road – being on stage is my happy place, I feel very comfortable and at home when I'm performing in front of a crowd, so I've been in my element these past few weeks! Everyday is different, you get to travel to loads of different places and meet a ton of new people, plus it's a fantastic way for me to grow as a performer – playing on different stages, in venues of all different shapes and sizes really helps me to get better at what I do, so yeah, I'm thrilled to finally be back out there performing live again… especially my new material!
---
The 'Confetti Tour' was a both a huge celebration of Little Mix and their incredible 10 year career, but also of live music, and the fact that we can all now enjoy going to gigs and concerts again!

Denis reflects upon the what being a part of Little Mix's 'Confetti Tour' has meant to him.
---
Talking of new music, you're latest single 'Narcissist' is released this week! What can you tell us about the track?
I actually wrote this about the allure of similarity, and that initial rush you feel when you meet someone who is just like you. Time eventually reveals the nuances of everyone's character, but there is a brief dreamlike period in which every connection feels euphoric. I always found this quite funny and narcissistic so I decided to write about it and I'm super excited to be releasing it!
Musically this feels to be another step forward for you in terms of the overall evolution of your sound – would that be fair to say?
Yeah, I think as time goes on I'm definitely becoming more confident with the idea of experimenting with different styles and genres. I feel like the overall sound and arrangement of this song in particular, really matches with the emotion that I'm trying to convey – musically, it really takes you on a journey. It starts off quite stripped back with this relentless beat that sort of lays down the foundations, then the guitars kick in to really drive things forward, before you're hit with this wall of synthesisers. It's cool and atmospheric, I'm really happy with how it's turned out.
How would you say your approach to making music has changed in recent years?
I'd say that it's just naturally evolved over time. As I said, the older I'm getting, the more confident I'm becoming, and with that confidences comes the desire to try new things. I'm super into production at the moment, so that's something that really excites me and a road I'm looking to explore more in the future. I co-produced this track ('Narcissist') which is a huge deal, and definitely a process I enjoyed and want to do more of in the future.
---
Denis Coleman x Narcissist (Official Music Video)
---
Can we expect to get an EP, or even album, from you anytime soon?
At the moment I'm very much focused on putting out a bunch of different singles, and using this time as a way to allow people to get to know me a little bit better, without the pressure of having to deliver a whole album. The market at the moment is very much aligned to streaming, and individual songs rather than an albums or EP's, and for where I'm at in my career at the moment, that works for me, because I think my fans really enjoy hearing new music from me on the regular rather than having to wait a year for me to create a whole body of work. That being said, I'd like to put out an EP in the not too distant future, possibly made up of my most recent singles that I feel really reflect my new sound… my true sound.
That's exciting! In the meantime, fans have got a tour to look forward to…
Oh man, I cannot WAIT for this tour! It kicks off in August, I'm going all around the U.K. and it's going to be amazing! We're already starting to schedule in some rehearsal time and put a band together which is super exciting! I've also tentatively started to plan the setlist, so everything is slowly starting to come together.
Sounds like you've got a lot of work to do! How, and where do you even start to begin to plan one of your live shows?
For me personally, it all starts with the setlist – that I find kind of dictates the overall theme and tone of the show, and it's actually quite a fun process to co-ordinate (laughs). I really enjoy looking back over my catalogue and listening to everything I've done up to this point, and seeing what tracks will work together to best reflect where I'm at in my life right now. From there I like to take myself off somewhere, close my eyes and really think about what I want my show to look like, how do I want my audience to feel, how do I want to present these songs both musically and visually… it's about creating a flow and an arch that tells a story. Like you say, it's a lot of work, but it's one of my favourite things to do.
Are you somebody who likes to collaborate with a team of people, or do you very much have your own ideas of how you want the tour to be?
Erm… maybe a bit of both! I do have a lot of my own ideas that I like to explore, but in truth I couldn't bring any of them to life without the help and support of my team. My musical director Grahame is incredible, as are the musicians I work with – having time with them in the rehearsal room to just experiment and jam around really helps to spark lots of different ideas. So yeah, I'd say it's a combination of a lot of heavy duty planning, and also little spur of the moment bursts of creativity whilst collaborating that really shape my live shows.
From a performance perspective, which (if any) artists do you look to for inspiration?
Oh so many! I find going to see other artists perform live really inspiring! I also like to look back at some of artists who I enjoyed listening to growing up, and watching old clips of them and seeing how they brought their music to live in a concert setting. At the end of the day, a lot of the things I'm doing, I doubt I'm going to be the first person to ever do them (laughs) so I think it's cool to look to my peers for a little bit of inspo.
So come on, tell us… what can fans expect from a Denis Coleman show in 2022?
Well, hopefully a lot of great live music, some cool interaction with the crowd and a safe place to let go and be themselves. What they are going to see onstage is an amalgamation of all of the different things I've taken in from childhood to now, that have subconsciously affected my mind, my taste and my vision for who I want to be as an artist. Mix all of that together and what you get is me.
---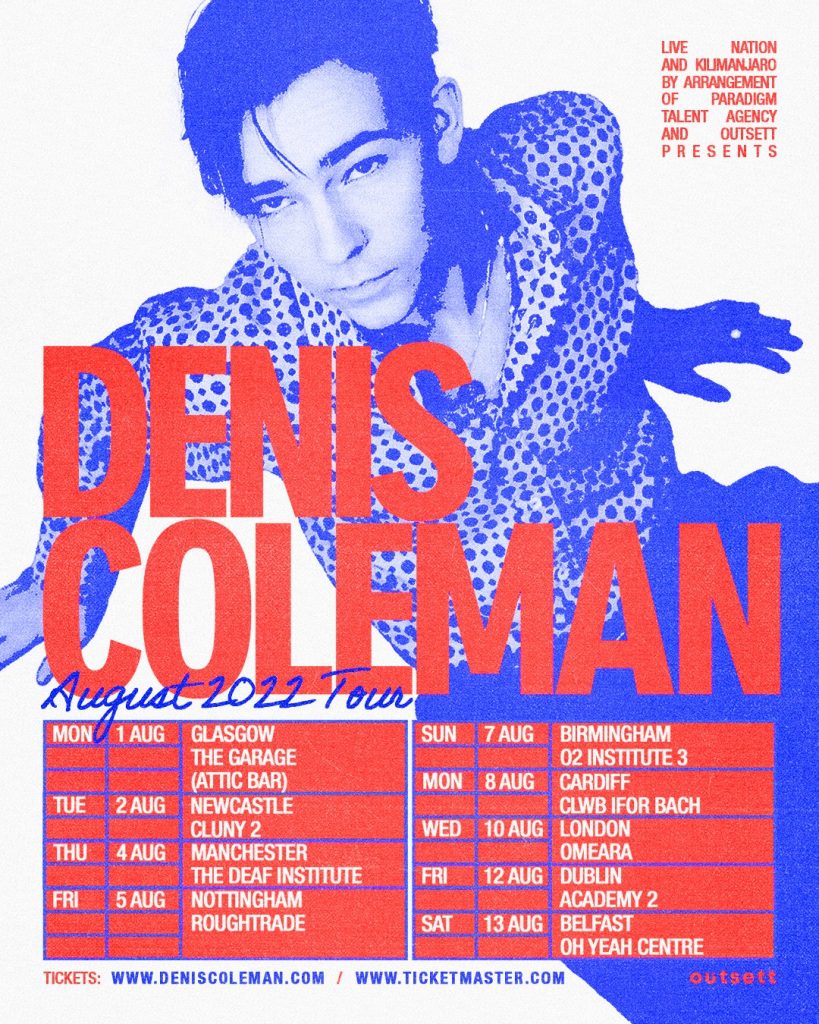 ---
There's no denying that 2022 has been an incredible year for you so far! As we look to the future, what else is there to look forward to over the course of the next few months?
So much! Obviously my main focus right now is the new single and the tour, but once I've got those two things in the can, I'm heading back into the studio to work on more new music which I am super excited about! For me right now, I kind of get off on challenging myself and pushing things to the limit. I want to dig deeper creatively, and really write songs that mean something to people. I love everything I've done in my career so far, but now feels like the right time to move things up a gear and create music that is going to take me to the next level; and I'm super focused, and willing to work hard to make that happen.
Denis Coleman's new single 'Narcissist' is available to download / stream now. Tickets for his summer tour are also on-sale via Ticketmaster here.
---
Let us know your thoughts on Denis Coleman over on Twitter @CelebMix now!