This summer marks three years since 28 year-old media personality Theo Campbell made his way into the Love Island villa, during the hit ITV2 shows third, and some might say most popular, series back in 2017.
Hailed as a hero by viewers for his quick wit, cheeky sense of humour and unapologetic approach to 'playing the game', Theo was a breath of fresh air on the show, winning a legion of fans during his 11 day stay in the now (in)famous Mallorca villa.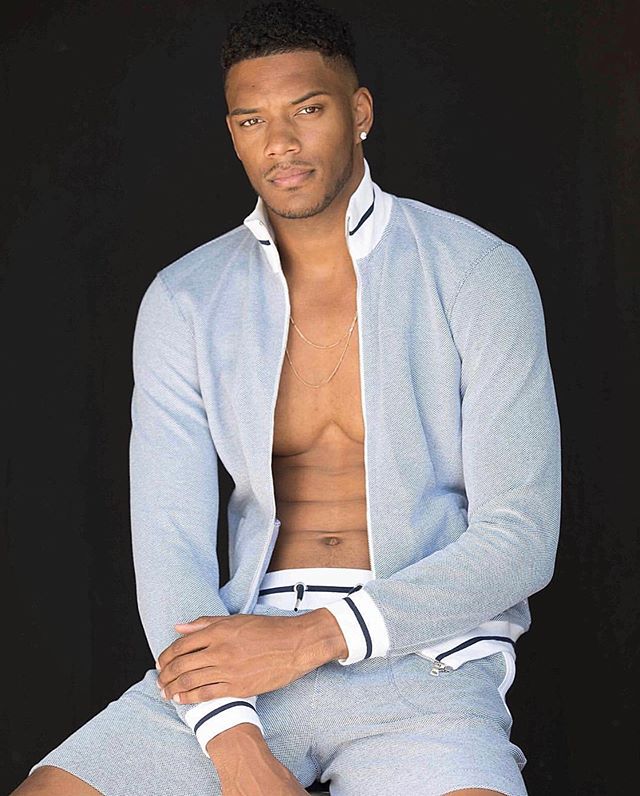 In the years post Love Island, Campbell has managed to successfully maintain his profile whilst continuing to develop his business and television career, thanks in part to his appearance MTV's The Challenge: War of The Worlds 2, brand collabs and his high profile relationship with fellow Islander Kaz Crossley.
The last six months however, have been somewhat of a testing time for the former athlete…
First there was the freak accident last summer, which saw him completely blinded in one eye after being hit with a champagne cork whilst on holiday in Ibiza and then, just months later, came the abrupt end to his relationship with Crossley.
Not one to dwell on his misfortunes or to wallow in self pity, Theo has soldiered on showing incredible courage and determination – refusing to give up, or give in, to any of the adversity he has faced.
Starting 2020 feeling stronger and more focused than ever, Theo has teamed up with tattoo parlour INK'D London to partner in the running of their new studio in Fulham, South West London.
"I've never run a business before, but I've been here about 5 or 6 weeks now so I'm getting the hang of it. Our bookings are getting fuller by the day." Theo tells us as he begins his working day at the studio. "Coming off a show like Love Island, people go off and do a lot of different things. You know they do more T.V. or they endorse brands and do clothing lines, but for me, from a business point of view, this seemed like the right kind of thing to be doing – it feels a bit more solid."
As Theo takes a break from his front of house hosting duties, we sit down to talk new beginnings, business deals, tattoos and learning how to pick yourself up after struggling through hard times…
So the big news right now is that you've teamed up with INK'D London to launch a new tattoo studio – how did this new venture come about?
It was maybe a year ago now, I met one of the guys from INK'D London through Kayleigh Morris (Ex On The Beach and Theo's co-star on The Challenge) on a night out. We got to talking about future plans and the kind of things we wanted to business-wise – I'd been lucky enough to win quite a bit of money on The Challenge, and he mentioned he was looking for a business partner and right away I liked the idea of it, it was something different; so I thought 'yeah I want to be a part of this'.
Investing in a business is a pretty bold move – was it a conscious decision on your part to do something that would challenge you and push you out of your comfort zone?
For me it was about doing something that was different and unique. I was a personal trainer before I was an athlete, but I didn't feel like going down the root again because I just don't see any real longevity to it. Whereas here at the studio, we've got a 15 year lease that we've just signed, and loads of ideas that we're working on – and I'm surrounded by these amazing artists who really are the best in the tattooists in the country, so I'm happy to be here and doing this.
It's also a good way of setting yourself apart from every other former Love Islander and reality T.V. star…
Yeah, I mean to be fair I tried the whole clothing line thing, and the endorsements, and posting on Instagram but, it wasn't really for me, it didn't feel like it was going to work out to be anything long term.
You've been actively involved in the day to day running of things for a few weeks now, how is everything going so far at INK'D HQ?
It's going good man, you know we're happy with how things are going. Like with any business you need people coming through the door, so you're always thinking about a number in your mind that you want to hit in terms of like customers and clients… we've decided on that target and number now, and we're working towards it and once we meet it, we'll feel even more satisfied I think. But it's all good, we're good.
Bearing in mind this is your first real foray into the business world, what, if any, have been some of the biggest challenges you've faced?
Well, excluding coronavirus, which is effecting everyone isn't it? The biggest challenge is just getting our name out there and making INK'D London the hub and the hotspot in the U.K. of where to get a tattoo. We want to be the first thought in people's minds when they're thinking about getting or wanting a tattoo. Because when you think about it, there isn't really a hub of tattoo studios in the U.K. is there? I mean there's really good individual places, but there isn't a main shop, so I'd say that's what we're aiming for right now.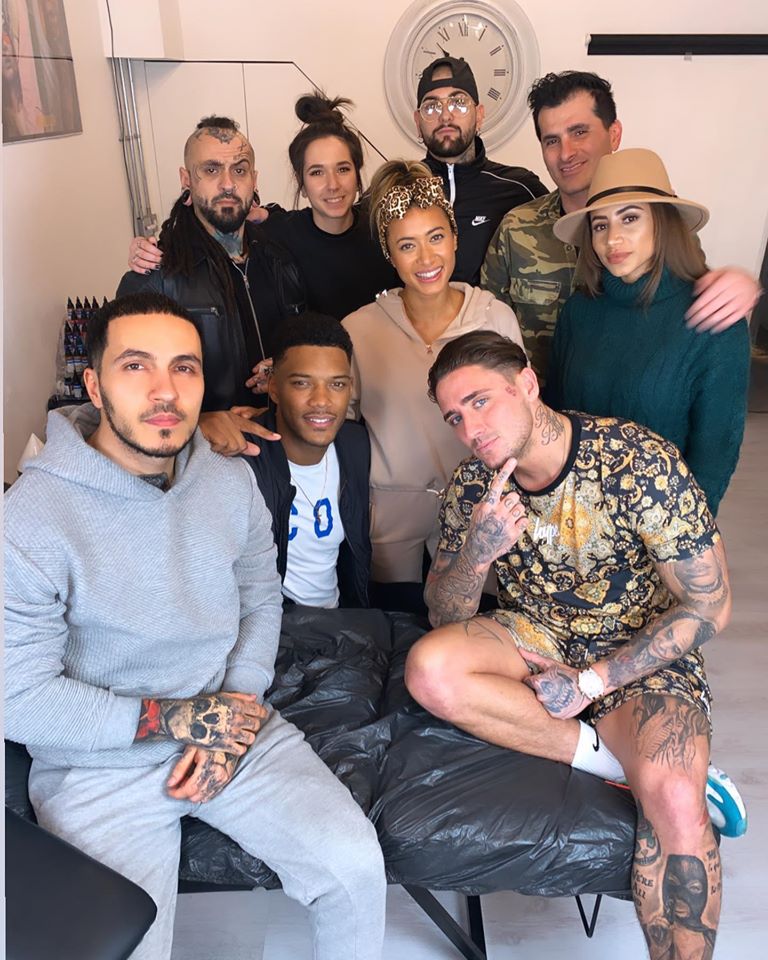 Personally, what is it that you like about tattoos?
I always like tattoos that have meaning behind them, like the tattoo is dedicated to a person or situation that you don't ever want to ever forget, or like when someone's done something amazing in their life so they get some ink to commemorate it – a lot of Olympians get the Olympic rings tattoo'd don't they? That always looks cool.
Currently you've just got the one tattoo, have you any plans to get anymore?
(Laughs) I know, yeah, what's that about, I've only got one?! I'm really indecisive, so it always takes me a while to work out what I really want. This first one that I've got here on my ribs, was honestly about 5 years in the making of me deciding what I wanted. But, I am booked in next week to get my new one!
What's the plan?..
It's gonna be pretty big, and it's going to be here on my arm. It's gonna look really, really cool and obviously there's meaning behind it too, which makes it even more personal – it's a one eyed lion, referencing what happened to me last summer, with a roulette wheel underneath it because I'm a bit of a gambler and, well… I just think life's one big gamble really isn't it?
What advice would you give to somebody wanting to get their first tattoo?
I would say make sure you have a really good think about it first, and take your time in deciding what you want because you don't want to get something you're going to regret in a year or five years time. And when you've come up with an idea, go on Pinterest (laughs). You know I joke about that but in a way, it's a really good thing to do because 99% of the time someone will have a similar design to what you're wanting, so being able to see it or have an idea what your tattoo might look like before you get it, is really good idea.
And keep it timeless…
Yeah, you don't want to be following current trends or what everyone else is doing right now! Otherwise you'll be back in the chair ten years later getting a tribal coverup or something (laughs). But we're happy to work and collaborate with people's ideas at INK'D London… so bring in what you think you want, and we'll look after you.
The last few months have been a bit of a rollercoaster ride for you – how are you feeling after your accident last summer?
Erm… I haven't been great. Like things have really been piling on since what happened – I've pretty much lost all of my vision, I mean I'm not completely blind but it's not good enough in this one eye… luckily we've got two eyes though right?
For a lot of people, losing their sight whether it be in one eye or both eyes, would be a massive knock to their confidence, their self-esteem and their general outlook on life – how have you managed to remain so positive and keep yourself going after what must have been a really challenging time?
Sometimes you've just got to be adaptable, and when it comes to those situations in life where you just can't do anything about it, I've found you've just got to carry on and keep going with what you want to do. You know, ten days after the accident I did this 10K race in London – it was a bit like an obstacle course and it was quite hard to do, but I wanted to prove to myself that I could still function, and I could still do the kinds of things I did before. Like I want to go on the next season of The Challenge, I don't want to stop doing anything, because the way I see it, you get two options don't you? You can either carry on working hard, or you can sit at home and feel sorry for yourself, cry and get nothing done… and honestly, I've done that before, and I just thought to myself 'nah, I haven't got time to do of that all over again', so I made myself get on with it.
What effect has the accident had on your everyday life, what changes have you had to make?
It effected my driving at first, and doing simple things like picking up cups and brushing my teeth. On a night out it can get difficult because it's obviously so dark in clubs so things can get a little bit blurry, it's almost like my brain choses to focus more on the bad eye, rather than the good eye… but, like I said before it's about being adaptable to your circumstances so I just had to adapt to my new normal. Don't get me wrong, it does effect me and it's something that I notice every single day, but I'm starting to get used to it. Like right now, taking to you, my vision is a little bit blurry – it's good on one side, blurry on the other – but once you've had something for so long, like it's been 8 months now, so it kind of just becomes normal.
"When it comes to those situations in life where you just can't do anything about it, I've found you've just got to carry on and keep going with what you want to do."
What do you think you've learnt most from this experience?
What's funny is, the accident happened at a really good time in my life, like everything was going better than ever! If that same incident had happened maybe 5 years ago, I think I would have crumbled and it really could have been the end of me. But listen, like I said, I've hit rock bottom before and I think when you've been that low you learn how to pick yourself back up and you learn from it. And also, you don't forget that feeling (of being so unhappy) so you don't ever wanna go there or feel that way again. I'm definitely mentally stronger than I was before, I guess this whole thing has taught me that – because you know, just as I'm coming to terms with my eye, I broke up with Kaz…
Yes, we heard… sorry! How are you feeling post break-up?
I'm alright. It's a shame, but we're still friends – we still talk. I think it can be more difficult for some people from Love Island, who have more of a profile and a bigger following than I do, to go through a break up in the public eye – so I think she's maybe experiencing things a little differently right now to how I am. But this is her time, to really figure out what it is that she wants in life, and she's got to do what's best for her. Relationships can be a lot of work sometimes, even when things are really good and going well… it can be a bit like a part time job can't it? (laughs) It takes a lot of effort! When you see someone like 20 or 30 hours a week, that's like the working hours of a part time job isn't it?
But there's still hope, that maybe one day things will work out between you?
Who knows what will happen in the future? I hope she figures out what she needs to figure out and she's happy… whether I'm at the end of that tunnel or not.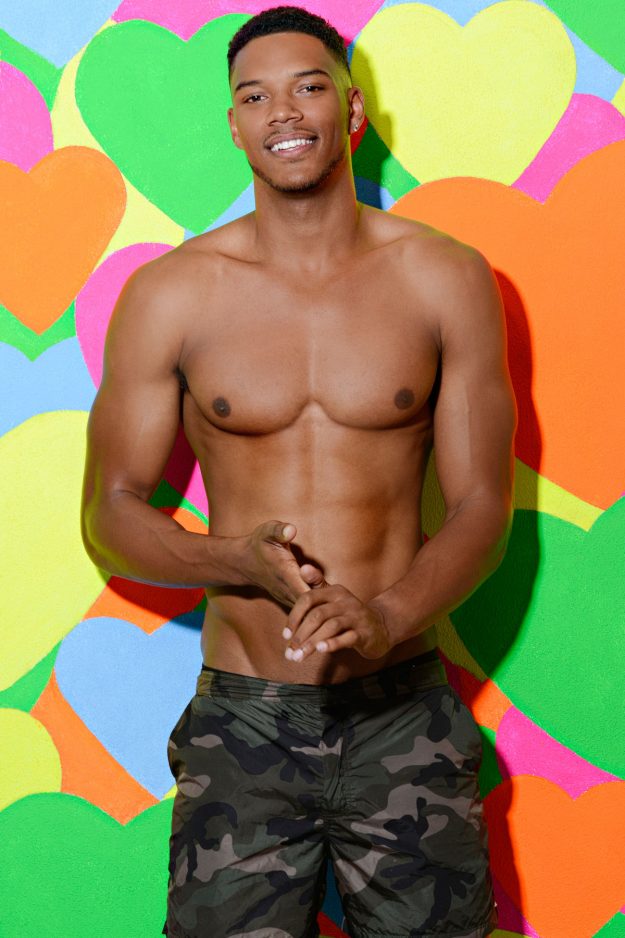 This summer it will be three years since you appeared on Love Island, how do you feel when you look back on your experience on the show now?
Oh my God… erm… do you know what? Because I've done 4 months on The Challenge, Love Island feels like a different life now (laughs). I was only in there for like 10 or 11 days or something, and I was a bit of a hurricane in the villa wasn't I? So it's a bit of blur to be honest. I knew from having watched it before what was going on, and like seeing all of the people already on the show, and the ones that had gone into Casa Amor, no-one was getting anywhere and they were just going straight out and I thought to myself, I might never get this chance again, so I'd better make an impact!
And that do you did…
(Laughs) I guess! From day one I sort of sussed out that none of the girls were budging, so I had to sort of force my way through to get noticed, and I felt like Jonny and Tyler were the weakest couple so that was my target from there. But to me it was just entertainment, it's a T.V. show at the end of the day, it wasn't that deep… but, as we all know, some people obviously took it more seriously than I did.
Is there anyone from your series that you're still in touch with?
Well I'd say we all chat every now and again, just to check in and see how everyone's doing, but in general, no I don't really speak to anyone specifically. I wouldn't say I was that close to any of them – so it's literally just a little chit-chat from time to time.
A constant topic of conversation right now, is the effect that appearing on a reality show can have on people, and what that sudden fame and exposure does to a person. How did you feel coming out of the villa and having so much attention on you?
I'd done athletics before being on the show, so I'd had a little bit of attention, but after Love Island it was like that attention, times a thousand! You come off the show and you feel like Drake walking into a club and everyone's screaming for you, and just you think 'hang on a minute, I haven't done anything, I only went on a T.V. show, why all of a sudden is my life like this?!' But listen it's fun, it's all fun isn't it? The only downside maybe is that because everything happens so fast, you maybe don't get a chance to really appreciate what's happened while it's happening.
How did you find general publics reaction to you?
It's funny because everyone starts treating you differently, like you're something special all of a sudden, and you do think to yourself 'oh my God, this is amazing I could live like this forever' but at the same time, you know it's not going to last forever. But doing PA's, all of the Instagram stuff, attending events and all of those exciting things… I don't know, you get used to it really quick and you've just got to ride the wave.
It must be so surreal…
Looking back on it, and seeing what happens to other people that come off the show now, it feels a bit weird – because it's like, you don't really deserve any of what you're getting, like the attention and all of the opportunities, because for what you actually do in there… well, it's boring isn't it? On Love Island, all I was ever doing was being myself, so for me I'd wake up in the morning and just go about my normal day, living in this villa. So to then come out and see people say they love you for that… well, I guess that's the power of T.V. isn't it?
Do you have any regrets from taking part?
No, it was a good opportunity, and if I'd really wanted more from it, I could have been on the show from the very beginning as part of the starting 5 – but I said no because I was doing athletics. And do you know what, it makes me laugh because when you get the trolls on at you saying 'you only did it to be famous' – I think yo, if I was really in it for the fame I'd have sacked off athletics, done a month on there at least, got a million and a half followers instead of my poxy little half a million and have an even bigger platform (laughs). But to answer your question, no… no regrets, everything has a butterfly effect, so being on that show lead me to other things and now I'm here, and happy, so it's all good.
---
Be sure to follow INK'D London across their socials here: FACEBOOK | INSTAGRAM | YOUTUBE | PINTEREST
---
Let us know your thoughts on everything we've talked about with Theo Campbell over on Twitter @CelebMix now!