Manuel Pacific stars in Nickelodeon's new live-action show "Ride" as Nav Andrada, a young man from one of most powerful families in South America. His wit, charisma, charm and athletic abilities make him one of the most popular boys at Covington.
Manuel is originally from Colombia, but currently, he lives in London. He's been working professionally in theatre since the age of 7, meanwhile, he's worked in more than 15 original and universal theatre productions. After that, he attended the Mountview Academy of Theatre Arts in London
His previous theatre credits include Mary Shelley, Bonnie and Clyde, A Midsummer Night's Dream, Curtains, A Chorus Line, Gas Station Angel, and Fiddler on the Roof.
This guy is smart, talented and very down to earth. Did we also mention that he's got a great sense of humour?
Check out our interview with Manuel below to learn more about him, and find out what he calls the "lego hair"!
Wow, your acting career started really early. How did you decide that it was something you wanted to do professionally?
"I've been very lucky with the opportunities I've had since I was very young. Theatre has always been a part of my life and when the time came for me to decide what to do professionally, it was clear that whilst other careers might be pursued at a later stage if I wanted to give acting a serious attempt this was the time so I did."
Was there anything else you wanted to do?
"Many things! Can't fit all my eclectic tastes here but the main other things I would have gone into are probably physics or animation… like I said, eclectic."
You were also able to tour internationally. What was your favorite thing about travelling the world?
"There is something wonderfully special about going to different places in the world surrounded by your friends and the whole cast of a show. Everyone becomes a big family. I think it was extra special to be able to have that as a child. Everything was an adventure. I loved going to new theatres and exploring them although my favorite aspects were by far the flights and hotels and the antics that we got up to in them. Amazing memories."
Still, are there any disadvantages of being an actor?
"Haha! People usually quote how competitive the field is, the instability of jobs and the constant criticism. It's true that those things are there but they don't always have to be bad. The fact that there are loads of people who look exactly like you going for the same jobs can be disheartening but on the other hand, it can invigorate you if you acknowledge that fact and build up your determination. It requires you to be actively positive, but if you manage that it's easy to see that most things can be used to your advantage. And in the end, as Meryl Streep said, "The work itself is the reward, and if I choose challenging work, it'll pay me back with interest. At least I'll be interested, even if nobody else is." "
"Ride" is about to premiere in the US. How do you feel about it?
"Very excited. We're all very happy that people in the US will get to see it. Bring on January 30th!"
Would you walk us through a typical day on set?
"Usually you get there very early, get a quick breakfast, change into what you need to wear for your first scene and head straight into the hair and make-up trailer. There they will fix your face (which will need lots of fixing, it being unfathomably early) and, in my case for "Ride," add so much product to your hair that you'll end up with what by the end I called "lego hair." You shoot and move on to the next scene. It goes on like this for the whole day. If you've got a full day of scenes you're in, you'll probably be on set at all times except during the lunch hour. They do check regularly if your hair is anything less than plastic so they can add more product instantly if that is the case. At the end of the day, you go back to your trailer. Lego hair unfortunately still in place. But take this with a grain of salt, that's just my unexperienced experience."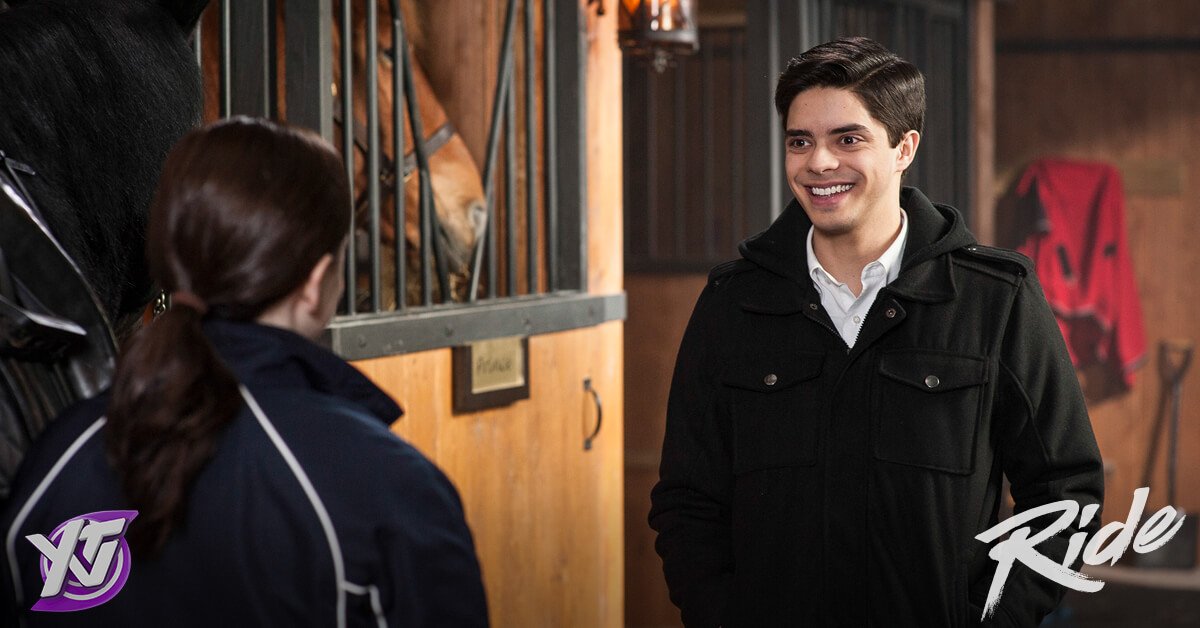 Did you know how to ride a horse prior to getting the role of Nav?
"I did! I used to ride as a child and was training for jumping much like on "Ride". However, much like Kit's story on "Ride," I once fell off a horse and stopped riding for a very long time. This role enabled me to face that fear and come back to riding and being around horses again and to rediscover how amazing they are. As Rudy says in the show, "If you haven't fallen off a horse, you haven't ridden long enough"."
Do you think you're similar to your character?
"I think we all have similarities and differences with our characters. There are definitely elements of Nav to which I can relate to, but I'd like to think I'm not nearly as arrogant or negatively competitive. I also don't have lego hair, do I?"
Hahaha, definitely not! Has the show or even Nav taught anything to you?
"Well, for starters, lots of things about tacking up horses and rediscovering that equestrian world. It has also been a wonderful experience in terms of meeting lovely, talented and accomplished people in the cast and crew from whom I have learned extensively about the world of TV and about myself as a person and as an actor. Coming from mainly a theatre background this has been an incredible experience on many fronts and it continually gives me new experiences to learn from."
In addition to acting, you also have a talent for dancing. Where did you learn to dance and why is it something you like to do?
"Well, I started dancing when I was very very young in Colombia and was somewhat classically trained. Ever since I can remember it was something I enjoyed. The journey started through musical theatre and thus I also became very close to music which is why I play instruments and sing as well. I started very young so it is something I've always done. Not sure I can put into concrete words why I like it but I think that shows how genuine my relationship with it is."
What else do you like to do in your spare time?
"I love keeping busy and learning. I love reading, photography, writing and music. I play the piano and a bit of saxophone and sing. Since "Ride" I have started writing with Oliver Dench (who plays Will) and it has been very valuable to find a creative connection which provides us both with an outlet and a means for productivity whilst we're not acting."
What's next for you?
"As of this moment, most of my energy acting-wise is focused "Ride." There are of course projects and workshops in terms of writing or music that I'm working on as well."
Thank you so much for your time, Manuel. Is there anything you want to share with our readers?
"I think we've covered a lot! But if anyone wants to follow my social media I'm @manubelpa on Instagram, Twitter and Facebook. And remember to keep an eye out for "Ride," premiering in the US on January 30th."
Are you excited about the US premiere of "Ride"? Make sure to catch Manuel on the show from January 30th, and let us know if you like the series on Twitter at

 

@CelebMix!