Mufasa & Hypeman are the dynamic duo, who shot to global fame following the release of their hilarious viral adaptation of MK's iconic remix of the Nightcrawlers' 1992 club classic Push The Feeling On.
The video spread joy to millions of people around the world during lockdown and became an instant hit on TikTok with the likes of Katy Perry, Kanye West and Gordon Ramsey paving the way for a challenge which would see tens of thousands of people get involved. The viral video was even picked up by BBC's The One Show and featured as part of Radio 1 Greg James' Lockdown Awards.
---
It's Friday then… then Saturday, Sunday, what?
Having effortlessly managed to captured the imagination of social media users of all ages, with their own unique brand of humour and hijinks, it wasn't long before the music industry began to take notice of the duos undeniable charm and infectious energy, with London-based DJ and producer Riton tapping the pair to join forces with Nightcrawlers frontman John Reid, on their new single, Friday – an epic, out-and-out party anthem that features the same sample as seen in Mufasa & Hypeman's original, internet breaking video clip.
Released to universal praise, the utterly euphoric dance track has gone on to dominate radio airwaves and charts around the world, amassing over 135 million streams on Spotify alone!
Riton x Nightcrawlers – Friday ft. Mufasa & Hypeman (Official Music Video)
To celebrate the continuing success of Friday, we caught up with Mufasa & Hypeman to talk future plans, celebrity superfans and the importance of remaining humble…
You're currently enjoying MASSIVE chart success here in the UK with your collaboration with Riton & The Nightcrawlers – how does it feel to be a part of something that's bringing so much joy to the world, at a time when we're all struggling a little bit?
Hypeman: It feels beautiful – everything about this whole experience and us being able to do what we're doing is beautiful! What we're all going through right now is hard, really hard, so for two people like us to be able to bring joy back to the world is a massive thing and something we can't really believe! We had no idea the song was going to take off like this, but we're definitely happy that it did, and we're grateful for all of our blessings, and so all we want to do now is give back, and say thank you to everyone for supporting us.
What do you think it is about this song in particular, thats resonated with people?
Mufasa: I think this song, and a lot of people's most recent memory of it, really connects to the video we did that went viral – the energy that they saw when they watched it, is the same energy they feel when they hear the song, so the two together just kind of instantly lift peoples spirits. We hope what we've done has been something that has carried everyone through the pandemic and made them smile.
So many people have taken part in your now iconic viral challenge, which have been some of your favourites to watch? And out of all the celebrities who have joined in the fun – who was the biggest surprise to you?
Hypeman: There have been a few to be honest! And really we've loved watching them all, but for me I'd say Vin Diesel, Gordon Ramsey, Katy Perry and to top it off, Kanye West! All of these people taking part and having fun with it, took us by surprise – it's all been so unexpected! But none the less, entertaining and something we're really grateful to see.
Mufasa: Kanye West was definitely the biggest surprise! Like who would expects Kanye West to join in a challenge like this? Definitely not I (laughs) it was a BIG surprise.
---
---
So many amazing things have happened for you both over the course of the past 2 years – are you able to process and get your heads around everything that's going on in your lives?
Mufasa: I would say it's still a process! We've been lucky enough to experience A LOT but we're still going through the motions and trying to push on forwards. We have people saying to us we've "made it" and we're "famous" now but to us, we just don't feel like that, we like to remain humble and think of ourselves as two kids who are having fun and giving back to everyone.
What have been some of your personal highlights?
Mufasa: Man, that's a good question. Some of my personal highlights, when it comes to this particular song, are just the joy I get from watching people joining in on the fun of the challenge – I love to see so many bright smiles, and lives that we've affected in a good positive way; it's amazing to think that we are able to have that type of power and light! It's kind of mind boggling, but like we've said before, we're grateful and we see it as a huge blessing.
You both radiate and exude such warmth and positivity – what makes you happy? And what keeps you feeling upbeat and optimistic?
Hypeman: Our friendship, our family, our friends… believing in God, the support we get from people, all of those things help to hold us together, and keep us feeling positive and optimistic.
Nowadays, Social media affords everybody a voice and a place to be who they want to be, what would you say are the main positives to social media?
Mufasa: I think that we're part of a community within social media, that hasn't really been too exploited all that much… and I say that because there is so much negativity on the internet, sometimes more than there is positive, and so we see it that we are here to keep that bright light of hope showing and glowing, and by doing that, hopefully we can overtake that negative energy and diminish it. We want to inspire others to do that too, we're about positive vibes and we always aim to keep it that way.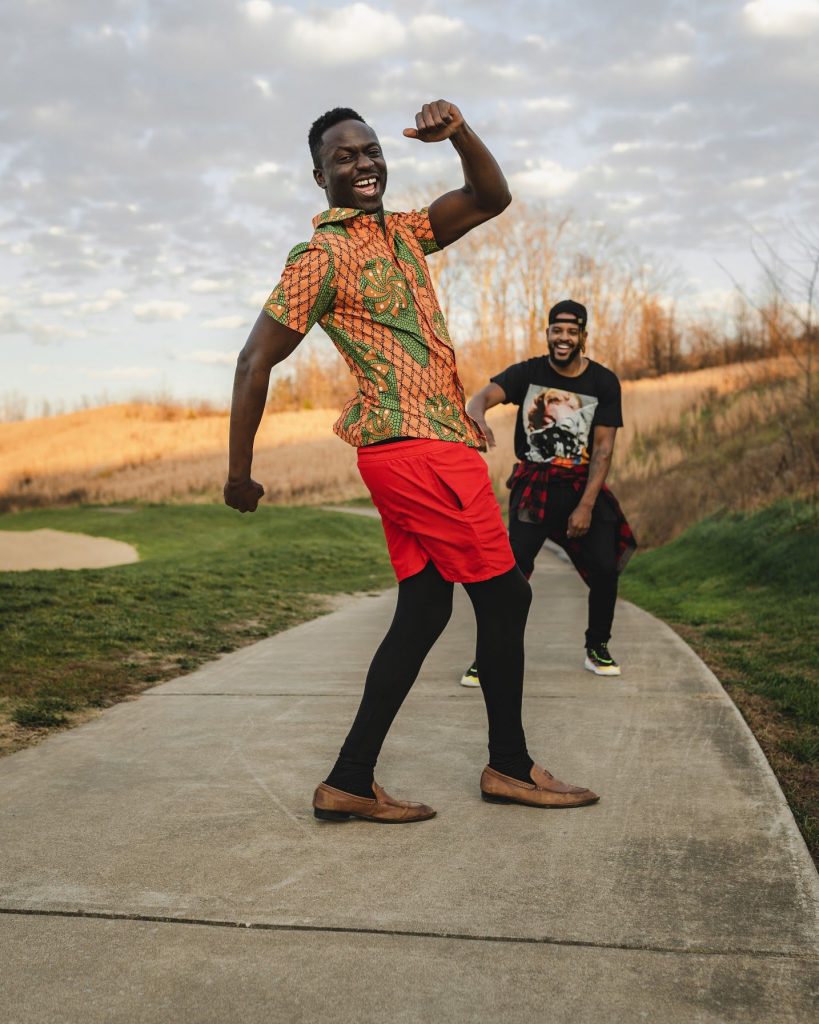 How would you say your relationship with the medium has changed since finding fame?
Hypeman: It hasn't changed… it simply hasn't. I'm still a part of the people, I'm still doing everyday things like everybody else – I don't all of a sudden think I'm better than anyone, we don't think we're better than anyone; we remain humble and we give back, and we love and support everybody.
You're both now considered as pioneers within the industry, what advice would you give to someone just starting out, who is looking to build a brand / identity online?
Mufafa: The most important thing is to stay true to yourself, and make a real effort to protect your mind and your energy because there are people out there who will try to bring you down and tell you, you can't do something. But don't listen to them, don't allow somebody to come along and taint your vision, or let them paint a picture like what you want to do isn't possible, because it is – anything you want to do is possible! And trust me, we know how that feels because we have been through so many struggles and trials when people and our peers around us would say "what you're doing is stupid". But the thing is, they're only saying that because they've never witnessed real people around them, making it! They've seen it happen for people on tv or in films, but never somebody they knew in real life. But with the grace of God we were able to keep going and we made it happen! So yeah, don't listen to the naysayers, and just believe in yourself – keep God first, be consistent and keep praying.
Now that you have this incredible platform, and a huge number of followers, what do you hope to achieve in your respective careers as you look towards the future?
Hypeman: I think for both of us, we'd just like to achieve a level of success that means we're able to give back to people as much as possible. We definitely want to continue to grow our brands and continue to put out really great content for everybody to enjoy. It's important too that we stay on the right path – whether that's in music, modelling or acting, whatever direction that we chose to take, we just want to make sure we put 110% into what we're doing. We also hope to inspire people to follow their own passions and look to us and say "I wanna do it how they did it with positivity and a smile on their face".
Check out Riton's EPIC new Friday mix here.
---
Let us know your thoughts on Mufasa & Hypeman over on Twitter @CelebMix now!