American Alt-Pop trio SHAED are currently riding high following the release of their debut album, High Dive – a spirited collection of 13, super sophisticated pop tracks that tap into the current cultural zeitgeist to speak aloud the collective thoughts of an entire generation of young people who find themselves learning to live their "new normal".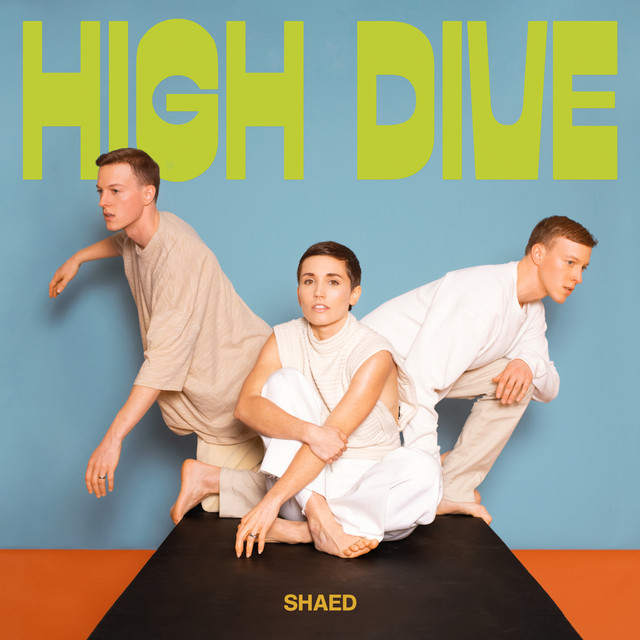 With its ubiquitous full pop sound, and iridescent mix of contrasting moods and flavours, the super polished record takes listeners on a journey – with each track embodying a different and unique emotional quality that hooks you in and transports you to another world where life somehow seems to make more sense, and everyday troubles can be paused and forgotten, if only for a brief moment in time.
Produced by the band themselves, along with additional production credits from GRAMMY Award-winning producer Ariel Rechtshaid (HAIM, Vampire Weekend, Charli XCX) and producer Josh Fountain (BENEE), the record features guest appearances from artists including ZAYN, Lewis Del Mar and Two Feet as well as the singles Part Time Psycho, Dizzy, Trampoline and Once Upon A Time.
---
Once Upon A Time (Official Music Video)
---
To celebrate the release of the record, we caught up with Chelsea, Max and Spencer from the group to talk the challenges of making music in lockdown, virtual collaborations, the power of honesty and why their bond as bandmates and friends is now stronger than ever…
Congratulations on the release of 'High Dive' – how does it feel to finally have your debut album out there for people to hear?
Chelsea Lee: It feels great! We're really, really happy and so excited to finally be putting this music out into the world.
Max Ernst: There feels to have been quite a big build up to us releasing this album, we've been working really hard on it since the beginning of the pandemic – and you know, the truth is we scrapped a whole albums worth of material before that too, so… yeah as Chelsea says, we are excited, but I'd also say that between the three of us there are some nerves there too (laughs).
What has the fan reaction been like so far?
CL: It's been great! We're super happy with the response we've had so far, not just from our fans but the press too – we've had some really great reviews which is great!
Spencer Ernst: Our fans have been patiently waiting for us to come out and release a full body of work for some time now. It's crazy to think that this is the first album we've done together, when we've known each other 10 years!.. I mean Max and I are twin brothers, so obviously we've known each other our entire lives (laughs) but we've known Chelsea for over a decade now, and have been playing music together for at least 7 years, so for this to be our debut album, feels like a special moment for us a group.
ME: It does feel special, and it means a lot to us because we've always wanted to make an album, but the circumstances just hadn't been right until now. I mean a think a few years ago we were more than ready to do it, but then 'Trampoline' took off so we were touring for about two years straight… so to be here now, presenting this collective body of work to everyone is amazing.
For those who haven't yet heard 'High Dive', how would you best describe the album to people listening to your music for the first time?
SE: I think it's an honest representation of three people who have known each other for over a decade, and closeness of what a relationship like that can be like. It's super honest and it's really about what we went through during this really challenging time. I think if people are looking to listen to something that's really honest and they can relate to what we're saying, this is the album for them.
The record takes listeners on a real journey, and is reflective of so many of the different moods and emotions that we're all feeling right now. As you began the process of recording, did you have a collective vision in mind for the kind of album you wanted to make?
CL: I would say the album as a whole is a real snapshot of our 2020 – so it's everything we've been feeling and experiencing throughout this past year. And so because of that, I'd say it's kind of all over the place in terms of the music and mood… it's definitely an emotional rollercoaster for sure.
ME: What's interesting, is that I don't think we really set out to make the album with that intention though, did we? We found we had this pause in our schedule where we knew we wanted to focus on our songwriting again, but in terms of having a vision for the record, in the beginning I don't know if we did. The turning point for us, and the moment we really hit our groove, was when we just started being really honest with one another about how we were feeling. There were days when we were super grateful we had this time together – a song like 'No Other Way' is an example of that, it's an anthem and it's us trying to appreciate this time we've been given to pause, reflect and embrace each new day. On the flip side of that, there's songs like 'Dizzy' where we found ourselves really exploring that feeling of isolation that the whole world felt last year… we really do feel like we've made an album that speaks to the times we're living in.
---
Dizzy (Official Music Video)
---
You've branched out and worked with some amazing producers, how was is collaborating with other creatives on this project?
SE: We really enjoyed collaborating with everyone! We worked with two really great producers – Ariel Rechtshaid, who's done a lot work with HAIM and Empire Weekend, and we also worked with Josh Fountain, he's a legend and just an awesome guy. In the beginning, we would talk to them on the phone a lot and just kind of vibe and share what we were about as a friends and as a band. From there we organised all of the sounds we'd created, and sent them over to the guys to work on and it sort of went back and forth from there. What was great, was the fact that they'd send us back these incredible, full sounding tracks based on the original material we'd initially sent over, which helped us so much in terms of guiding us in the right direction and making the album we'd always dreamed of making. It's been a really fun and collaborative process making this record – we've had a blast.
Due to the coronavirus pandemic, the ways in which we all work has invariably had to change over the course of the last 12 months, where you ever able to be in the studio and work face to face with the producers or artists featured on the record?
SE: We made the whole album virtually, but to be honest with you, anything we've ever released as SHAED, we've never recorded in a studio, so in a way the way we worked on this project is no different to what we've done in the past. So yeah, this whole album was made at home, and when it came to collaborating with other artists, it was all done remotely. We would send them tracks to sing on, they would record their vocals and we'd work until we were all happy with the tracks.
ME: When it came to recording the string sections, that whole process was done over Zoom. It was the first time we'd ever recorded with an orchestra so it was a huge deal for us. We worked with the Fames, who are an orchestra based in northern Macedonia – we would get out of bed at 4 o'clock in the morning, go into our living room and zoom into the studio and help direct them create the sound we were going for – it was amazing to have the capability and opportunity to do that.
You've already mentioned 'No Other Way' and 'Dizzy', but are there any other standout tracks on the album that you're excited for people to hear?
CL: For me personally, I really love 'Visible Woman' – it's a really personal song about me finding my voice and coming to terms with being vulnerable on stage. I also love the title track 'High Dive' because it's just such a fun song to sing and perform.
ME: One song that we're all super excited about is a song called 'Colourful' – it's a track that revisits the time that I came out to them (Chelsea and Spencer), which was about 10 years ago now, but they were the first people that I told. It was a super powerful experience for all three of us, clearly it had been weighing on me for a really long time… these two are my best friends and they felt that weight being lifted off of me. The experience made us closer, and I'd say we became even more comfortable in each others presence. It also helped shape our dynamic – the message that you should always show love and support to somebody who is struggling with something, is really important to us.
SE: Throughout this whole year I think we've all felt extremely fortunate to have this creative outlet to express how we're feeling, so a song like 'Part Time Psycho' I think will really speak to people because we've all been through these crazy ups and downs – it's a song for our fans, to let them know that it's ok to not be ok. We teamed up with Teen Line, which is a hotline run by teenagers, where young people can call up and speak with one of their peers about how they're feeling and what they're going through which is really cool. We want to use this record to do good for others.
---
Part Time Psycho (Official Music Video)
---
You've recently premiered the music video for "Hide Dive", which features guest vocals from Lewis Del Mar – it looks like you had a blast on set! How much fun was it making the video and being back in front of the camera?
CL: It was honestly so much fun! We shot it in L.A. and it was actually the first time we'd been there in over a year. The whole team was amazing and everything went as it should – we got there at 8am and we were done by 6pm! We enjoyed playing different characters and it was great working with Lewis – it was a blast!
SE: It was great working with Christina Singh too – she's the first female director we've worked with which was awesome. She came up with the concept after she heard the lyric 'sold my soul' because it made her think of accident lawyers from the 70's and 80's which we thought was hilarious. I felt bad for the interns working at the place where we shot, because Max basically trashed their office! We got told to destroy the place, which was fine, but what they didn't tell us was that not everything in there was a prop and we ripped up all these papers and caused chaos!
ME: Basically the officer manager had been renting the space out for music videos because the office hadn't been open for a year or so because of COVID, and everybody had been working from home! So they gave us a three minute free for all to just go crazy and wild in this office. It got pretty out of hand but it was the most fun we've had making a video.
When you look back over the course of the past year, with hindsight, do you now feel you made the right decision in re-focusing and starting over again, to make this album?
CL: Absolutely. 2018 was a really crazy year for us; we were constantly touring and never at home so we never had a chance to pause for a second, and think about what we wanted to do next. So despite all of the uncertainty we've faced during the pandemic, it did at least give us some time out to really focus on making a really great album.
As we look towards the rest of 2021 and beyond, what's coming up next for SHAED?
CL: We're hoping to get back out on the road and tour again soon! Being onstage, playing live and performing is such a big part of our lives and it's what we love doing the most – we've really missed it. We have some live stream shows coming up too, which we're looking forward to… but nothing beats a live show – we can't wait to get back out there!
---
High Dive (with Lewis Del Mar) (Official Music Video)
SHAED's debut album High Dive is available to download / stream now.
---
Let us know your thoughts on SHAED over on Twitter @CelebMix now!