Janet Devlin is set to perform live in London for the first time in four years with new COVID-19 safety measures in place.
The former X-Factor contestant and critically acclaimed singer-songwriter will be performing to a seated and socially distanced audience at the St Matthias Church in London on October 2nd, 2020, with keyboard player Jim Molyneux. Whilst there is an audience capacity of 100 people, fans who won't be able to attend the concert will still have the opportunity to see her perform live on September 24th via StageIt.
General Sale for the St Matthias Church show begins on Friday 18th September at 10am and tickets for this can be found here.
Tickets for the StageIt online streamed gig can be found here.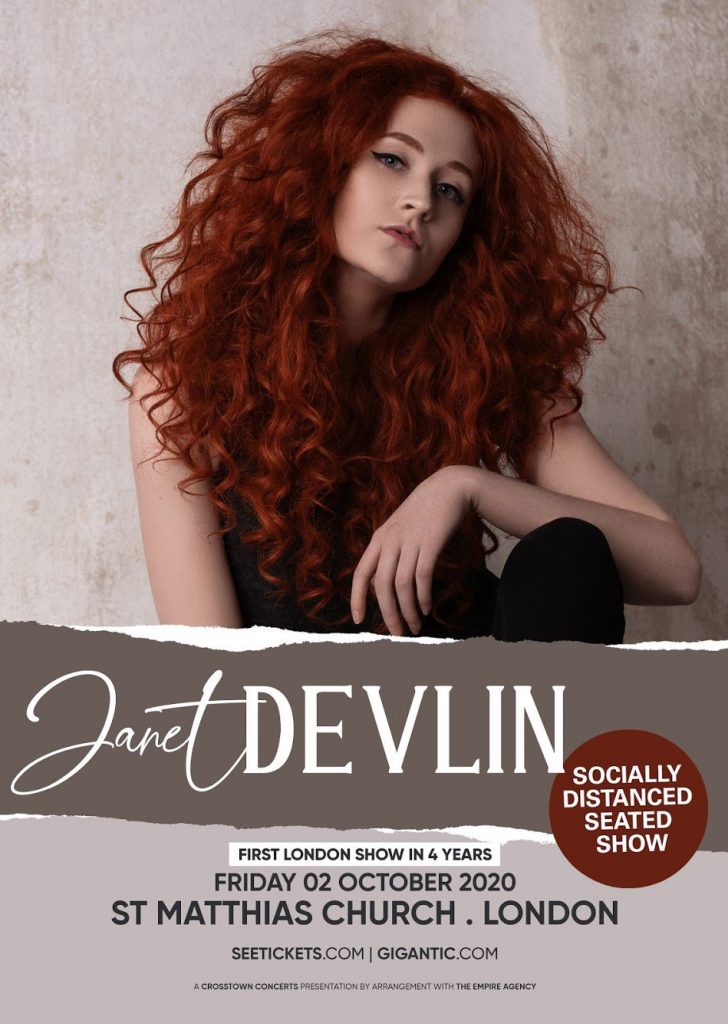 Even a global pandemic can't slow down the songstress from Northern Ireland. She has certainly had a busy few months, releasing a brand new album, Confessional, alongside her autobiography, My Confessional, which completely sold out during its first week. Not only that, but Janet has been continuing to perform for fans during lockdown through the streaming site StageIt, streaming over 100 shows! Devlin was an early adopter of the format of streamed gigs and is being credited with helping popularise the concept even before the coronavirus pandemic – StageIt has even identified Janet as one of their top ten performers in revenue and in number of shows.
Janet has also been very open about her personal struggles this year; she spoke honestly on Loose Women about her mental health struggles whilst on the X-Factor, as well as making YouTube content where she goes into more detail about her history with alcoholism and eating disorders.
You can read our exclusive interview with Janet Devlin about her personal struggles here.
Lockdown certainly hasn't stopped her creatively, as whilst obeying social distancing regulations, Janet filmed the music video for the single "Big Wide World". Directed by Katia Ganfield, the video was filmed using social distancing techniques and features heart-warming happy moments submitted by fans all over the world. Janet found inspiration in the movie Forrest Gump's famous running sequence. She said,
"When I was in rehab, I rewatched this particular film numerous times. There was something about this scene that spoke to me. I felt the urge to run – not away from something… but towards something."
You can listen to Janet Devlin on Apple Music and Spotify, and keep up to date with her through Twitter, YouTube, Instagram and her website.
---
We're so excited to see what else Janet will be able to accomplish before the year is through! Will you be watching her live? Let us know @CelebMix on Twitter!