The Jonas Brothers are about to put their own stamp on Hollywood history, almost quite literally. The brothers are set to be honoured with their very own star on the Hollywood Walk of Fame. 
The trio shot to stardom by posting their own songs and covers onto YouTube and of course, by appearing on the Disney Channel original movie, Camp Rock. They even had their own show on the channel, simply named 'Jonas', and became extremely popular Disney stars.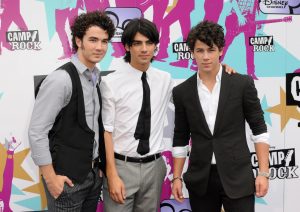 After announcing an inevitable hiatus in 2013, Kevin, Joe and Nick regrouped in 2019 and embarked on a global tour shortly after much to their fans' delight. They released an Amazon Prime documentary on their global tour and the creation of their reunion album 'Happiness Begins', enabling fans to go behind the scenes and see how their relationship as brothers had grown. 
During their six-year break, the brothers pursued their own social projects which also saw them rise to fame. Joe became the lead singer of DNCE as Nick released his own solo music and Kevin cooly stayed under the radar. They are still pursuing their solo ventures even though the band is back together. Kevin has now taken to hosting with their youngest brother Frankie and their show 'Claim To Fame' has just been renewed for a second season. 
The Jonas Brothers took to Instagram to announce the news about their star in the recording category and to thank their fans for their "endless support" over their active years. 
Ana Martinez, said of the decision to honour the Jonas Brothers with a star: "We're so honoured to be able to welcome the Jonas Brothers to the Hollywood Walk of Fame. The fans will be thrilled when they find out that their favourite group will be having their star placed on the Walk of Fame where they can actually touch the star and pose with it. The group has been gracing us with music for more than 15 years, and have made waves as musicians, actors and overall entertainers."
The induction ceremony will be happening on 30th January in LA. If you can't attend in person, you can stream it online here.