Kara Connolly is a Los Angeles-based singer-songwriter and actress. She writes songs for other artists, and also herself. While she jumped between a couple of different genres, she tends to gravitate towards pop melodies, organic instruments, modern production elements, and lyrics that tell a story.
Despite the chaos of the last year, which we're all very aware of, 2021 has been great for Kara so far. "It's been really rewarding to witness creative work I've been envisioning and prepping for a long time to finally come together and have a life," Kara tells CelebMix.
"Something More" is a song that means so much to Kara, and in fact, it was a song she worked really hard on over an extended period of time.
It's really rewarding to watch the pieces come together and witness something that was once just a seedling of an idea have its life.

Kara Connolly
"I had a lot of fun teasing this track and I felt like all of the visuals and sounds and everything came together in a magical way that dropped me into a new universe," Kara continues. "I had an idea of what I was going for, but this time around, a lot actually came to me during the release process as well which was exciting and kept me on my toes as much as my audience."
"Something More" is about searching for the magic and the connection out there; feeling like "There's gotta be something more" than the work until we're burnt out, paint-by-numbers, constant comparison culture that's been passed down from generation to generation.
Kara wrote it with her friend Dan Sadin when she was feeling exhausted and, quite frankly, depressed. Kara had to remind herself that there was "something more" than the way she would have been approaching things. The song also represents the idea that Kara believes there is this invisible web connecting our experiences and people together. That's something she finds magic and beauty in.
"I think I've even discovered different facets of what the song means to me as I've gone through creating a music video, promoting the track, etc," Kara explains on the initial process of her song. "This is one of those songs that I think may always take on new meaning for me."
For example, during the pandemic, Kara felt "there's gotta be something more" than the four walls of her apartment. Now, she feels like "there's gotta be something more" than the world we entered the pandemic as; that people have to take with them some of the lessons they learned during this unprecedented time.
"I also realized through making the music video that the magic and connection I was searching for was within myself all along and that I just had to wake up and remember my power," Kara explains. "Like I said, I think the song will continue to take on new meaning, which is great because I hope that means it can grow with me as an artist. It still does represent what I initially intended as well, though."
With that said, though, this song was actually very different from her last record "Life in Rear View." For one, Dan Sadin and Kara wrote much of the song as it was being produced. All of the songs from her previous record were written in advance on the acoustic guitar and then built around.
"I did start "Something More" on the guitar, but I had a strong idea of how I was hearing the production while writing it and so writing the rest with some of those sonic bones there was really inspiring and helpful to capture the vibe," Kara reveals on the creative process. "Two, Dan Sadin and I produced the track through the pandemic by meeting via Zoom and AudioMovers (a software that allows you to share audio in real time). This was a long process."
From there, Kara recorded vocals in her parent's closet. Dan and Kara then sat on Zoom together every step of the way. In many ways this allowed Kara to really focus a lot of time and energy on getting this particular song how she had envisioned it as, rushing to get to another track because she only had 2 weeks of studio time, for example. With this project, Kara decided that she wasn't trying to hit a number of songs, but that she instead wanted each song and track to feel very her and like something she could stand behind forever.
I am very proud of "Something More" because I feel like every part of this song and track is my baby, despite the crazy, virtual way in which Dan and I pieced it together.

Kara Connolly
"I think that my own life heavily influenced the creation of "Something More." I am a psycho perfectionist who is very hard on myself," Kara continues in our chat. "I'm a bit of a control freak when it comes to getting things right or feeling good about what I do."
In fact, Kara is also very ambitious and has big goals for herself. She is relentless when she wants to make something happen. Kara thinks those are positive qualities in many ways, but they teeter a line that when crossed can be void of the feeling and meaning she was initially seeking, and dangerous.
"I think, despite being a generally fun and light-hearted person, that a lot of those qualities lead to me chasing a clock, getting burned out, and feeling heavy or anxious at times," Kara says. "That said, I also do believe in the mystical, the magical, and profound connection and mystery."
Kara has had a couple of experiences in her life that have led her to believe there is "something more" than what meets the eye. Kara is realistic, but she is also a dreamer. Although, Kara does think she has to have remained wide-eyed and hopeful in some way to have made the choices she has made in this life and to pursue what she is pursuing. So, both sides of Kara led to the creation of this song and its blend of the mundane with the mystical, the darkness with the light, her depression with her hopeful exuberance.
I hope it reminds my listeners that magic and connection are out there, just around the corner; that you never know when something or someone will come along and change your life.

Kara Connolly
"I hope it makes them consider that perhaps the "something more" they, too, are searching for is actually within themselves," Kara adds on what she wants her fans to take away from her new song. "I think oftentimes what we're searching for outside of ourselves can be found when a little care and attention is put towards taking care of our bodies, our mind, and our inner worlds."
Additionally, Kara would love it if this song makes her listeners dance and good-cry; help them to feel like they're out of their heads and into their bodies. The song is a journey, but ultimately she hopes it makes listeners feel good.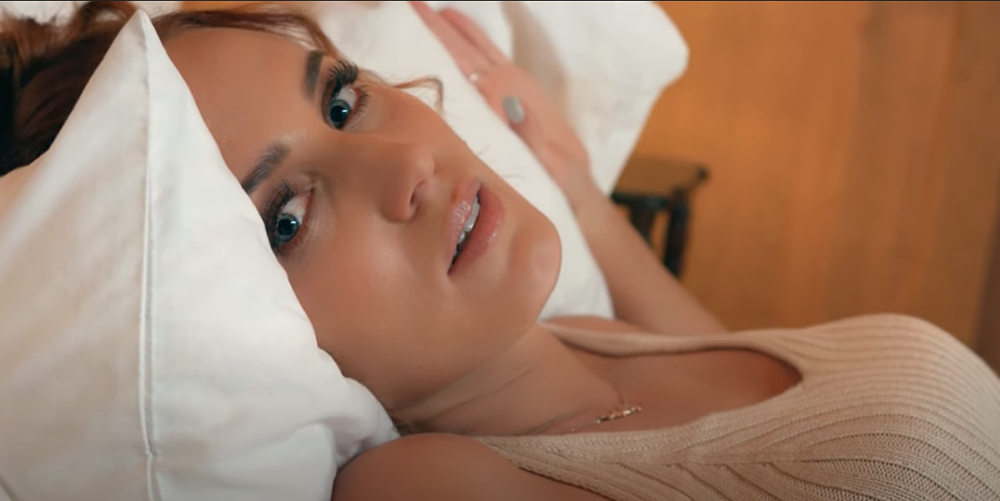 "I have several other songs in the works and know the creative concept of the record I'm working towards," Kara reveals on what she has coming up next. "I know what's coming next, am actively working towards that, and am really looking forward to you hearing it."
Kara thinks listeners can expect different facets of the world she is creating. And don't expect "Something More" 2.0, as Kara is approaching each song as an individual in some ways, but she thinks there is a certain feeling these songs have, and the releases will maintain those across.
"I'm exploring a lot of self-discovery themes, existential questions… the depths of my own mind and way of doing things; rejecting the unspoken "rules" society has placed on us, considering my relationship to that and questioning/reclaiming what I want out of life," Kara adds. "I'm going to continue down that road for a bit, but also bring the fun and feel-good vibes as we dive a little deeper."
Connect with Kara Connolly: Facebook | Twitter | Instagram