Get up and shake the glitter off your clothes now because Katy Perry just played her first Las Vegas Residency show, PLAY, on Dec. 29.
Perry will be waking up in Vegas for the next few months as she performs a medley of her greatest hits at the Resorts World Las Vegas.
The first show on Dec. 29 had a sold-out crowd filled with KatyCats, dressed in their best outifts. It runs through January and has eight shows in March.
"As with everything I do, PLAY is massively colorful for the kids, with a deep wink for the adults," said Katy Perry in a press release. "The show is a funny, playful trip, and was designed specifically for this theatre in Vegas. Honestly, I couldn't ever travel this show from arena to arena. These sets are larger than life – literally – and the perfect excuse to wake up in Vegas."
The show features 19 songs including mash-ups of her biggest hits. Perry openes with "E.T." and ends with "Firework." Of course, "Wakin' Up In Vegas" is thrown in there, along with some songs off Smile and her latest release "When I'm Gone (Feat. Alesso)."
Perry, who is back to black hair, wears numerous outfits throughout the show including a mushroom hat, squished soda cans on a dress, and typical Katy Perry-esque glittery outfits.
Her sets include a larger than life toilet, mask, rocking horse, daisies, a snail and an emsemble of dancers.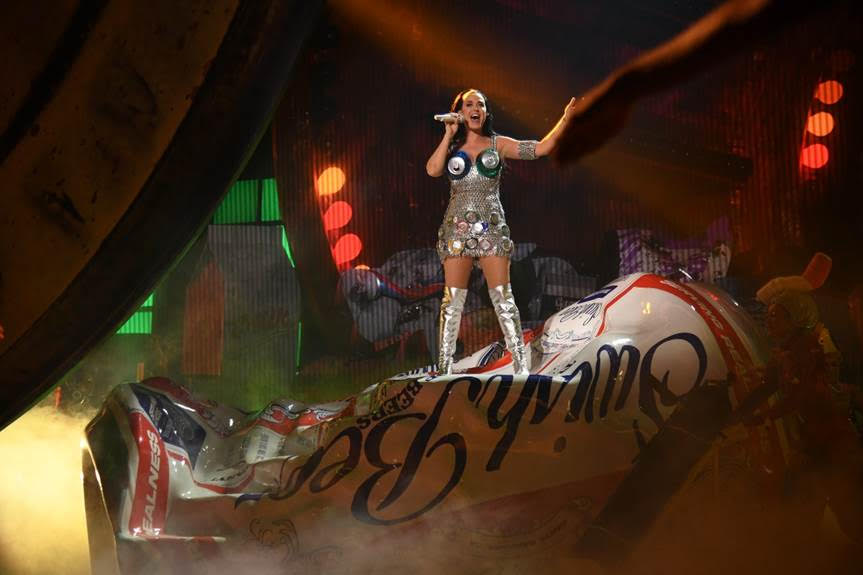 The 95 minute show has gained great reviews from critics and fans, saying the larger than life sets go hand in hand with her big personality.
If you cannot make it to Vegas, but want to join in on the fun, 'PLAY' merch is available on Perry's website and you can most likely find pictures and videos on social media. It is definitely a show no KatyCats want to miss.