KAWALA have today (June 15th) delighted fans by releasing further details of their upcoming debut mixtape, Paradise Heights – a spirited collection of 6 powerful and eclectic tracks, including the groups latest single Angry Man.
Scheduled for release Friday, July 23rd via EMI Records, the project promises to provide listeners with the perfect soundtrack to accompany what looks set to be a summer of "reconnecting with each other and the wider world", as the band masterfully tap into the collective feeling of an entire generation who find themselves feeling stifled as a result of recent national lockdowns.
Paradise Heights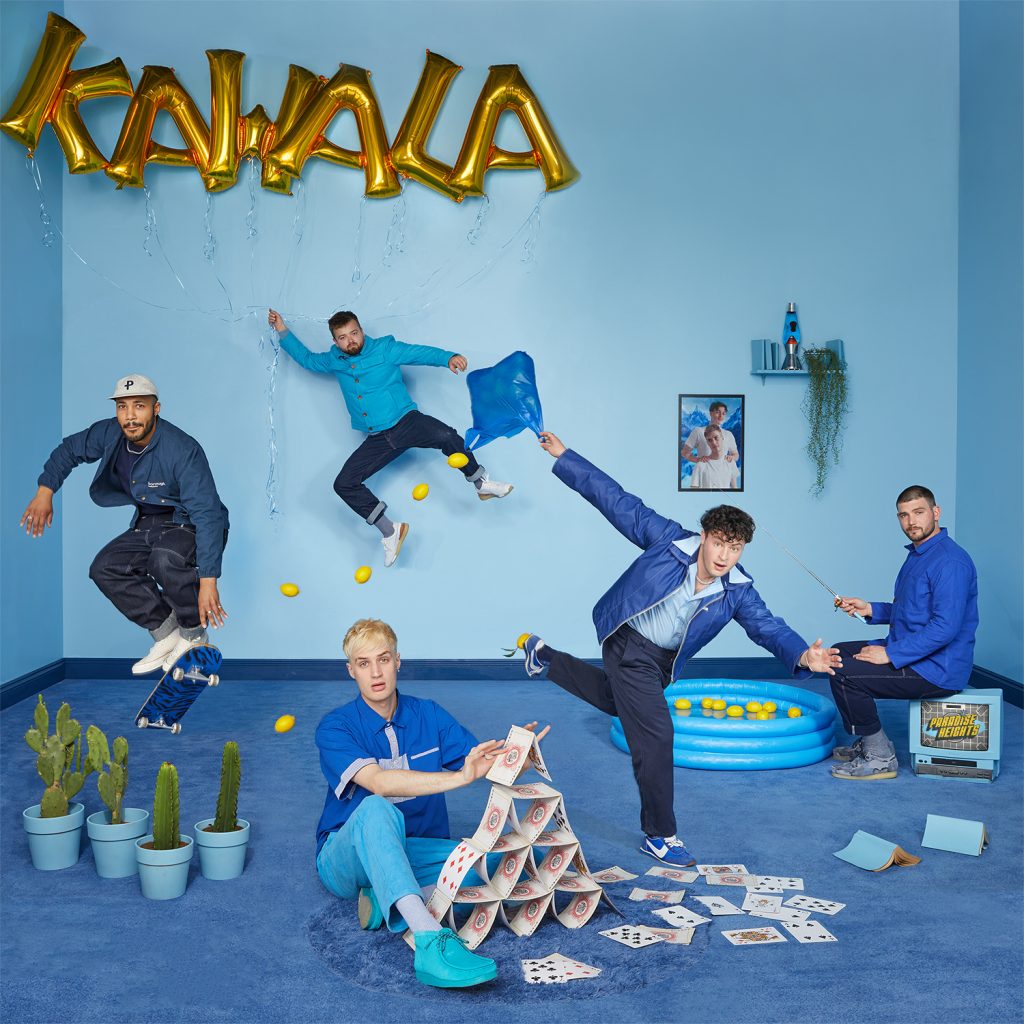 Official Track-listing:
Chasing/Wasting Time
Angry Man
1,000,000 x Better (Griff & Honne Cover)
Ticket To Ride
Back of my Hand
Arms Wide Open
Inspired by the diverse sonic sounds of artists including Vampire Weekend, Bombay Bicycle Club, Simon and Garfunkel and John Martyn, Paradise Heights brilliantly showcases KAWALA's talents for producing effortlessly unique and upbeat, punchy, jubilant danceable alt-pop bops, that fuse together a myriad of musical genres to create a style and sound all of their own.
Explaining the inspiration and message behind the mixtape, vocalist Daniel McCarthy says he's hopeful the mixtape will "mark the end of a difficult period and captures that feeling of going forward into something sunny and more positive", whilst fellow vocalist Jim Higson believes the title "alludes to the heights we'll hopefully reach as we all come out of lockdown."
---
KAWALA – Angry Man (Lyric Video)
---
As the latest single to be lifted off of Paradise Heights, Angry Man sees the lads tackle the tricky yet prevalent topic of toxic masculinity, with McCarthy admitting the song takes a look at the "frustratingly constant influx of incredibly angry men out there and the effect they're having on the world."
With group often praised for their effortless style of song-writing, and the exemplary ways in which they deliver multi-layered pop songs that, on occasion, mask the complex emotions behind the lyrics, the track serves as yet another example as to why KAWALA are the hottest new band on planet pop!
Paradise Heights is scheduled for release Friday, July 23rd via EMI Records.
---
Let us know your thoughts on KAWALA over on Twitter @CelebMix now!