Following an incredibly successful year, that saw him crowned the biggest-selling U.K. breakthrough act of 2020, British music sensation KSI drops his brand new single, Patience – an epic, upbeat dance/pop collaboration with YUNGBLUD and Polo G.
Produced by Matt Schwartz (Kylie Minogue, Olly Murs, Lawson) and serving as the follow up to Don't Play, the slick, experimental crossover tracks undeniably plays to each of the artists strengths, with its alluring, hypnotic melody and disco-inspired beat instantly pulling focus, and transporting listeners into an altogether alternate, alt-pop universe.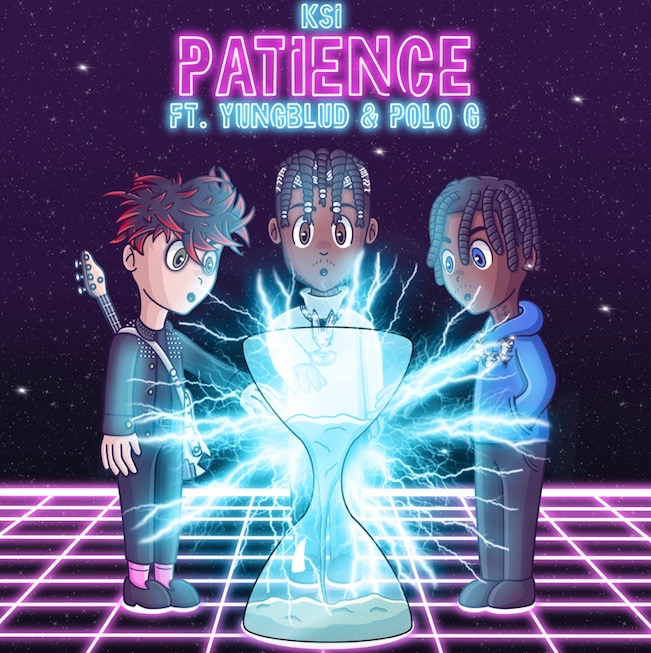 "We been goin' through changes…"
"This track is very fitting for everything we are going through right now and what we've all been experiencing collectively during this lockdown." KSI says of the track. "With the energy of YUNGBLUD and the style of Polo G, I bring to you another banger for people to enjoy."
"I'm so incredibly proud to have both of them on this record with me. I knew that I wanted to collaborate with YUNGBLUD when I watched him perform for the first time at last year's NME Awards. Together with Polo G, we've created an absolute smash and cannot wait until we're able to perform it live together on stage, it's going to be special."
YUNGBLUD adds: "KSI is an artist who came into music from a non-traditional route. Something I relate to a lot! He had something to say when no one would listen, and he ended up speaking and connecting to millions of people and they spoke back… that ideology is exactly what YUNGBLUD is about!"
"Of course, we were going to work together in some shape or form. He has become a really close friend of mine and my favourite thing in the world is to make music with my friends. Having Polo on it is an absolute honour, he's a true fucking punk, his individuality shines and I am a massive fan. This song is about needing time to process what is going on around you, about needing a second to just exist and be. You don't have to know what's next, just try and be present every day. I think this is a message we can all relate to right now."
Listen to Patience below:
---
KSI X UK TOUR 2021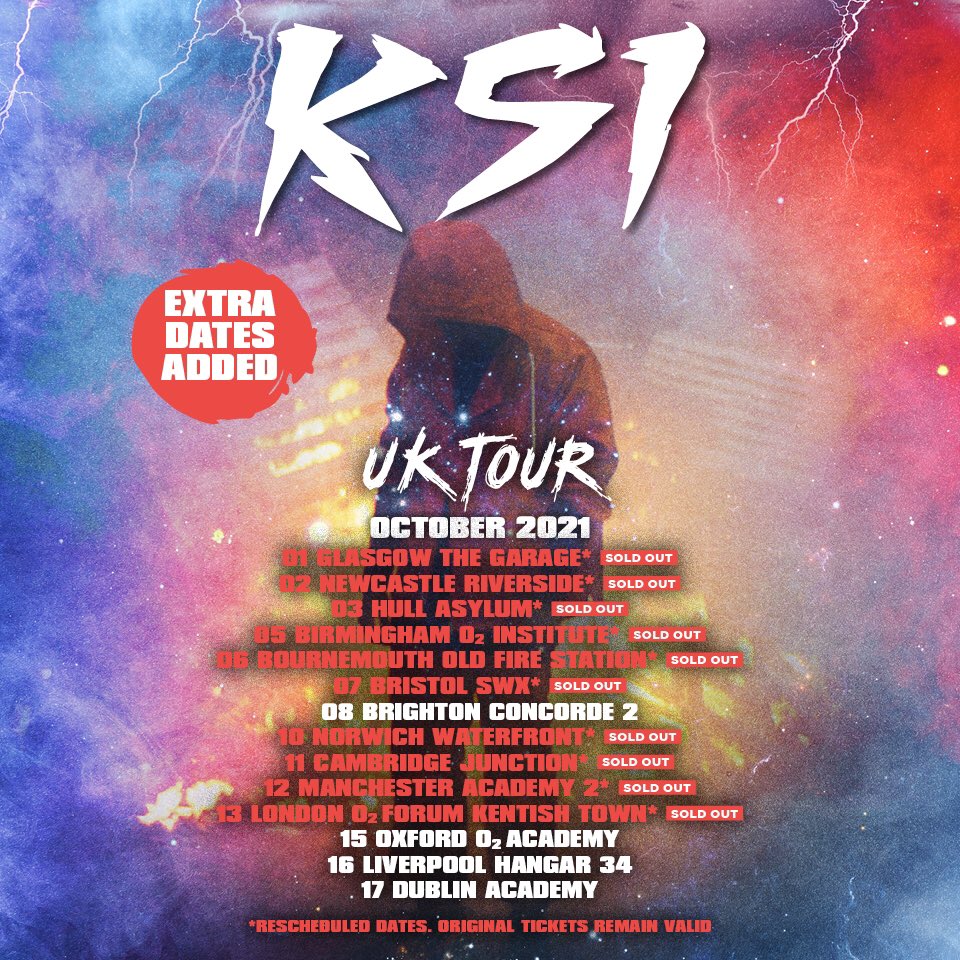 Hot on the heels of the singles release, comes the announcement that KSI is to reschedule dates for his upcoming, highly anticipated, sold-out U.K. tour.
Originally due to start at the beginning of May this year, the tour will now kick off on October 1st, in Glasgow before visiting 14 other cities up and down the country including new additional dates in Brighton, Oxford and Liverpool.
Rescheduled & New* 2021 U.K. & Ireland Tour Dates
01 October 2021 Glasgow, U.K. The Garage
02 October 2021 Newcastle, U.K. Riverside
03 October 2021 Hull, U.K. Asylum
05 October 2021 Birmingham, U.K. O2 Institute
06 October 2021 Bournemouth, U.K. Old Fire Station
07 October 2021 Bristol, U.K. SWX
08 October 2021 Brighton, U.K. Concorde 2*
10 October 2021 Norwich, U.K. Waterfront
11 October 2021 Cambridge, U.K. Junction
12 October 2021 Manchester, U.K. Academy 2
13 October 2021 London, U.K. O2 Kentish Town Forum
15 October 2021 Oxford, U.K. Academy 1*
16 October 2021 Liverpool, U.K. Hangar 34*
17 October 2021 Dublin, Ireland Academy 1*
All rescheduled show dates are now sold out. Tickets for the additional shows are on sale now.
Patience is available to download / stream now.
---
Let us know your thoughts on KSI & his new single "Patience" with YUNGBLUD & Polo G over on Twitter @CelebMix now!