Due to the ongoing pandemic, New Hope Club have announced that their UK tour originally scheduled for August/September 2020 will now take place in April 2021. The trio have also added five new dates to their tour.
Alongside all the original dates; the band will now play an additional London show on 8th April, with other dates added in Bristol, Newcastle, Sheffield and Liverpool. The Tyne will still be supporting the band at all shows and tickets for the new dates will be available from 10am on Monday 3rd August, from here.
For the full details, check out the tour poster below: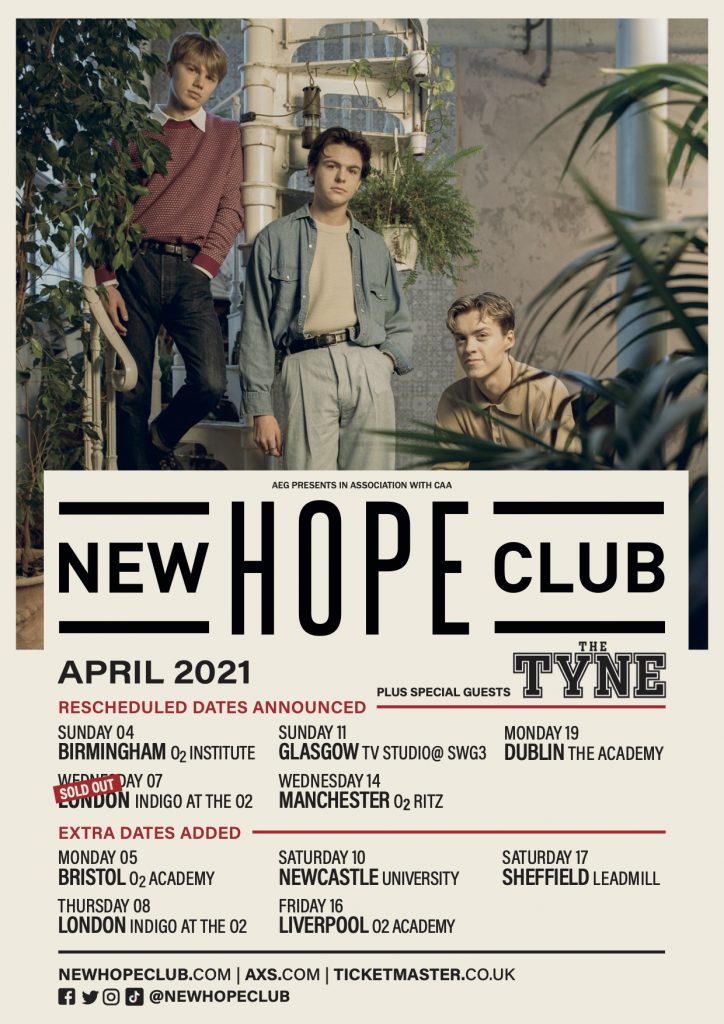 Although the news will no doubt leave fans sad they have to wait a little bit longer to hear their favourite tracks from New Hope Club's debut album live; the trio have planned a Virtual World Tour to fill the NHC shaped gap in their fans world.
Taking place across twenty dates throughout July and August, the event which is run in collaboration with YouTube Live is a chance for fans across the world to get involved in the NHC World Tour. The special shows will feature live performances, special guests and exclusive merch. There's even a virtual tour book featuring new photos of the trio and some exclusive music news, but you'll have to check out the tour book here to find out what that is…
Earlier this month it was revealed that the trio's debut self-titled album which charted at Number 5 on the Official UK Album Chart had been named as one of the biggest debut studio albums of 2020. Placing at number 7 on the list it sits alongside the likes of Lauv, Louis Tomlinson and top placing artist KSI. New Hope Club's latest single 'Worse' was released in April. The music video for the track takes fans on a journey through the decades with the band putting on performances during each of these. You can check it out here.
Keep up to date with New Hope Club and find out more about their Virtual World Tour on their Facebook, Instagram, Official Website and Twitter.
Will you be seeing New Hope Club on their Virtual World Tour, their April 2021 tour or even both? Tweet us @CelebMix and let us know!