2018 was the year Niall Horan solidified himself as one of the biggest artist of the century.

Following a massive world tour, performances and appearances that kept us in awe, and his ability to continue to stunt fans and non alike, 2018 was the year Niall Horan became one of the world's favorite Irishman (because he totally wasn't our favorite Irishman already).

And as the new year begins, we think it's the perfect time to look back and see what made 2018 the year of Niall Horan (reading this will also you give you the perfect opportunity to re-listen to his album).
Flicker World Tour
Considering Flicker, Niall's debut album, did as well as it did, it's not surprising to learn, then, that he spent the better part of the year touring said album.
With a world tour running from March until September, Niall managed to go around the world playing his personal, emotional music to fans everywhere.
And considering he's always speaking about how much he loves his fans, our hearts are filled with love when we recognize how special he must feel when he has fans singing his songs back to him.
"So Long," a single not released officially, was a crowd favorite. We know that all of these songs were written from deep parts of Niall's heart and we cannot thank him enough for sharing these with us.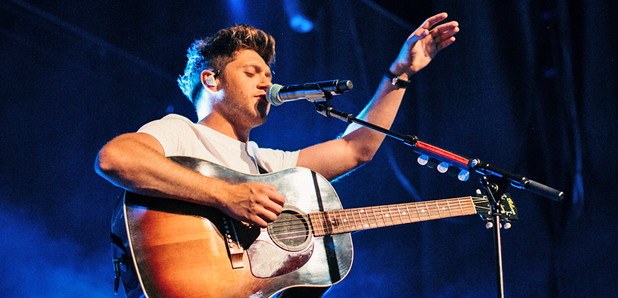 This tour truly blessed us with some amazing outfits, some amazing vocals and amazing crowds. And even when he was in far away places, Niall always had his friends supporting him throughout the tough year.
And considering this tour went on for soooo long, we think it's only fair that we include some of our favorite stage and behind-the-scenes photos from the year. Enjoy!
BBC's Biggest Weekend
Although not an event where Niall was the only performer, we can't let this iconic look die.
Niall has a magnificent way of making a song his.
And yes, we do recognize that "Drag Me Down" is technically his, but he manages to put on an Americana vibe to the song that completely matches his style.
Even though his performance was short, we were still blessed with that video of Niall and Shawn being interviewed and being absolutely cute.
We also love seeing Niall and Liam sharing a stage (albeit at different times). But we're so ready for the 1D reunion we deserve that we're willing to get it any way possible.
So in the new year we're anticipating: a Niall and Shawn collab, for more 1D members to get together, for Niall to continue to bless us with more iconic looks and for Niall to continue to bless us with his perfect music.
Horan and Rose Gala
Niall joined 2013 US Open winner, Olympic Gold Medalist and friend Justin Rose in hosting the Horan & Rose Gala to raise funds for Cancer Research UK Kids & Teens, Irish Autism Action and the Kate and Justin Rose Foundation.
The follow-up to 2016's Gala, Niall and Justin raised a significant amount of money (£1.5 million between 2016 and 2018) that all went to several organizations, causes that both men have supported for some time now.
Although Niall was definitely dressed to impress, our favorite boy went on to lose the jacket and join Olly Murs and Justin Rose onstage to sing "Slow Hands" at the end of the night. He also sang "Dancing In The Dark" and managed to enjoy his time onstage.
The Horan & Rose Gala is set to return in 2020 and considering all the money they've raised so far, we believe they'll be doing even more good then.
RTE Orchestra
This year, Niall also released one of the most interesting collaborations — Flicker feat. the RTE Concert Orchestra.
Although not something people expected, this is rendition of the album makes it so much more powerful, intimate, delicate and beautiful. Having the orchestra accompany his wholesome, clean-cut style allows for the appreciation of his melodic and lyrical genius.
This collaboration has made an amazing album perfect. This type of rendition is risky and tediously arranged, but the outcome is rewarding – this is an album that hasn't truly been heard until enjoyed with a full concert orchestra behind it. This makes Flicker an album that stands in its own category.
We cannot wait to see what Niall Horan brings us in the new year – we can't wait to see more magazine covers (hello, Mr. Wilhelmina model), more looks that'll have us drooling, and more music to fill us with pride and happiness.
What are you most looking forward to from Niall? Make sure you tweet us over @CelebMix to let us know!