Irish heartthrob Niall Horan has returned with another surprising banger titled "No Judgement", released today (February 7) via Capitol Records and we can't keep calm!
And that's not all. Niall has officially announced his much-anticipated sophomore solo album titled "Heartbreak Weather" along with revealing a stunning album artwork. The 26-year-old singer, who got his jumpstart with iconic One Direction, is set to release his second solo album next month, on March 13.
With a strumming guitar and a catchy hook, "No Judgement" rolls out as a punchy upbeat single that follows up Horan's previous two releases, the steamy anthem "Nice to Meet Ya" and the tender ballad "Put A Little Love on Me", all of them are going to feature on his upcoming album, which is a follow up to his previous debut chart-topping album, "Flicker", in 2017. Reflecting on the latest release, 'No Judgement' successfully captures our hearts with its instantly catchy, easy-going and joyous vibe. And with the lyrics, "When you're with me, there's no judgement. There's enough people judging, so you don't need to be judged by me," he assures that he will not judge us and we can be truthful to each other. How lovely!
Earlier this week, Niall took to his social media to announce his new single 'No Judgement' by posting a monochrome artwork displaying the Mullingar man dressed in his trendy wear; a crisp shirt and jeans, laying on a couch while playing his guitar. Niall also teased his fans by further sharing a snippet of the song and fans squealed with joy while sharing their reactions on Twitter.
When asked about what to expect from "Heartbreak Weather," Niall emphasizes his enduring belief in the 'concept'. He shares,
"When I listen to albums, I like to listen to them start to finish. With 'Heartbreak Weather', I wanted to tell the story that was in my head, hopefully, leads people down the storytelling lane of an album tracklisting versus just 'I'm gonna skip to the next one.' I was trying to think about how I could write a different album than the usual. I wanted to write songs from different sides or from someone else looking in."
Written with Julian Bunetta, Tobias Jesso Jr., John Ryan, and Xplicit with Bunetta producing this catchy banger "No Judgement", Niall has also shared a beautiful music video for "No Judgement" showcasing an adorable quirky and sweet love story of an elderly couple in their 70-80s, shot by MTV-VMA winning director Drew Kirsch in Los Angeles. Niall appears on the music video looking dapper in a white tuxedo giving himself a retro look. The video unveils with Horan narrating and faking Brit accent, "There comes a time in the mating cycle of humans when their need to impress is replaced by a period they call 'no judgement.' And let me tell you something, it gets a little bit strange."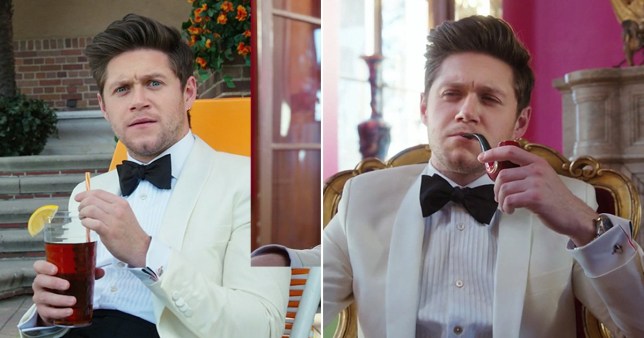 The video features a lovely elderly couple with very unconventional (and sometimes gross) quirks such as eating shrimps in between the toes while painting the nails and Horan wanders around their mansion trying not to judge the couple. To say the least, this is one of the best works delivered by Niall Horan to date, although we love all of them as much. Watch the official music video of "No Judgement" below:
Niall Horan will promote the album with his "Nice To Meet Ya Tour," also featuring Lewis Capaldi and FLETCHER. The North American begins from April 20-May 20. Further dates for this extensive worldwide album support tour are yet to release. Listen to "No Judgement" here:
Well, we absolutely love a concept album and can't wait to listen to it. Pre-save/Pre-order the new album 'Heartbreak Weather' by Niall Horan, out March 13th, right here: http://niall.to/HeartbreakWeatherYD
Do you love "No Judgement" as much as we do? Let us know by hitting us up on Twitter.