Nizam Kabir wants to help people in rural Bangladesh have access to something many of us take for granted, energy. To do this he has launched a fundraising campaign via Just Giving to raise money to bring solar power to 100 low-income homes across rural Bangladesh by fitting solar panels.
Fitting solar panels to homes will ensure that families have access to reliable energy, that children can study uninterrupted and the chance to flourish. as they will sustain vital, everyday utilities such as fans and lights.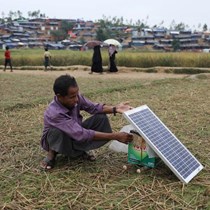 Solar panels will not only help the families but are sustainable, do not release greenhouse gases, therefore they do not contribute to global warming.
With the campaign, the aim is to raise £17,500 which will fit 100 homes with enough solar panels that will sustain everyday appliances.
Access to power has the capacity to transform lives. We know inconsistent access to energy affects all parts of life, education, sanitation, health and livelihoods. This is why we aim to bring solar power to 100 homes in rural Bangladesh!

https://www.justgiving.com/crowdfunding/nomoreinterruptionwhileistudy
Since the crowdfunded campaign was launched just 4 days ago on Just Giving, it has raised an impressive 5% of it's target.
In a post on the page, Nizam said:  "For long I have been wondering how we can make an impact in a lesser economically developed country. With my access to a small team in Bangladesh, I have already been able to install solar panel packages to 5 homes with my own funds. On the back of COP26, I thought this must be the most simplistic idea that first of all allows poorer communities to alleviate their living standards and gives them an asset that keeps on providing."
You can find out more and support the campaign here, you can also follow the journey of the campaign via its Instagram account, @solardesh.