The eighth annual NYC Web Fest (NYCWF) is just months away, and today they announced their official selections. 56 digital web series and short films from around the world, have been chosen. The NYCWF is set to take place on November 12-14, 2021. In addition to the announcement of the selections, they have also revealed a new collaboration between supporting sponsor Spa Zuzu, and a media partnership with CherryPicks.
"We're delighted to be working with the team at Spa Zuzu," says NYCWF founder Lauren Atkins. After two difficult years, everyone could use some pampering. The spa is offering a 20% discount using the code NYCWF2021 on all services and is putting together a special "Red Carpet Ready" package for NYC Web Fest attendees.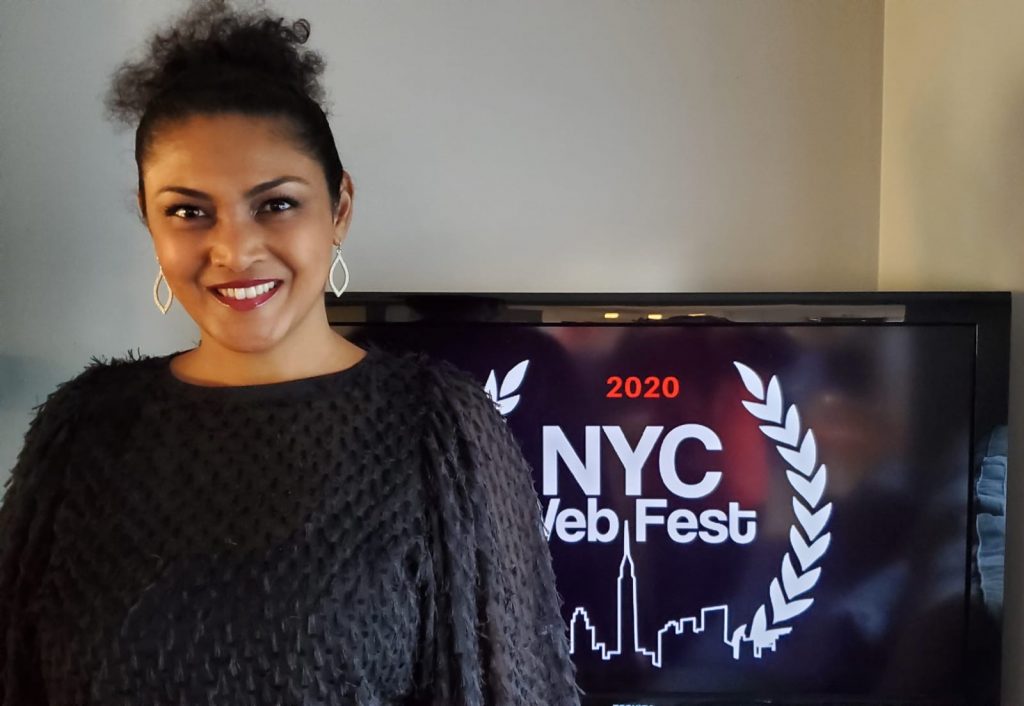 CherryPicks is an entertainment and media site that champions movie reviews and original stories from female-identifying and non-binary writers. They offer a unique scoring system, the CherryScore, daily movie and TV recommendations, original editorial content, as well as digital and podcast offerings. CherryPicks will recommend some of the NYC Web Fest award-winning projects in their upcoming newsletters.
With COVID-19 affecting travel plans and possibly making it uncomfortable for filmmakers to travel to New York, especially with winter on its way – the festival plans to be a hybrid event, this November, by being both digital and in-person. "We plan on going ahead with our eighth Annual Event, whether it can be held in person or not," says Lauren Atkins. "We had a very successful virtual festival in 2020 and will go that route if need be this November. Once again, we're planning a stellar group of special guests and panels with entertainment professionals."
The jury line-up for the festival was announced three months ago, which will consist of seven industry professionals. The festival takes place from Friday, November 12, to Sunday, November 14. For more information, go to the official NYC Web Fest site.
Here Are All 56 Selections Of The NYC Web Fest:
"STICKS" — Los Angeles CA, USA
#WFH — Brooklyn NY, USA
About Sex — Montréal QC, Canada
Audio Guide — Annandale NSW, Australia
Bar Sepia — Santa Monica CA, USA
Bastards — Lausanne Vaud, Switzerland
BlackArrogance! — New York NY, USA
BRAIN JOB — Chicago IL, USA
Brazzy Jazzy – Season 2 — New York NY, USA
DAD-rahpy — New York NY, USA
Dates&Mates — Moscow, Russia
Denise & Raymonde — Pacific Palisades CA, USA
Dentists — Coquitlam BC, Canada
Dopamine — Asnières-sur-Seine, France
Drama High — New York NY, USA
Erin Hill: Eleanor Rigby — New York NY, USA
Farm Crime — Toronto ON, Canada
For the Record — Toronto ON, Canada
Ghostwritten — Newnan GA, USA
Good Morning Cuomo — Brooklyn NY, USA
Graceful, amazing Grace series 2 — Birchgrove NSW, Australia
Halal Gurls — Minchinbury NSW, Australia 
Heat — Amsterdam NH, The Netherlands
Hella Late with Hollie Harper — Brooklyn NY, USA
Hey, Professor! — New York NY, USA
Hogtown — Toronto ON, Canada
Human Telegraphs — New York NY, USA
Illuminagents — Markham ON, Canada
Incompleteness — Minneapolis MN, USA
Just the two of us Season 2 — Montréal QC, Canada
Lower East Asides — New York NY, USA
Man of La Mansion — Portland OR, USA
Marcellus Hall an Artist in New York City — Brooklyn NY, USA
No Chaser — JAMAICA NY, USA
Novel Romance — New York NY, USA
One Woman — Tel Aviv, Israel
Really Good People — New York NY, USA
Short Term Sentence — Toronto ON, Canada
Sisters — Los Angeles CA, USA
Socially Distant Orchestra — New York NY, USA
Sophie in Hollywood — Los Angeles CA, USA
Street Smart — Staten Island NY, USA
Stuck! — Los Angeles CA, USA
Sunset — McDonough GA, USA
The Executive Circle — Highlands NJ, USA
The Law is the law — Montréal QC, Canada
The Nodey Process — Paris, France
The Weird Bird and Stout Gnome Show — Brooklyn NY, USA
This Is B.S. — Brooklyn NY, USA
Tiny Garden — Singapore, Singapore
Together Apart — Livingston NJ, USA
U-HAULING — Montréal QC, Canada
Unicorn Included — Montréal QC, Canada
Vampire State of Mind — Studio City CA, USA
Wipe me Away — Montréal QC, Canada
Your Eyes — São Paulo, Brazil
The NYC Web Fest will start on November 12 and conclude on November 14. The weekend will include screenings and panels as well as an awards ceremony which will close the event on the final night.
For more information on the NYCWF, make sure you check out the official website.
What do you make of the 56 selections of the NYC Web Fest? Let us know on Twitter @CelebMix.