Finally, the 2022 Emmys returned with an enormous dose of glitz and glamour. On September 13, 2022, the Microsoft Theater in Los Angeles hosted the 74th Primetime Emmy Awards presentation, which was unquestionably a high-on-glam affair that everyone absolutely enjoyed. There were several trends—black and white remained a prominent theme on the red carpet—but others stepped out from the pack by paving their path with vivid metallics, sequins, and tulle.
For this prestigious event, celebrities put their best fashion forward and dressed to impress and made some scene-stealing sartorial statements. Artists like Zendaya, Selena Gomez, Lizzo, John Legend, Chrissy Teigen, and Jung Ho-yeon were among the attendees, who served up a hearty dose of red carpet glamour.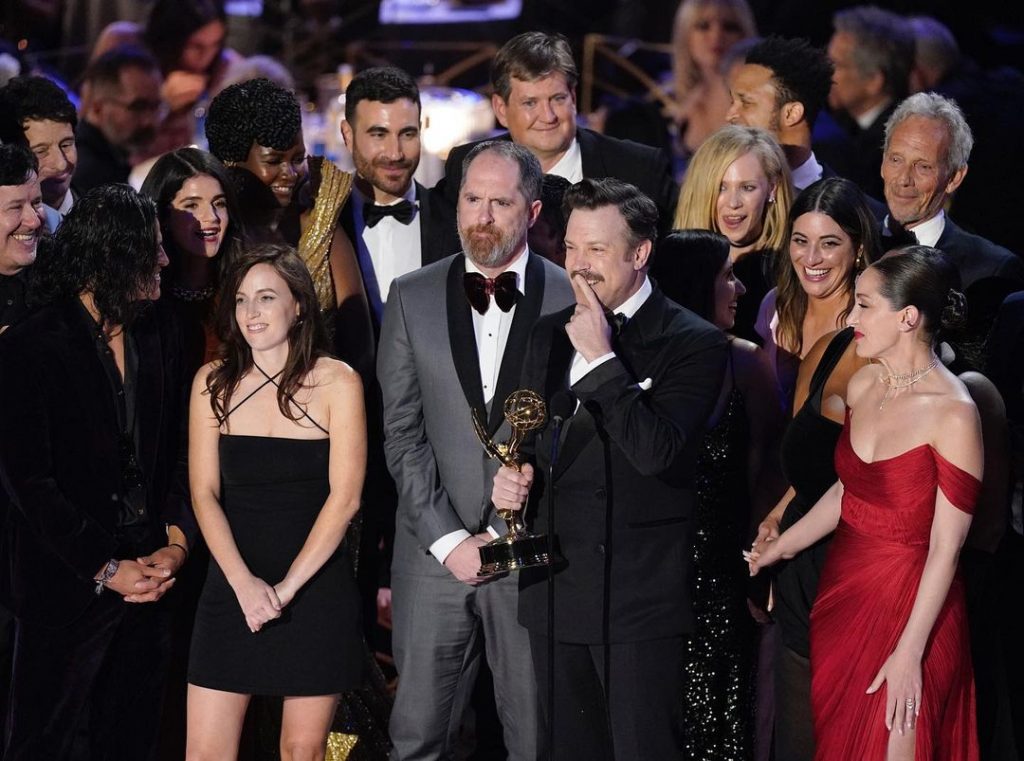 It was a historic occasion for actresses like Zendaya, who became the youngest two-time Emmy winner ever, and fortunately, her fashion extravaganza matched the exciting energy of the evening. The Euphoria actress made history at the 2022 Emmys by becoming the youngest two-time winner of the Outstanding Lead Actress award and the first Black woman to snag two wins in the same category.
With her being a fashionista, we can't recall the last time Zendaya attended an award ceremony, and she didn't make the best-dressed list, as she assures us with her stylish looks that there won't be any shortage of her fans fawning over her appearance. There was the typical floor-length Armani Privé Couture gown covered in pink rhinestones, but there was also a far more astonishing custom gown by Louis Vuitton with a square-cut crop top you rarely see on the red carpet but more during annual fashion weeks.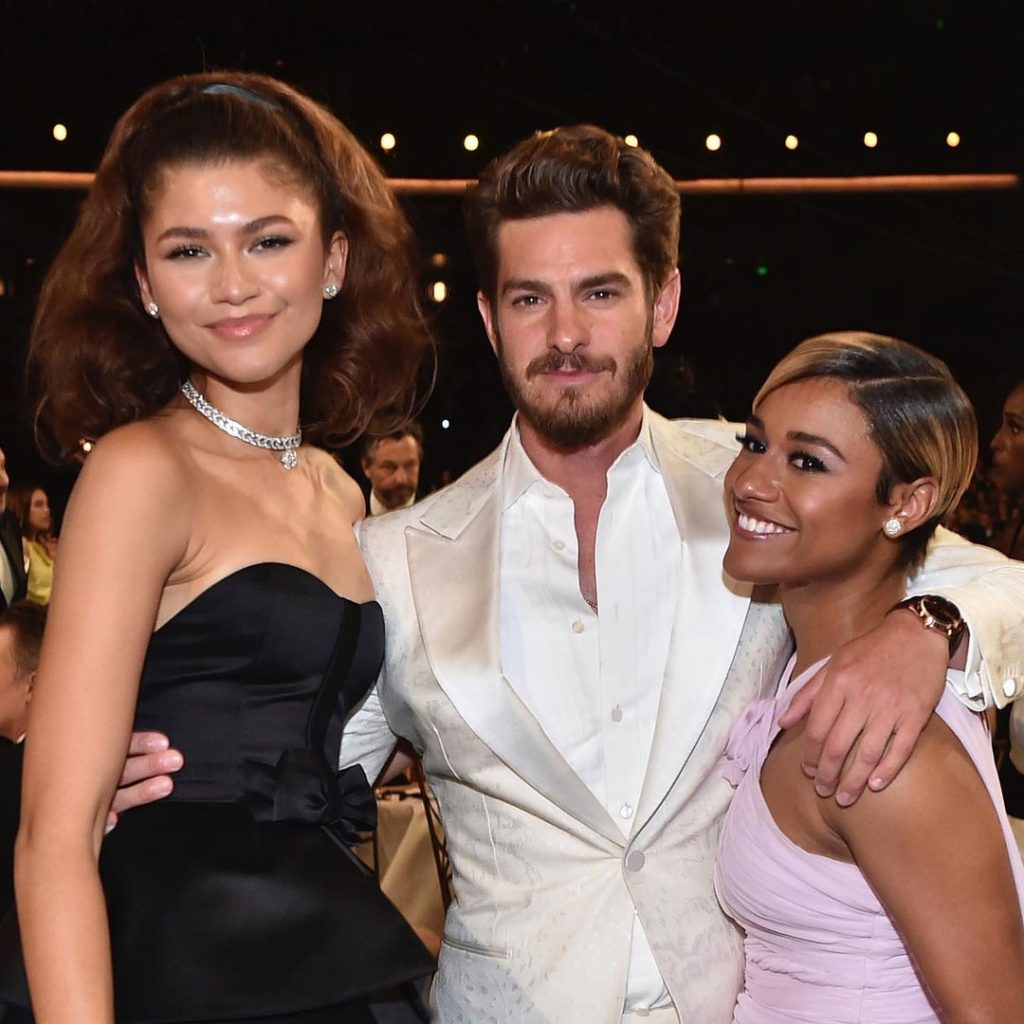 Dresses by Christopher Kane, Jean Paul Gaultier, and Gucci made appearances as well, with standout details like gold snake chains, cone bras, and diamond-shaped belly button cutouts. Andrew Garfield also went for white, along with Seth Rogen. Speaking of white, Jean Smart decided on it, too, with an elegant collar that fell off one shoulder. Elie Saab designed Kerry Washington's short, draped dress with a long overskirt and a riot of organza lilies on one shoulder.
From Zendaya's billowing black Valentino gown to Lizzo's all-red tiered tulle ensemble to Jean Smart's all-white ensemble, here are all the unmissable looks from the 2022 Emmys.
---
Zendaya in Valentino and Bulgari Jewelry
In contrast to Rue, dressing up in baggy hoodies and scuffed Converse with a devil-may-care attitude, Zendaya persistently wows the fashion gurus, leaving them speechless with her glamorous style. For the 2022 Emmys, she channelled Old Hollywood glam but with a 2022 fashion twist. Zendaya, styled by her long-term stylist Law Roach, embraced a classic strapless corset look, with a voguish all-black peplum Valentino skirt and a delicate bow at the waist, to give the appearance of a full-length, voluminous gown.
But here's an interesting fact: according to Law Roach, they had the vision for this dress in their dream and created it in just one week. Now let out the big gasp you were holding! Zendaya accessorized her simple yet impressive look with Bulgari diamonds, black footwear, a retro hairdo with a bow, and a sparkling young white diamond choker with a 4.45-carat stone at the centre that took the glam game a notch up. Oh, and she had pockets, too. Yes, we all need those pockets in our fancy outfits.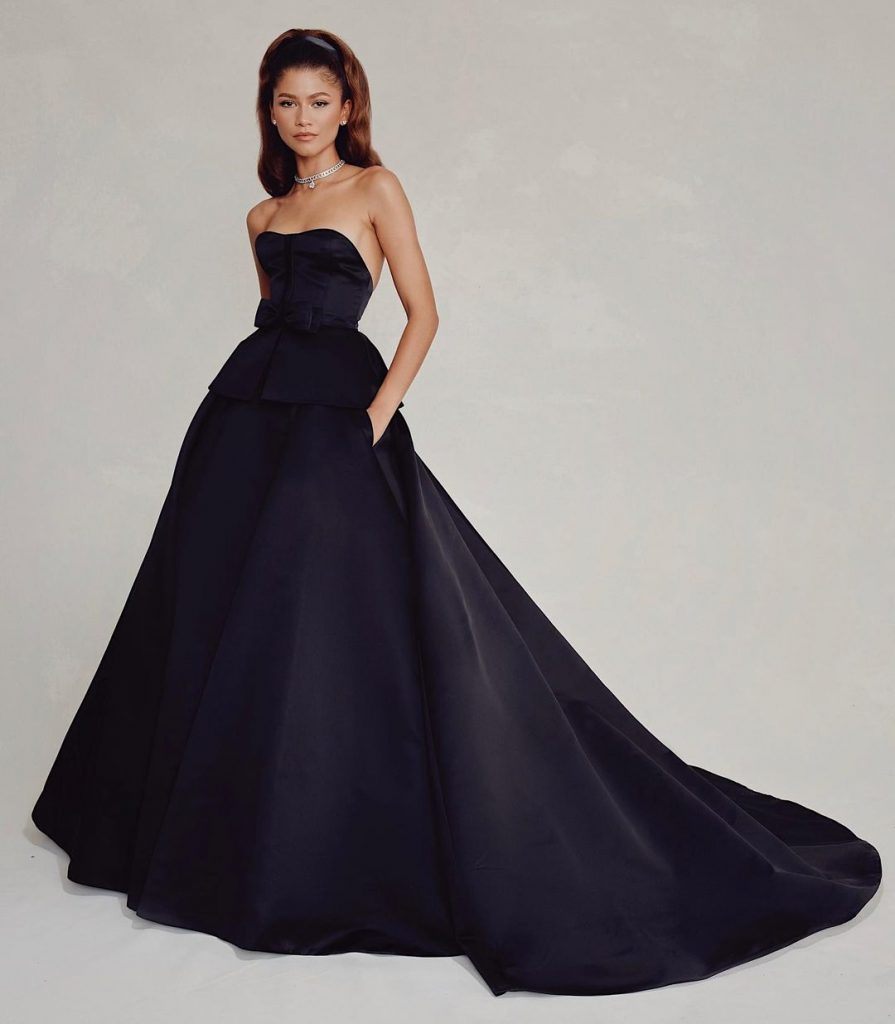 Elle Fanning in 'The Great' Costume- Sharon Lon
Elle Fanning donned a dramatic black gown with embellished pink details on the bodice for the 2022 Emmys. She said she wanted to honour the creatives on her show that provided her with her first Emmy nod. Dripping with Old Hollywood glam, Elle looked simply regal in a black-and-soft-pink sleeveless gown with floral detailing and a jaw-dropping skirt that looked so gracious and elegant. Her pinned-back blonde bob hairdo, with delicate accessories and black high heels, further complemented the Old Hollywood vibe in the best possible way. And, of course, her million-dollar smile is just the icing on the cake.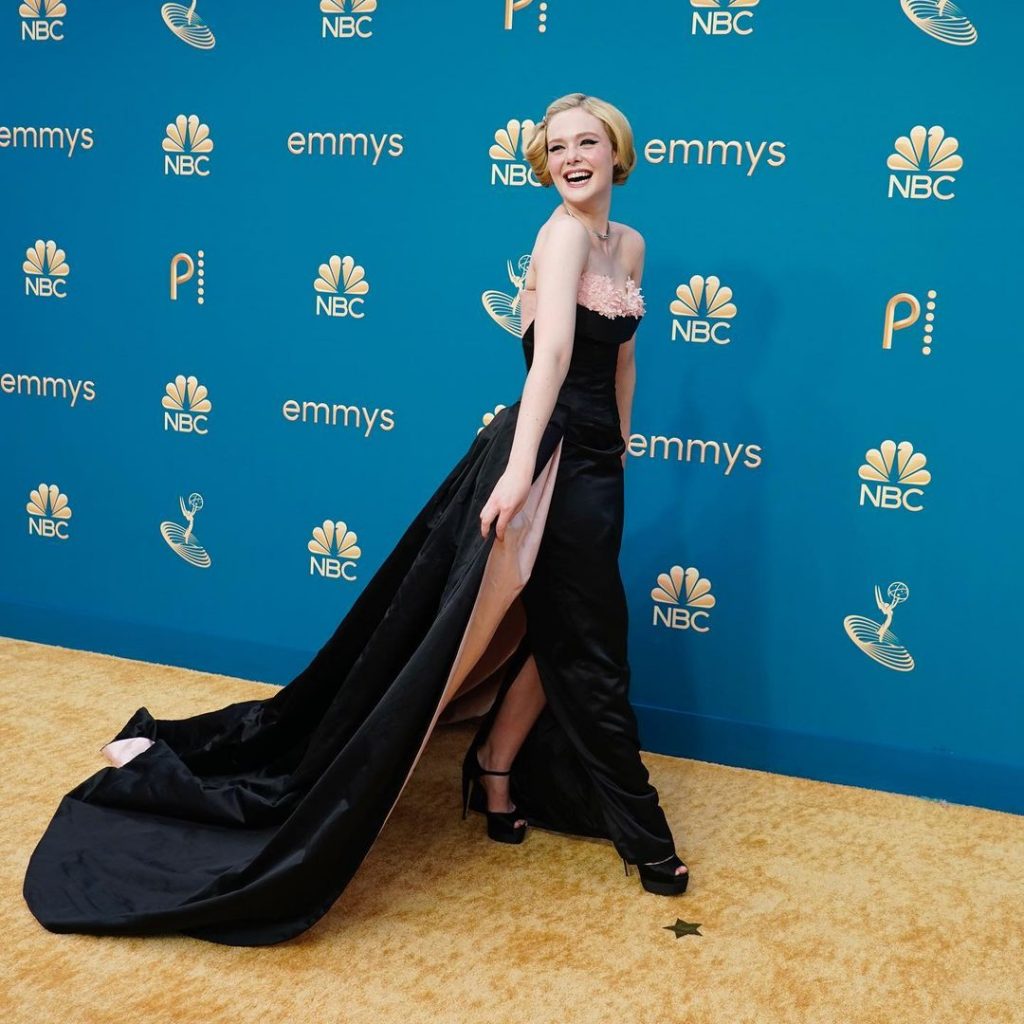 Ho-Yeon Jung in Louis Vuitton
The Squid Game star, Ho-Yeon Jung, is a South Korean model and actress who rocked an all-around multi-hued, body-hugging gown embellished with subtle silver sequin accents by Louis Vuitton for the 2022 Emmys red carpet. She styled it delicately with Vuitton jewels, a bob with side-swept bangs with a floral hairpin atop her bangs that matched the interwoven geometric details of her dress, and a pair of strappy kitten heels.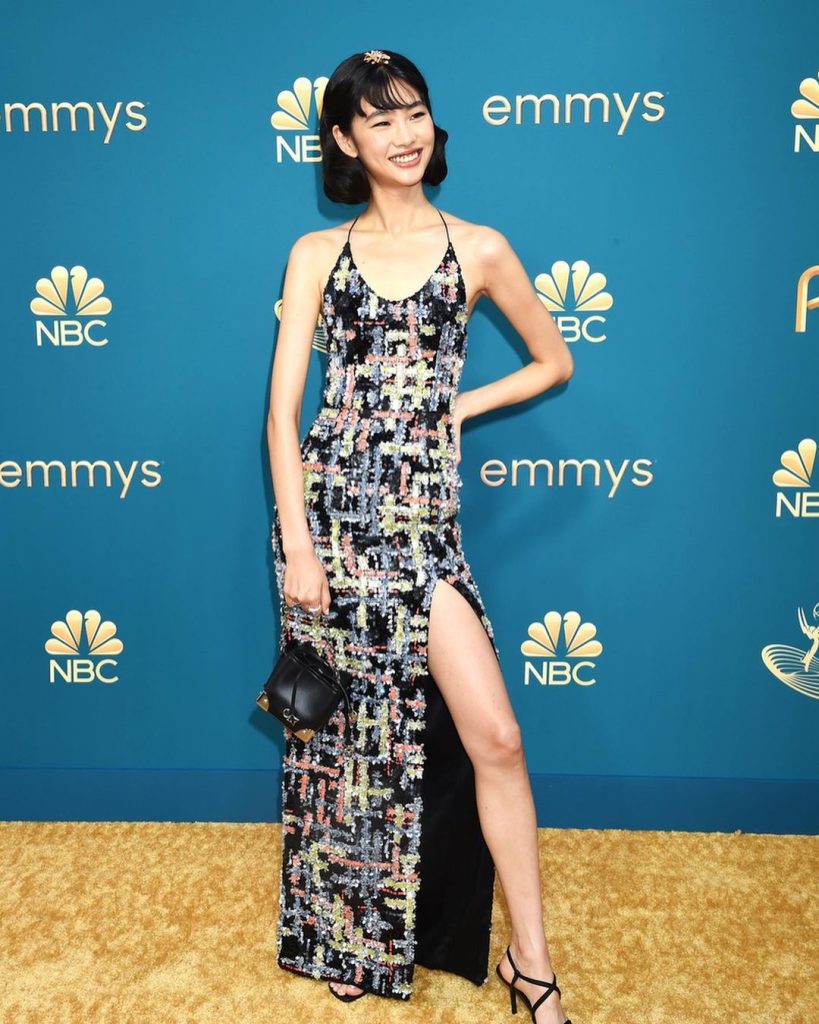 Lily James in Atelier Versace
Lily James played it safe for her debut appearance on the Emmys red carpet this year and chose a stunning Versace gown with a corseted bodice that draped across the waist, emphasizing her curves. Lily James had a goddess-like appearance, covered in bronze from head to toe, with long brunette hair that cascaded down like a dazzling waterfall and smokey eyes. All that felt was missing was a sleek studded choker as the perfect accessory to complete the ensemble.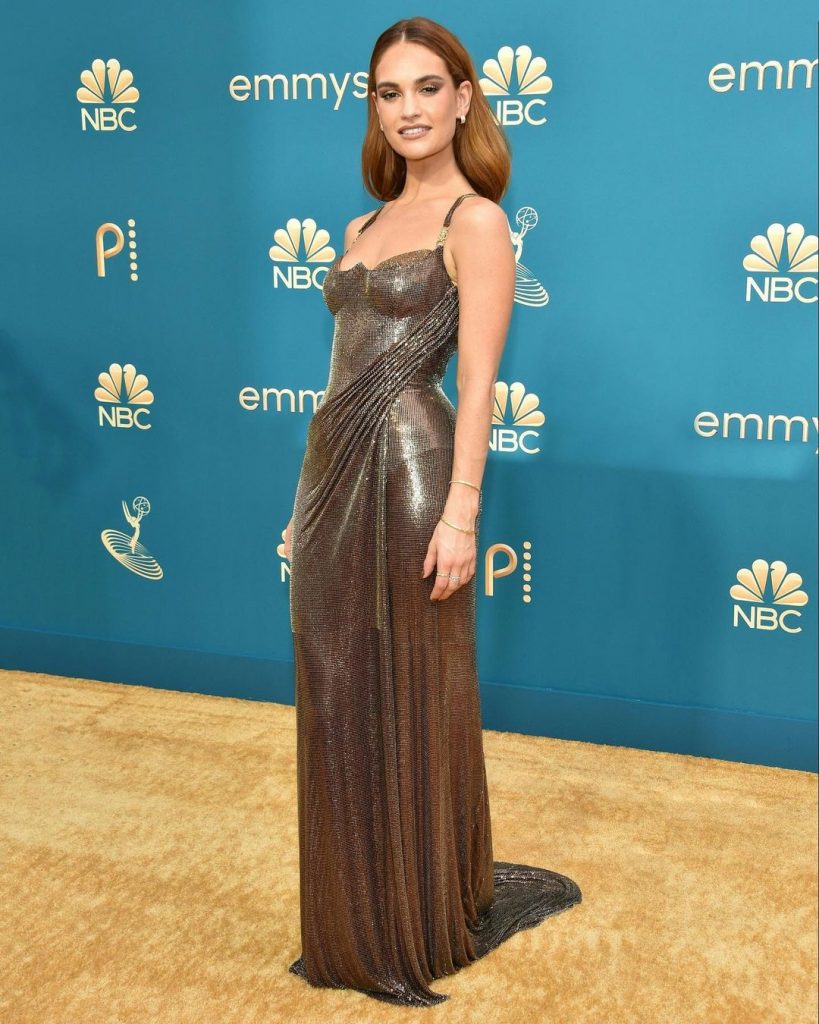 Amanda Seyfried in Armani Privé Couture
Amanda Seyfried, who snagged her very first Emmy award for her portrayal of Elizabeth Holmes in Hulu's "The Dropout," donned a gorgeous Armani Privé pink dress, and claimed that the company "knows her like no one else." In an Armani Privé sparkly pink dress swathed in rhinestones all over with a mesh detail that covered her collarbones, Amanda Seyfried shone like a shining star as she strutted down the red carpet. She accessorised her evening look with a set of Cartier diamond drop earrings and a sleek, centre-parted bun, and had a "mermaid" appearance, as she claimed to Laverne Cox on E!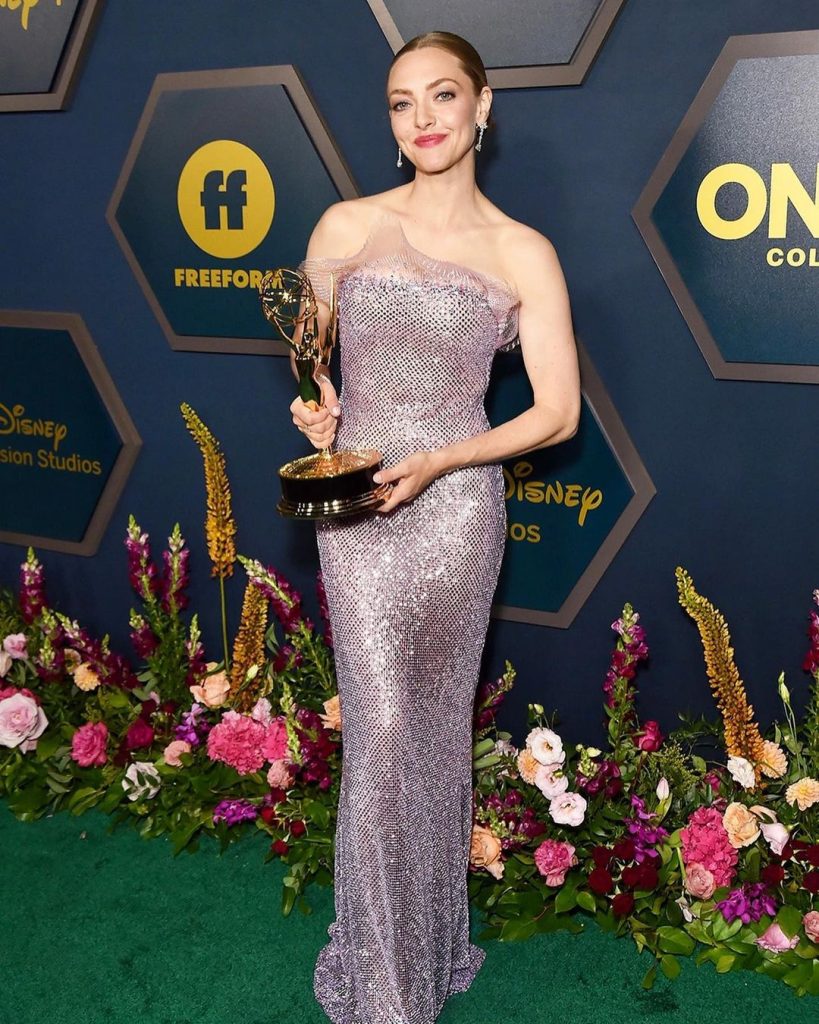 Lizzo in Giambattista Valli
Lizzo persistently goes loud and dresses to impress on the red carpet, and her appearance at the 2022 Emmys was no exception. The American singer-songwriter turned heads at the event with her impeccable sense of style as she wore a very dramatic all-red ruffled, voluminous Giambattista Valli ensemble with a long train and billowing ruffle sleeves. She accessorised her outfit with a piled-high hairdo, heels, and matching rose makeup. And everyone said, "Wow!"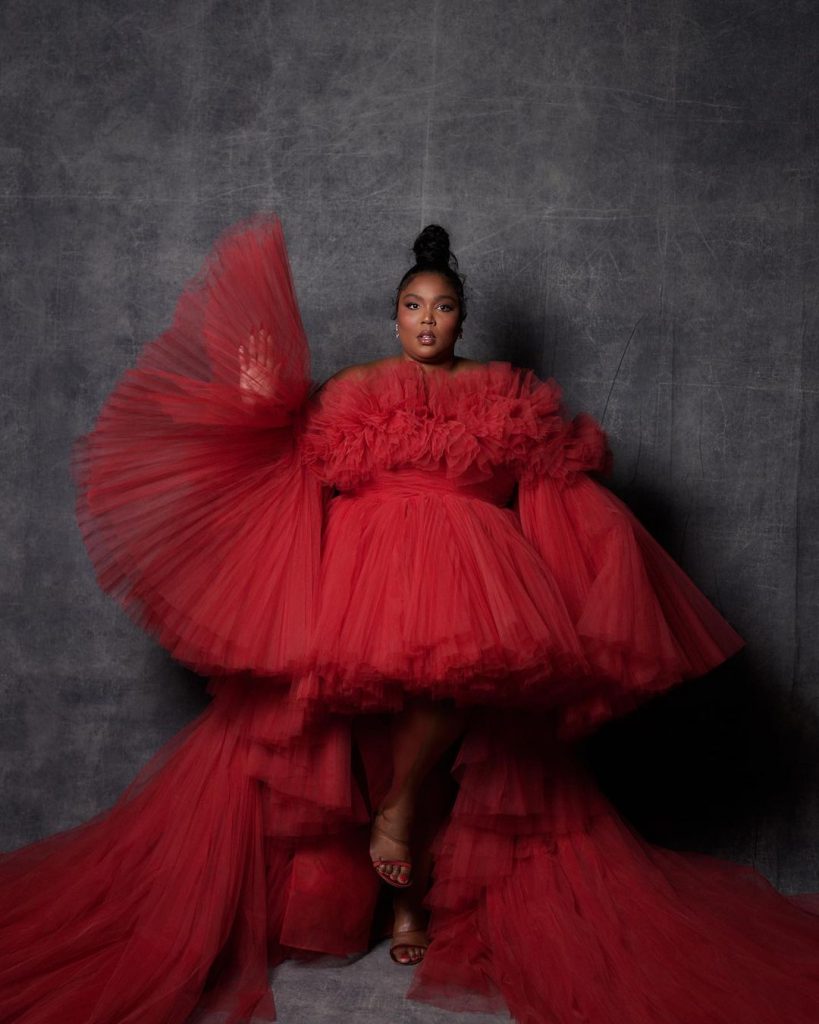 Issa Rae in Sergio Hudson
Even though cut-outs may have had a long run in 2021–2022 fashion trends, one can't deny that a strategically placed cut-out can elevate an ordinary dress to exceptional. Issa Rae's custom-made Sergio Hudson's black and white gown, boasting a flirtatious torso cut-out, sweetheart neckline, and exquisite train, made a striking statement on the red carpet. She accessorised her look with straight short hair and opulent dangling earrings.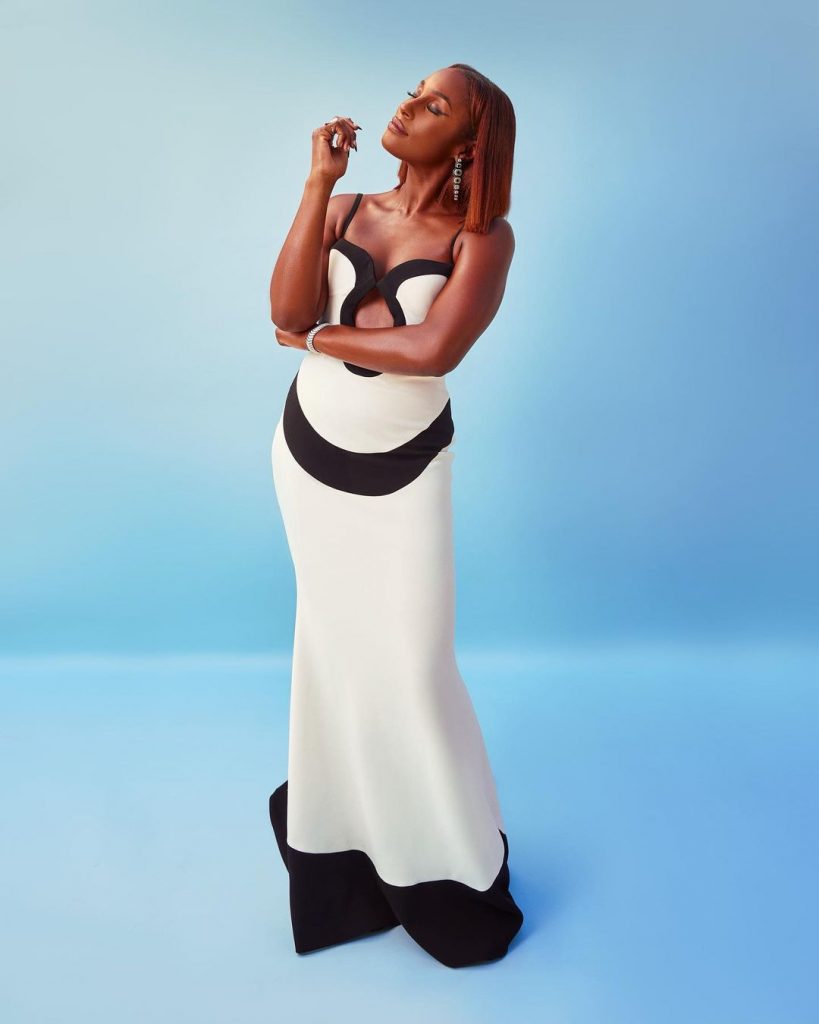 Laverne Cox in Jean Paul Gaultier
The Inventing Anna actor, Laverne Cox, donned a dramatic, bold black armour-esque dress from Olivier Rousteing's fall 2022 couture collection for Jean Paul Gaultier on the 2022 Emmys red carpet. She finished her minidress look with exaggerated hip padding and a whirling cone bra—a silhouette identified both with the French design house and the forever-glorious Madonna. The rest of her outfit comprised sheer black tights and pointed-toe pumps served up to draw all the attention to her silver zippered dress, accentuated with a long ponytail and subtle yet sultry makeup.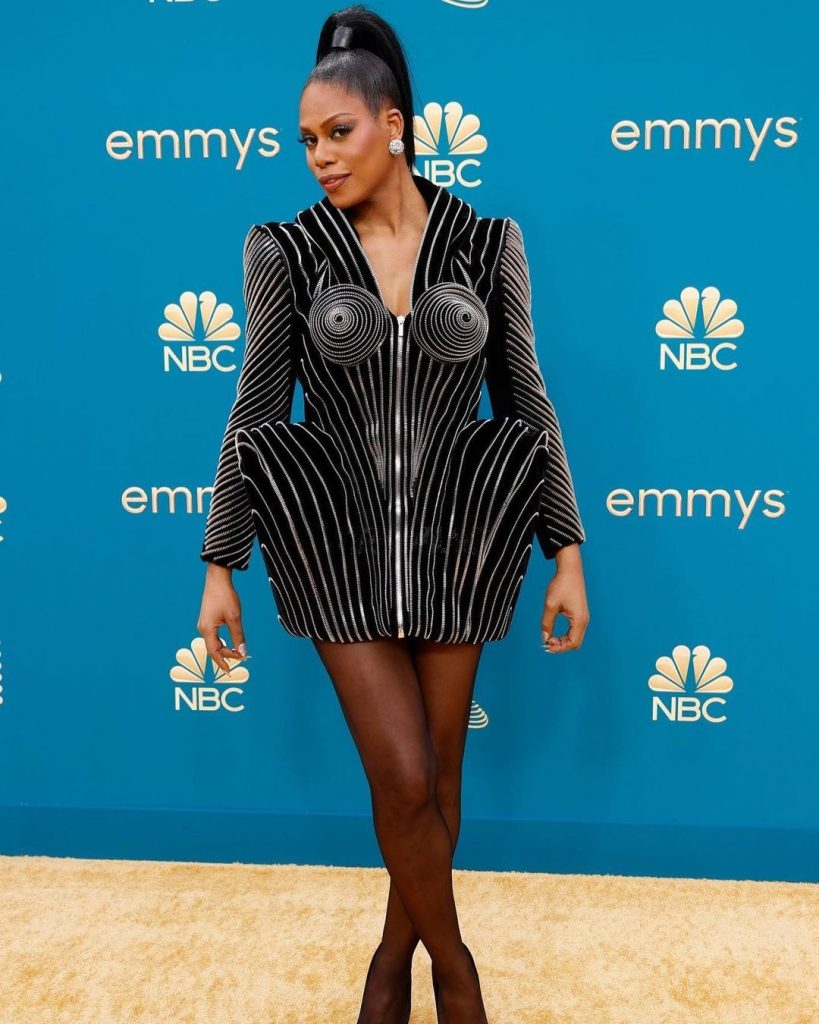 Britt Lower in Cucculelli Shaheen
Severance's Britt Lower sparkled in silver and rose-gold Cucculelli Shaheen gown on the red carpet. She offered head-to-toe brightly gold, geometric beauty in a body-hugging metallic beaded Venetian gown with gloves that were both futuristic and stunning, and made her look like a golden goddess. Britt pulled off her choppy bangs with a pair of big, matching earrings and an elbow-length glove, with a dress adorned with thin cutouts and embellished straps.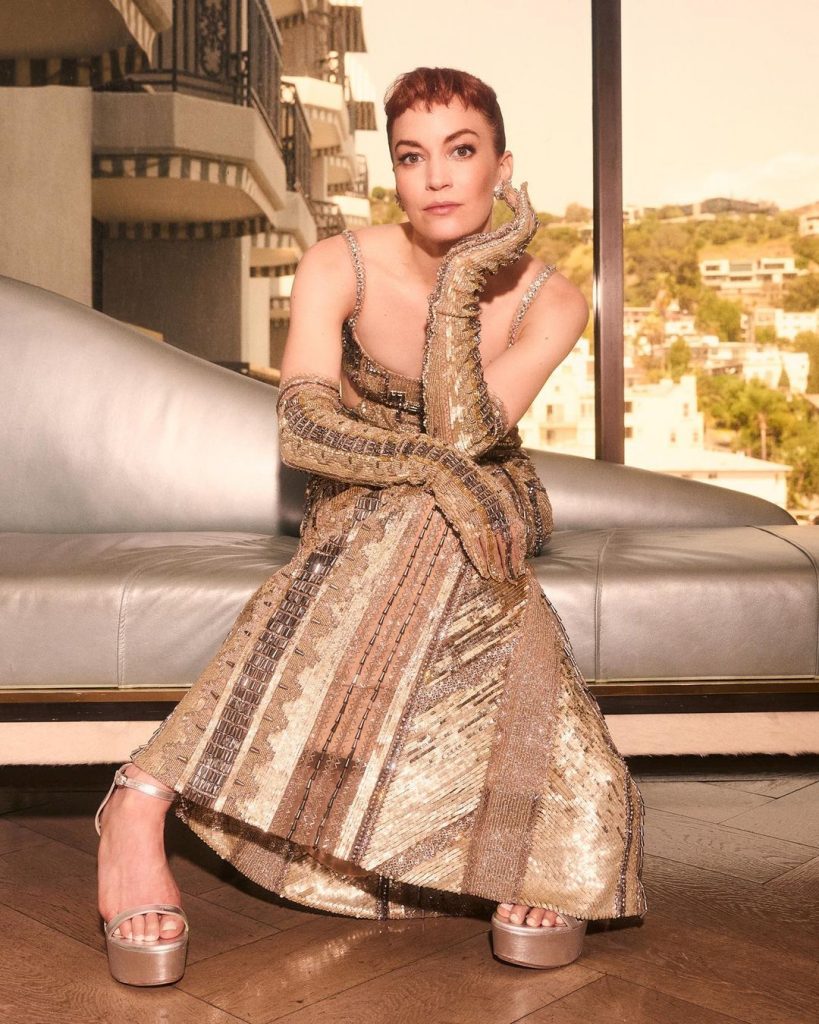 Selena Gomez in Celine
At the 2022 Emmys, Selena Gomez dazzled everyone with her stunning entrance in a white, sequin-beaded halter Celine dress, stressing her curves and boasting a high neckline. She took the glitz up a notch by accessorizing this body-hugging dress simply with a subtle pop of colour as she wore cascading, emerald green tassel earrings, a sweeping updo and a bold, statement silver ring. She finished her look with a metallic silver clutch and platform heels.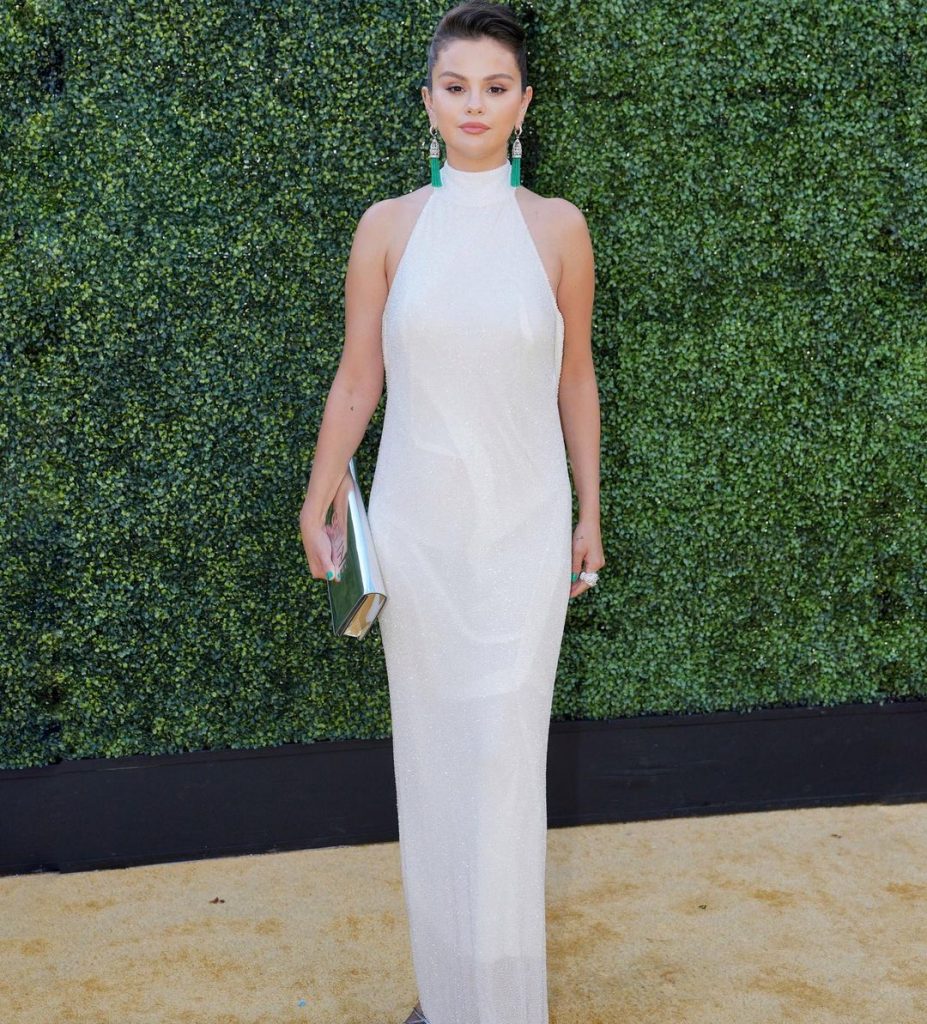 Quinta Brunson in Dolce & Gabbana
Quinta Brunson made a grand debut at the 2022 Emmy Awards, effortlessly strutting down the red carpet in a striking custom-made bronze/copper metallic gown by Dolce & Gabbana with a short train, sweeping the floor. She accessorised her look with a beautifully coiffed head of curls reminiscent of Jessica Rabbit. Safe to say, this beautiful reigning copper metallic ensemble, combining sparkles on the bodice with a shimmery matte in the skirt, made the award-winning look for the year.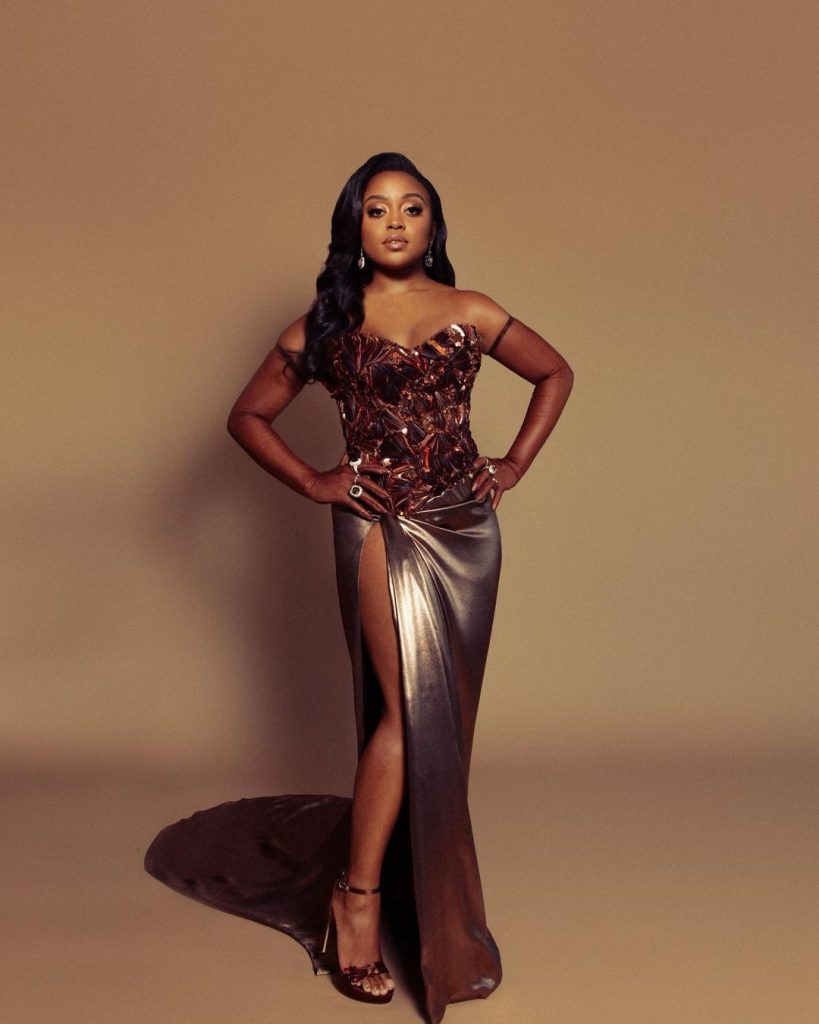 Julia Garner in Gucci and Swarovski Jewelry
On the red carpet of the 2022 Emmy Awards, Julia Garner rocked a head-turning royal appearance in an elaborative velvet Gucci dress with a dramatic yet appealing diamond cutout on the front, exposing her belly button and floral embellishments that shone under the spotlights. This show-stopping ensemble paired well with Julia's artfully tousled locks, smoky eyeshadow, accentuated shoulder and hemline with intricate embroidery, leather platform pumps, and Swarovski cortex hoop earrings. With this outfit, Julia brought grandeur and opulence to the 2022 event.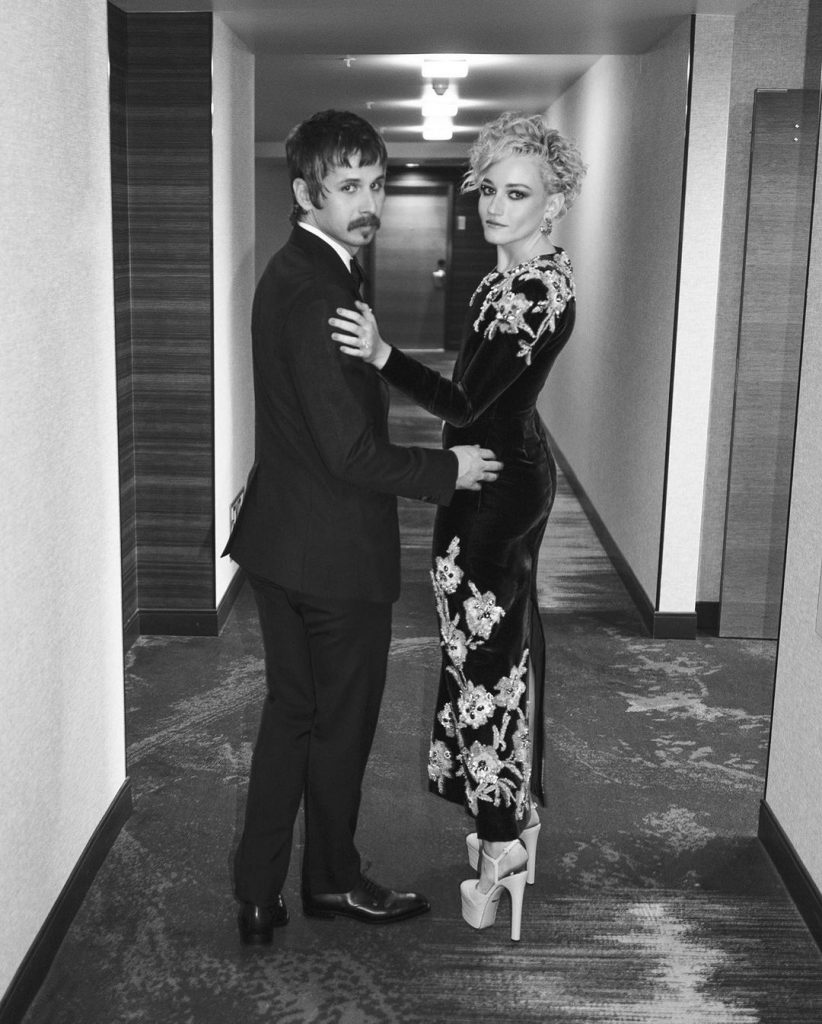 Kerry Washington in Elie Saab Couture
In a white, one-shoulder, asymmetrical Elie Saab couture minidress with oversized floral appliqués and a dramatic train flowing at the back, Kerry Washington made a statement with her styling choice. Even with 107 degrees in Los Angeles, she didn't hesitate to wear sheer black tights, with a tight high bun that goes with Christian Louboutins and Bulgari diamond jewellery.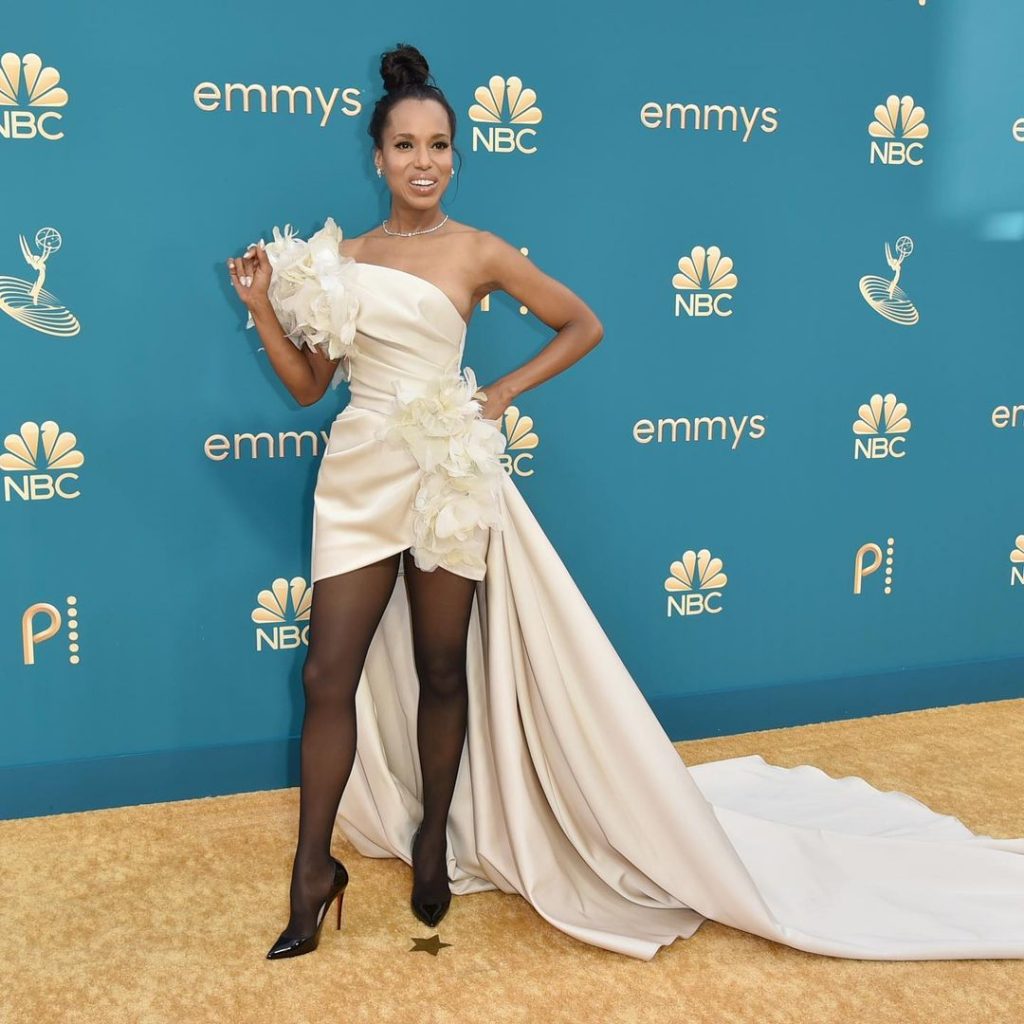 Christina Ricci in Fendi
Christina Ricci absolutely illuminated in this matching Fendi figure-hugging dress and handbag, perfectly draped across her body. The eye-catching dress matched flawlessly with her moody makeup and a blunt bob—all perfectly complemented by the graceful Ricci and her aura to the highest degree that we are now craving for her cameo in the upcoming Netflix Addams Family spin-off.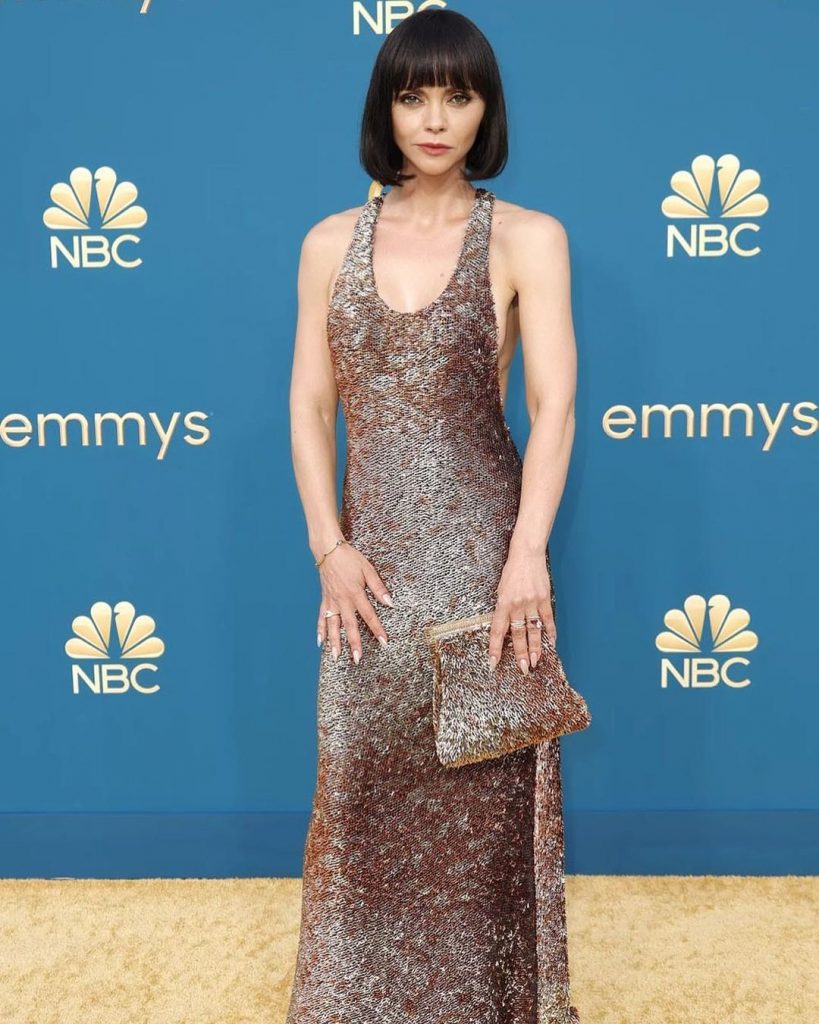 Sandra Oh in Rodarte
We adore a woman in a suit, especially if it is purple, embellished with sequins all the way, and topped off with a cape, statement ring, and long earrings. Oh yes, we are talking about none other than the adorable Sandra Oh from the red carpet of the 2022 Emmy Awards. She carried her powerful yet delicate look with such radiance, grace, blazing confidence and natural beauty, eminent from the photo below.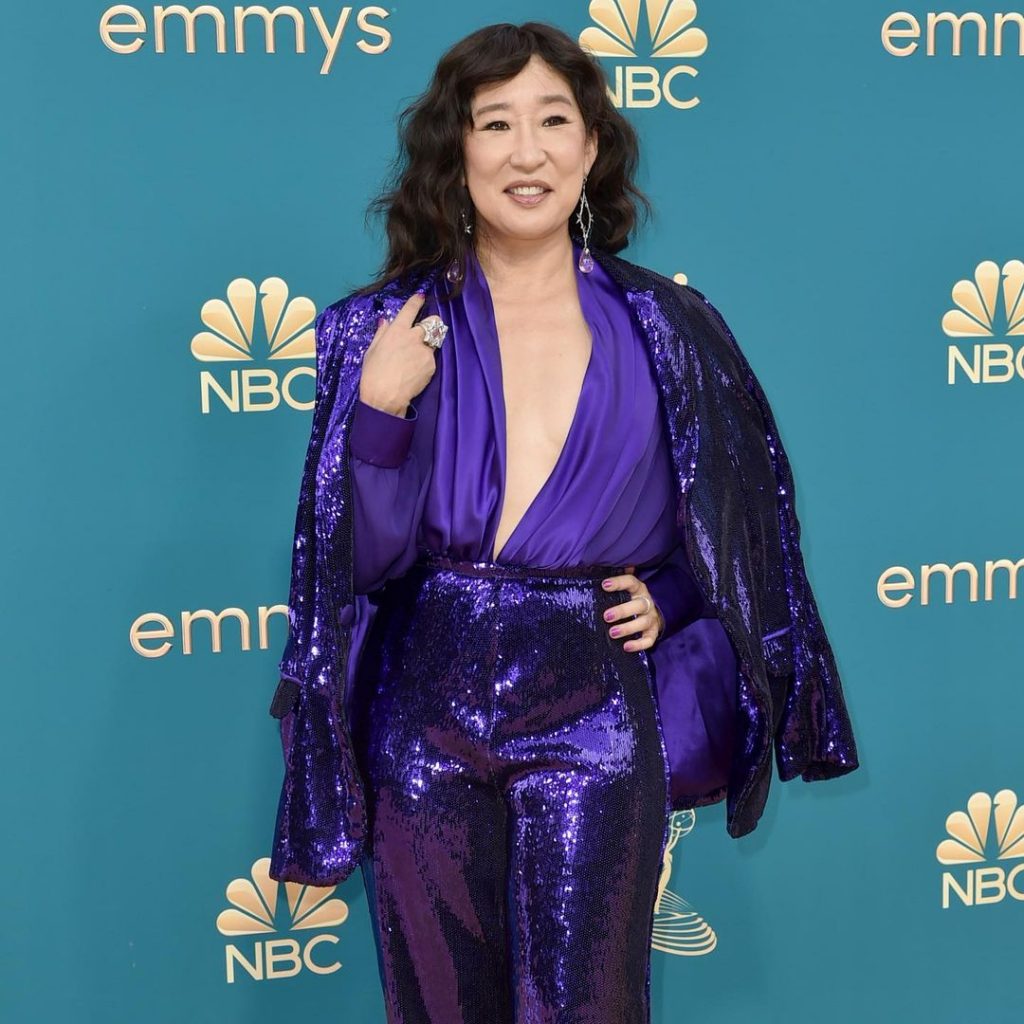 Rhea Seehorn in Georges Chakra and Tyler Ellis clutch
"Better Call Saul" star Rhea Seehorn slayed in a copper-coloured ball gown with an absolutely ravishing colour gleaming against Seehorn's skin complexion. It featured a skirt, with a floral motif, and a top with a unique neckline and triangle cutout that stood out on the red carpet. The rest of the look remained minimal, with loose short hair waves and matching earrings with minimal makeup.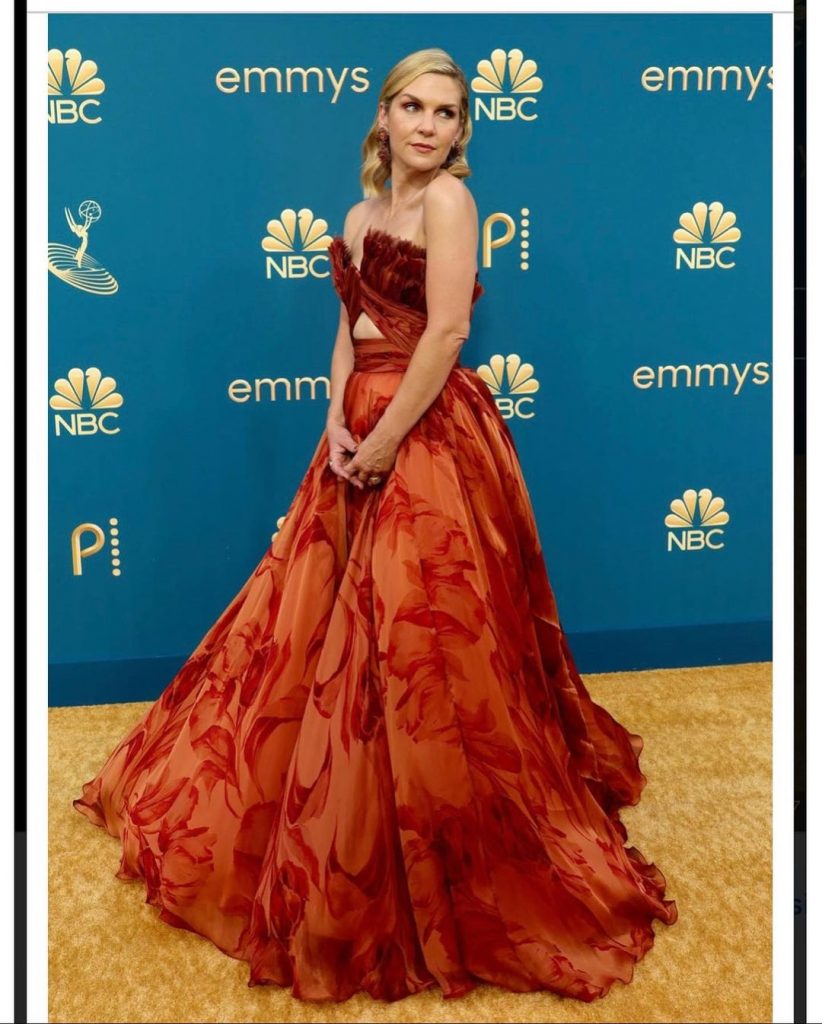 Jean Smart in Christian Siriano and Rahaminov Jewelry
Wearing long sleeves in the scorching heat of Los Angeles might be a daring move, but what is Jean Smart if not someone who is willing to take risks? A crisp, all-white Christian Siriano dress fell precisely along her shoulders with an attractive sash pulled off at the waist perfectly, giving Jean the perfect and opulent appearance of Emmy royalty.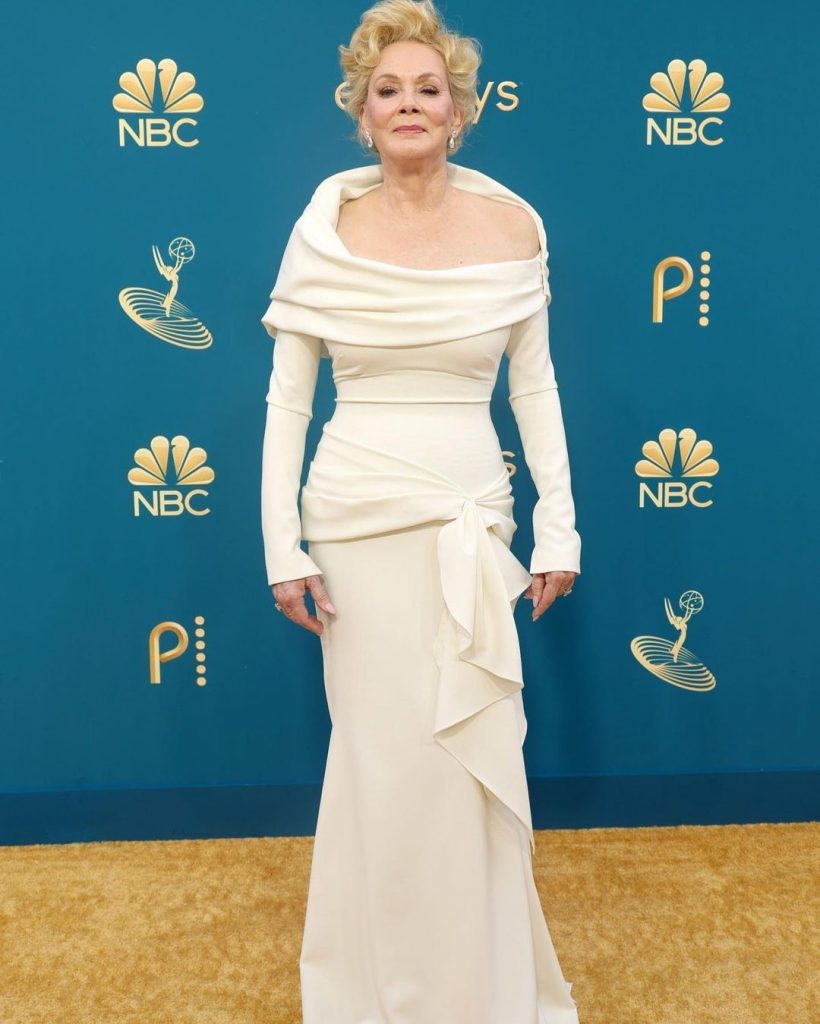 Sydney Sweeney in Oscar de la Renta and Fred Leighton Jewelry
Sydney Sweeney's sleek blonde waves paired beautifully with the greys and silvers in her Oscar de la Renta backless gown, featuring an exaggerated second skirt that might have weighed Sweeney down had she not carried it with such poise. Overall, Sydney's style choices often land her on the best-dressed list of events.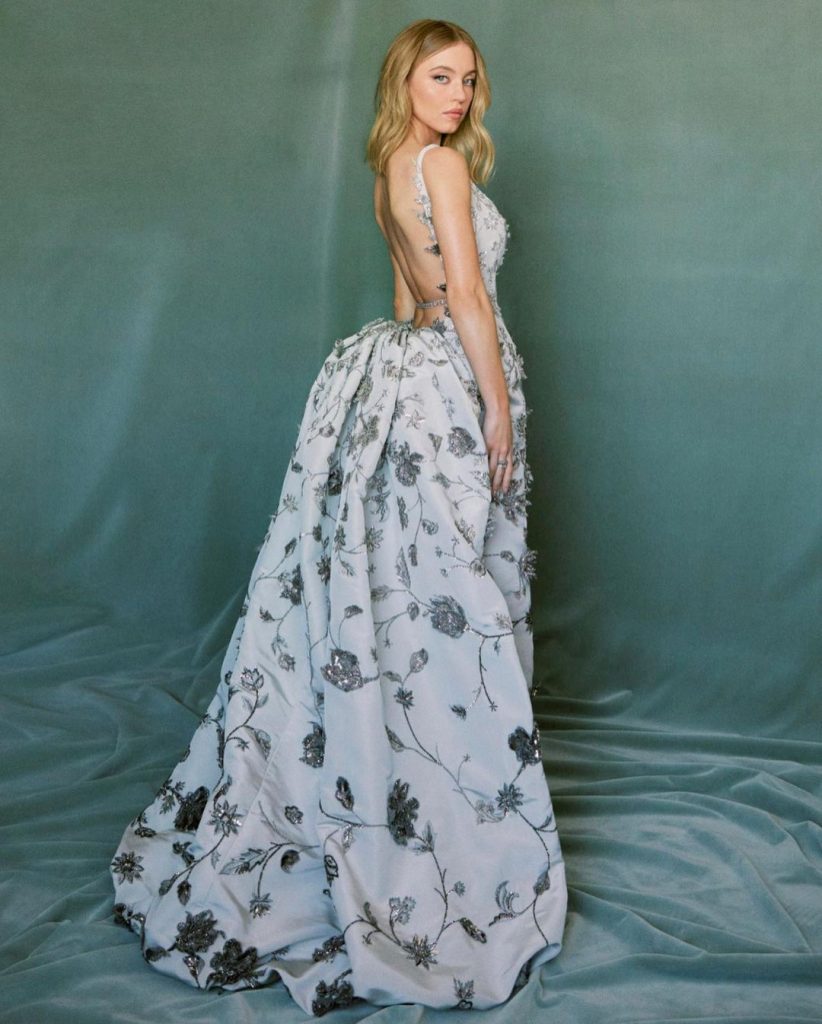 Sarah Niles in Gaurav Gupta Creation and Boucheron Jewelery
Sarah Niles brought glided glamour and poise to the 2022 Emmy awards as she looked to ancient queens and figures for her outfit's inspiration. Ted Lasso's star strutted down the red carpet, looking like a benevolent golden queen, as she wore an opulent dress by Gaurav Gupta and paired it well with Boucheron earrings that radiated like sunshine. The fabric bundles resemble gnarled tree roots, giving an illusion of a single branch stretching up and onto the actress's left shoulder, tying the dress together. Of course, Sarah Niles opted for glam makeup with a wash of metallic shadow illuminating her eyelids, cheeks, and matching nails with honey-gold tips, with a braided hairdo.
Alexandra Daddario in Christian Dior
Alexandra Daddario wore Dior haute couture to the 2022 Emmy awards and debuted a chic blunt bob in black, stealing the hearts of her fans. Simple and sheer, yet gorgeous and impactful, this one-shoulder, asymmetric gown, embellished with rhinestones and pearls, felt like just another layer of the skin gleaming against her body, featuring exactly what Dior's famous for: elegance, sophistication, femme, and clever, but timeless.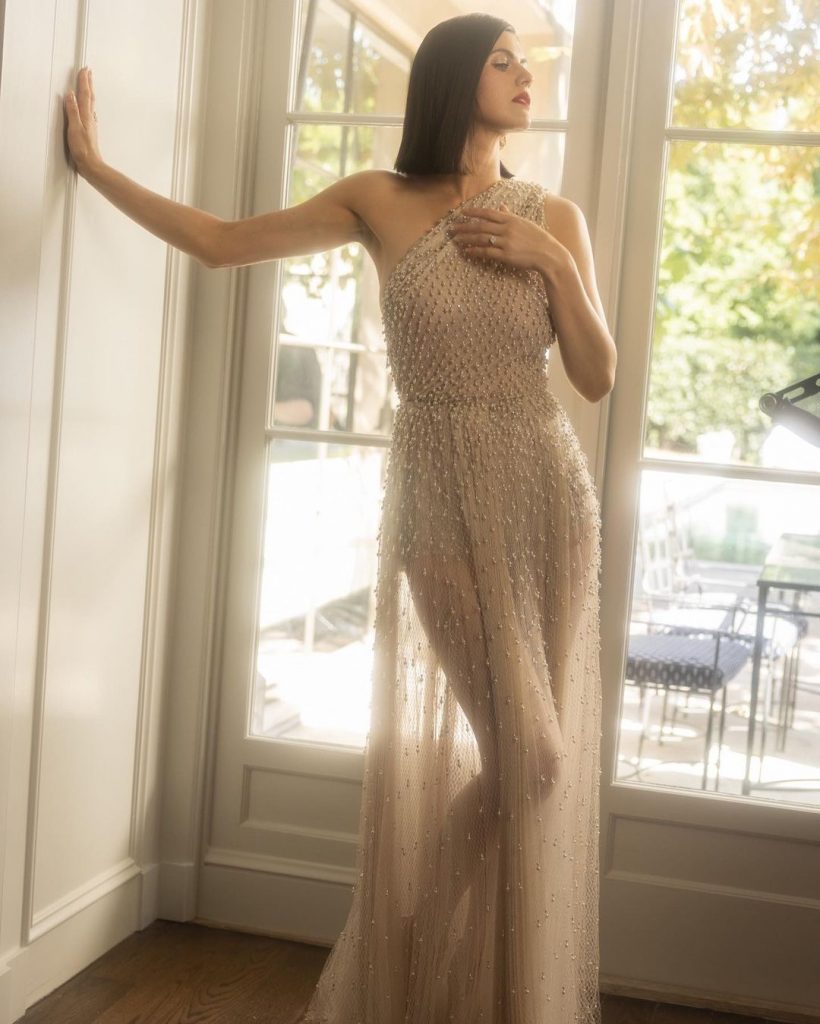 ---
Which is your favourite look from the 2022 Emmy Award night? Share your thoughts with us on Twitter at @CelebMix!