Two days ago, Canadian singer-songwriter Ryan Kennedy presented his latest album, Libertine, en toto, accompanied on stage by a 13-piece band and followed by a question-and-answer session. The performance took place at Le National in Montreal via Whitebox Play.
Libertine, released in February, is Ryan's third album, and displays his unique, moving voice, as well as exploring delicious stylistic directions, including pop, country, rock, and even dashes of retro disco.
Standouts include "Wild Sky," opening on soft, elegant strings, followed by a gentle piano and low-slung rhythm. Sitting at the piano and singing, Ryan's distinctive voice imbues the lyrics with suggestive timbres, vaguely reminiscent of Christopher Cross. Accents from crying horns fill the song with exquisite beauty.
Next up is "Heartbreaker," an effervescent tune riding a propelling rhythm topped by gleaming colors. Ryan recently released an unplugged version of "Heartbreaker," slower and more haunting. The intro to "Fast Ride" features a marvelous saxophone. Upbeat and percolating with pop-rock flavors, this song puts the scope and range of Ryan's voice on display.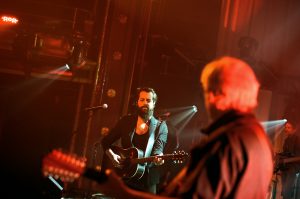 "Say Hello," a persona favorite, conjures up suggestions once again of Christopher Cross. Lush string arrangements and a throbbing rhythm give the tune peppy momentum as Ryan's luscious tenor infuses the lyrics with quixotic aromas. The flow of this song makes it irresistible.
"A Lifetime" rolls out on soft keyboards, followed by velvety sweeping strings, highlighted by scrumptious country tangs. Glowing backing harmonies infuse the song with radiant depth and dimension, blending seamlessly with Ryan's poignant voice.
The intro to "Burning Cult" features deep, austere drums, while Ryan's almost gospel-like vocals give the lyrics devout textures. Tender strings suffuse the song with nostalgic hues, gliding on whispery washes of coloration.
Each song is followed by Ryan and his producer Dimitri LeBel-Alexandre talking about the songs, akin to a conversational interview. Insights from both enhance listeners' appreciation for the music and how it came together.
The Live Performance of Libertine is excellent, demonstrating the innovative creativity of Ryan Kennedy, along with his expressive voice.
Follow Ryan Kennedy Instagram | Facebook | Spotify