Just who was Elton Hercules John before he became a household name? The new movie, Rocketman, tells you all you need to know.
The movie directed by Dexter Fletcher and starring Taron Egerton as John, with Jamie Bell, Richard Madden, and Bryce Dallas Howard. Elton's husband David Furnish serves as a producer.
The film tells the story of Elton John's life, from his years as a  musical prodigy at the Royal Academy of Music, ( he really does have an amazing ear for music)  through his groundbreaking and enduring musical partnership with Bernie Taupin, as well as his struggles with depression, substance abuse the fact that for a while he hated himself and him coming to terms with his sexuality.
Elton began his life as Reginald Dwight, in the movie he is a  young child starved of affection from his parents, his maternal grandmother the only source of positive encouragement,he grew up just wanting a hug from his father, an emotionally stunted man who left Elton and his Mum ( an unflinchingly strict and highly critical woman), later going on to have two more children and who he was far more loving with. The treatment by both his parents left him feeling like he couldn't be loved. His story in Rocketman is told through a series of flashbacks, interspersed with songs, as Elton retells certain pivotal moments in his life. Including his ill-advised and ill-fated relationship with his manager John Reid.
Rocketman is a fascinating but cautionary tale about the music industry. Without a doubt, Elton John is one of the most talented musicians within the industry. He isn't perfect. It's a brutally honest look at what made Elton, the man we all love today. It doesn't shy away from topics including Elton attempting to take his own life, his relationship with John Reid and his battle with drink, drugs and his own mental health.
Elton and Bernie's relationship is a joy to watch play out, and Egerton and Bell know how to pull on the heartstrings of the audience as they play out the duo's complex but ultimately loving and enduring relationship. It's a musical partnership that to this day is still going strong.
Richard Madden as John Reid, captures perfectly why you sometimes shouldn't mix business with pleasure.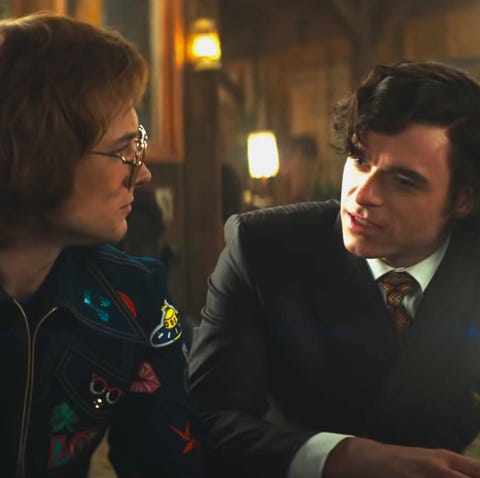 We recommend staying and watching the credits ( not just so you can sing along ) as they show photos from the film with their real-life counterparts. The resemblance between a young Elton and is on screen counterpart played by Matthew Illesley, it's a fantastic bit of casting.
Rocketman is a film for fans of Elton John, it's also a film for anyone who has ever suffered from their mental health as it shows no matter what you are not alone and you are loved. And you can go on to do everything you want in life. Elton John has now been sober for twenty-eight years, he's married to a man who showed him what it is to be loved truly and he has two children. Elton John is living proof that even at your lowest you can reach out and seek help and turn your life into all you want it to be.
Rocketman is in cinemas now! Let us know your thoughts on the film at @CelebMix!