Selena Gomez arrived with the much-awaited Season 4 of Selena + Chef in August and now is the ideal time to celebrate and binge-watch one of streaming's remarkable comfort shows. The inspiration for HBO Max's cooking show, which debuted on August 13, 2020, stemmed from host Selena Gomez's desire to sharpen her culinary know-how during the quarantine period of COVID-19 with the help of international master chefs.
For Season 4, we witnessed Selena Gomez whipping it up in the kitchen once again, surrounded by her grandparents and her beloved BFF Raquelle Stevens, who drove to Malibu to spend the summer in Hannah Montana's vacation house and learn fresh recipes throughout the season.
Despite a few fresh ingredients and an intriguing lineup of celebrity chefs, from Gordon Ramsay and DeVonn Francis to Ludo Lefebvre, the show preserves its traditional sense of comfort and star charisma and remains laden with a warm character, culinary chaos, and food porn, gleaming since Season 1.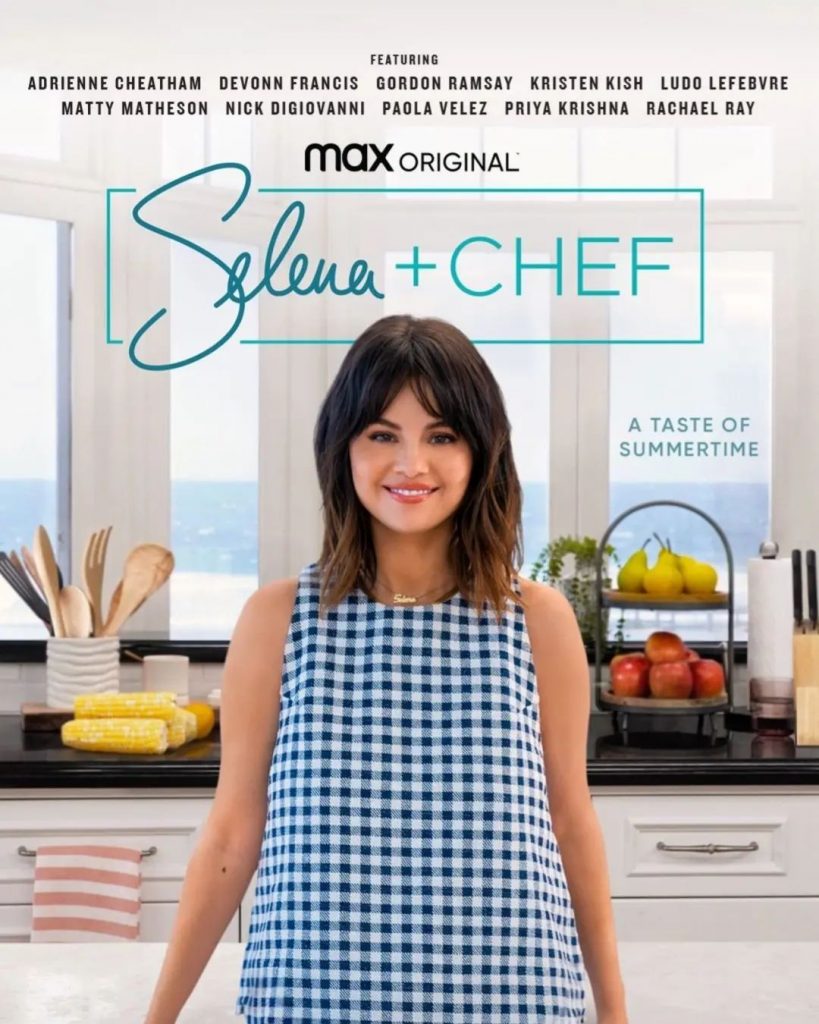 "I've always been very vocal about my love of food. I think I've been asked hundreds of times in interviews if I had another career, what would I do, and I've answered that it would be fun to be a chef."

Selena Gomez via Warner Media
Let's be honest, Selena + Chef is still entertaining and thriving, despite the world's scenario having visibly changed post-pandemic, and people have stopped excessively baking banana bread and their own sourdough.
Unlike the most traditional cooking show formats, where cooking is the ultimate king, this show's uniqueness lies in its chef's lineup, by whom Selena gets schooled to cook as she goes from learning basic knife skills to deboning and decapitating a fish (while gagging) to slice meat to getting introduced to new ingredients and recipes, along with her fun banter and casual conversations with Stevens, that gives the audience a glimpse into the singer's life behind the scenes while spending time with her friends and family.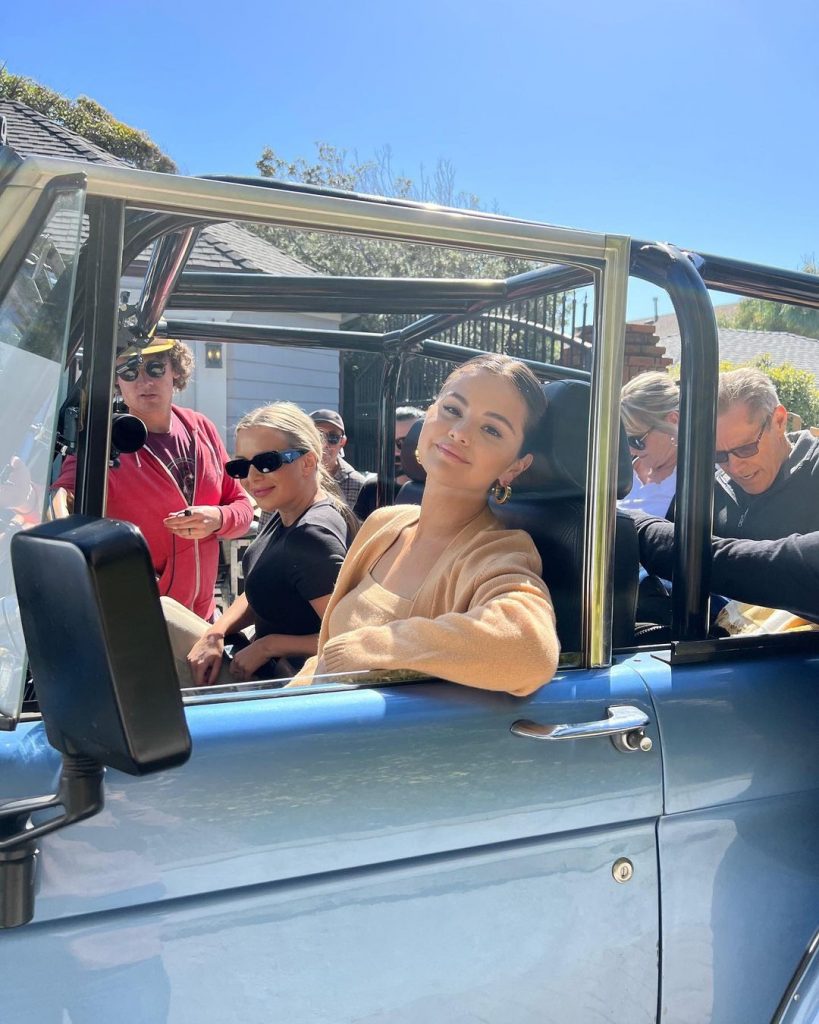 This gives viewers a crystal clear, front-row view of all the complications, complexities, cuts, kitchen fires, and non-glamorous but incredibly entertaining and relatable trials and tribulations of an amateur chef—things we all experience in our kitchens while experimenting with (and burning) new recipes while binge-watching Master Chef!
These raw and comical learning attempts are sometimes nice and other times disastrous, yet hilarious. Alongside the chaos, you also see professionals doing their thing and delivering the most appetizing dishes in the world. In short, you get the best of both worlds.
While we know that Selena Gomez is an accomplished celebrity with a whopping bank account, you can still relate to her by seeing her in her ultra-modern, well-equipped kitchen, turning raw ingredients into something delicious that feels straight-up down-home. With a little help, she's up for any challenge, whether it's skinning a whole fish, deep-frying, pounding a coconut, making a lip-smacking chutney, or cutting the thorny crust off a whole pineapple and stuffing it with vanilla beans to grill.
Her "I-can-do-it" attitude is infectious and empowering for all you wannabe chefs out there, or even those trying to invent something new every Sunday in their kitchens (even if they turn out to be disasters, it's all right). She serves up everything you'd want from a millennial cooking show, including easy-to-follow and ready-to-replicate recipes.
Each episode finds the singer and actor video chatting with a professional chef and cooking several ambitious, delicious-looking dishes in her kitchen. The first episode of season 4 featured chef Ludo Lefebvre, who also appeared in Season 1 and taught Selena how to make "Whole Grilled Sole with Burned Tomato & Sorrel" and "Grilled Pineapple with Spicy Banana Caramel" in a Zoom-like setup, and their interaction was very wholesome. Is your mouth watering too?
"I'm very proud of you, Selena," said the chef, complimenting her on sharpening her skills. "Think of it like you're pulling the gel off your fingernails," chef Ludo instructs, a suggestion served up by his wife. Voila!
During episode 3, Selena introduces viewers to the exuberant Devonn Francis, who founded Yardy in 2017 with the mission of showcasing "our island for food and beverage born from queer, black, Caribbean dreams." Together, they had some major fun moments on screen while preparing for "Torched Banana Cake." Watch where you point that flame, Miss Gomez.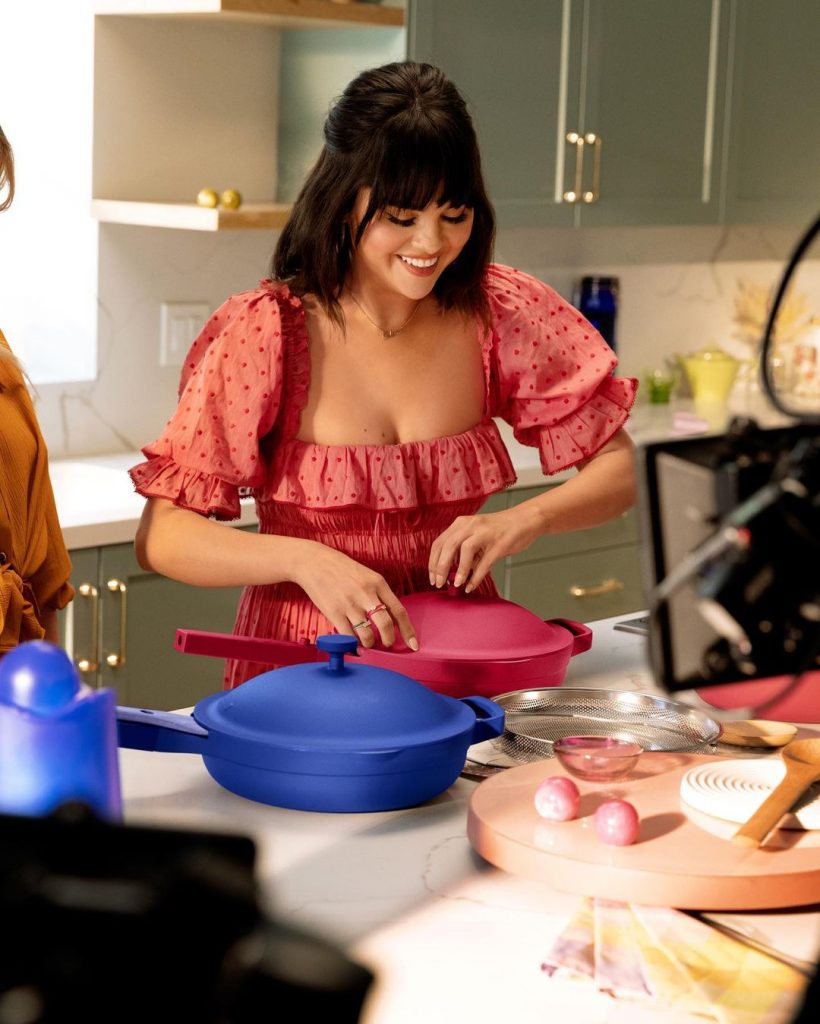 The plate after the Indian-American YouTube personality and cookbook author, Priya Krishna's episode glistens with an indulgent, sweet and savoury classic Indian-style lunch, including dahi toasts with cilantro chutney, a veggie-filled kachumber, and a sweet and refreshing drink, shikanji.
For her first-ever in-person lesson, the ultimate legendary chef, Gordon Ramsay, joined Selena Gomez, with an elaborative and ambitious menu including butter-basted steak and pan-seared scallops, but everyone held their breath to witness the real challenge: will Selena be able to keep up with his rapid-fire instruction or see his wrath?
"On a scale of one to 10, how good are we? Seven? Eight?" Ramsey asks Gomez, who reluctantly replies, "Five."
"We're f—ked," Ramsey jokingly responds.
While there was some light-hearted teasing and more than a few WHOOPS moments, the overall banter was rosy, lively, and entertaining. And, yes, of course, there was some tweaking and twerking involved, but you're going to have to tune in for that magical moment. At the end of each episode, Gomez and her loved ones even take time to taste and rate her food—a tradition that adds to the series' warm, cosy vibes.
Hey, you can do it too if Selena Gomez can, right? Get up, try something new today, and stop giving your mother excuses! It's possible that your inner Master Chef is about to emerge.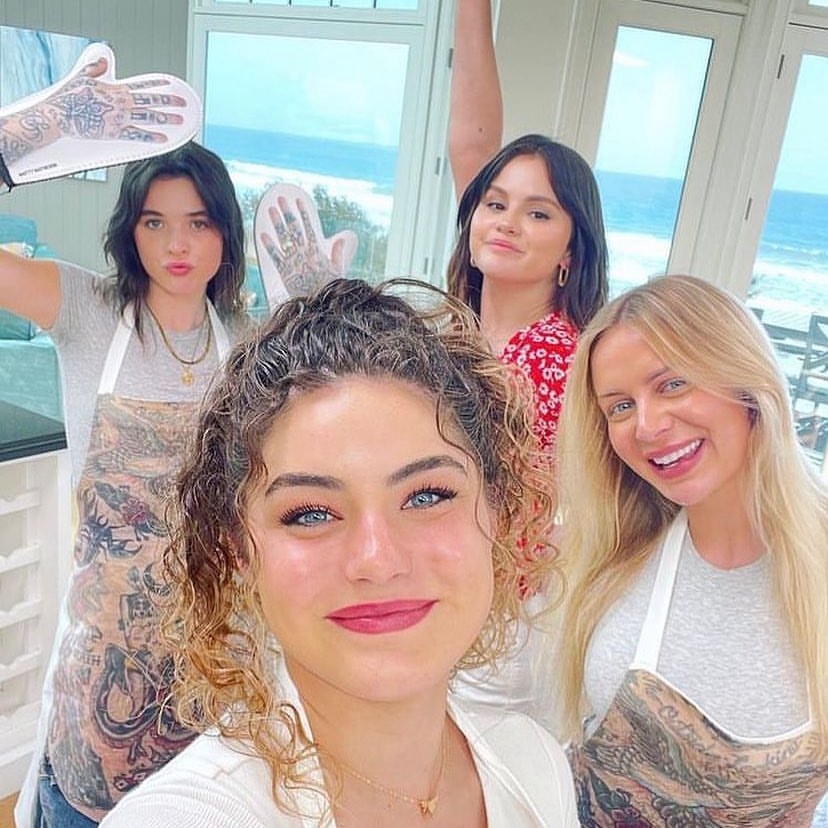 Meet the celebrity chefs!
This season's roster of celebrity chefs was an eclectic combination in the best way. Here's the list of celebrity chefs who appeared in Season 4 across 10 episodes and the dishes that they taught the beauty mogul.
Chefs
Recipes
| | |
| --- | --- |
| Episode Title | Recipes |
| "Selena + Ludo Lefebvre" | "Whole Grilled Sole with Burnt Tomato & Sorrel" and "Grilled Pineapple with Spicy Banana Caramel". |
| "Selena + Kristen Kish" | "Chickpea Fried Broccoli & Cheese", "Mexican Street Corn & Baby Carrots", and "Strawberry & Yuzu Dessert". |
| "Selena + DeVonn Francis" | "Banana Leaf Roasted Snapper" and "Torched Banana Cake". |
| "Selena + Rachael Ray" | A delicious date night meal of "Beer battered fish" and "Elote salad," complete with a Michelada. |
| "Selena + Nick DiGiovanni" | Homemade pesto pasta served inside an 80-pound cheese wheel. |
| "Selena + Adrienne Cheatham" | Ambitious brunch of poached salmon and grits, all topped with fresh hollandaise sauce. |
| "Selena + Matty Matheson" | Miami-style ribs and hello dolly bars for one of the most delicious (and musical) meals yet! |
| "Selena + Priya Krishna" | An easy and delicious "Indian-ish" lunch of Dahi toast with cilantro chutney, a veggie-filled kachumber, and refreshing shikanji. |
| "Selena + Paola Velez" | An indulgent, sweet, and savoury menu featuring a chocolate cookie icebox cake and beef empanadas |
| "Selena + Gordon Ramsay" | Butter-basted steak, pan-seared scallops, and more are on this finger-licking and lip-smacking ambitious menu. |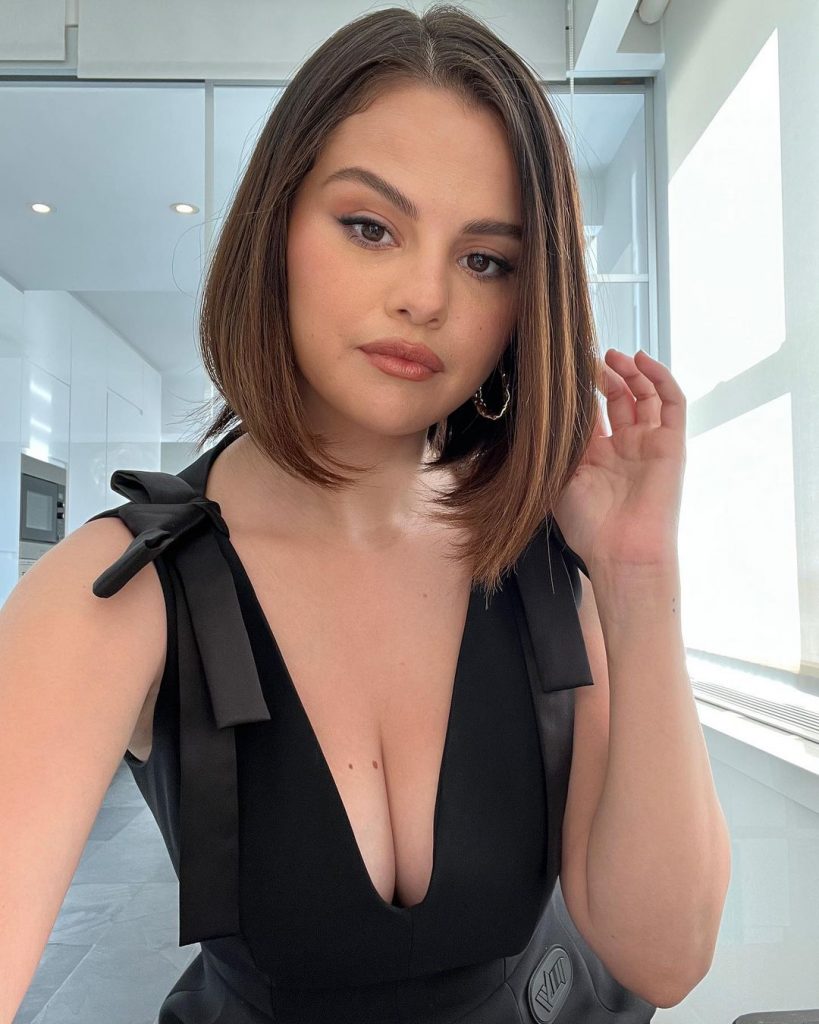 It's Not All Just Fun & Giggles!
As we witnessed, the Only Murders in the Building-famed supernova sensation, Selena Gomez, is a lot of fun in the kitchen; her charismatic cooking show has helped raise big bucks for charitable organizations.
As in the first three seasons, each chef highlighted a different charity. Per HBO Max, to date, the series has raised $400,000 for 26 nonprofit organizations. Some charities Selena + Chef has donated to since the show's inception include (but are not limited to) World Central Kitchen, NAACP, Feeding America, Baby2Baby, and Eat, Learn, Play. Chef Ludo kicked off the season with a shout-out to the Jose Andres-driven World Central Kitchen, serving meals to people around the globe experiencing food insecurity because of natural and human-caused disasters. In episode 3, chef-social activist Devonn Francis honoured the Trans Justice Funding Project and their efforts to build community.
If you're looking for some feel-good comfort viewing, Selena + Chef is waiting to be devoured. All the 10 binge-worthy cooking lessons of Selena + Chef Season 4 are available to stream on HBO Max, so go on and binge!
Share your thoughts with us on Twitter at @CelebMix!