In the midst of the darkness that was 2020, music megastars Steps returned to planet pop in spectacular style last November to bring a little bit of light back into all of our lives, with the release of their 6th studio album What The Future Holds.
Lauded by fans and hailed by critics as being the bands most mature and accomplished record to the date, the electric and cohesive album cemented the quintets position and status as a modern day contemporary pop force to be reckoned with, debuting at #2 on the Official UK Album Chart and achieving Silver sales status within its first few weeks of release. 
10 months on and Claire, Faye, H, Lee and Lisa are back to delight their ever loyal audience once again, with the unveiling of What The Future Holds Pt. 2 – a musical continuation of it's predecessor, made up of 15 bold and daring tracks, including 10 brand new unheard songs, an EPIC cover of the Five Star classic The Slightest Touch, and 4 special acoustic versions of previous singles Heartbreak In This City, To The Beat of My Heart, Something In Your Eyes and What The Future Holds.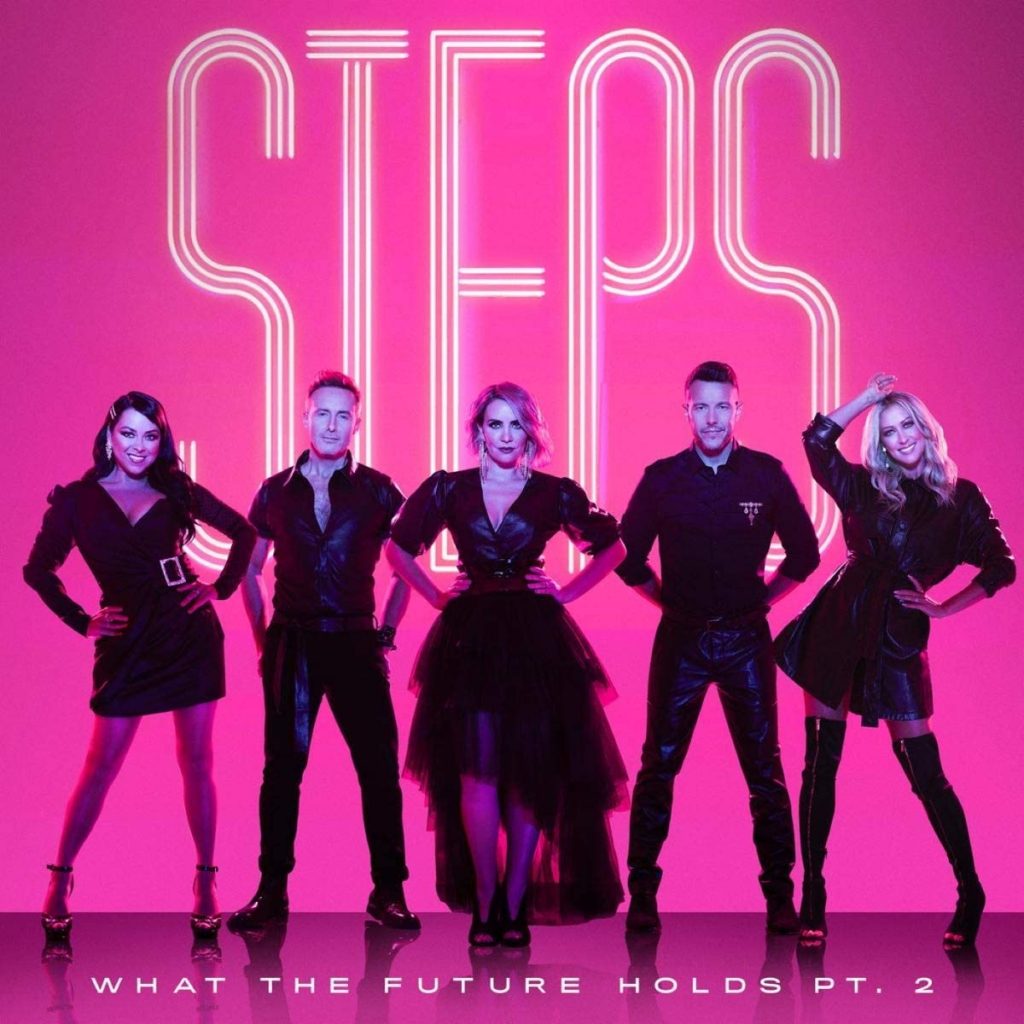 ---
Adopting the same "one foot in the past, one foot in the future" mantra and motif as WTFH Pt.1, the group continue to explore and experiment with a plethora of fresh and unique sounds across the albums 10 original tracks, each of which successfully push the boundaries both sonically and stylistically, to produce an exciting and progressive body of work that catapults the group into a whole new musical stratosphere, whilst still very much honouring and paying respect to their quintessential pop roots.
Lead single Take Me For A Ride (written by longtime collaborators Mark Topham and Karl Twigg) serves as the perfect example of this, with it's futuristic 80's influence and evocative melody channeling the true essence and spirit of some of the bands biggest and most loved, classic 90's/00's hits, whilst it's electronic synth sequence and staccato beat stands out as being one of the albums most progressive and avant-garde moments.
Wasted Tears and Living in a Lie should also be commended for being forward-thinking, innovative pop records that make for exciting additions to the bands already incredible catalogue of songs.
---
Take Me For A Ride (Official Video)
---
As a band famous for marrying torched lyrics that tell tales of lost and unrequited love, with hi-energy dance/pop beats, Steps enter new territory as storytellers on various tracks recorded for What The Future Holds Pt. 2, tackling more prevalent and timely topics that are sure to resonate with fans both old and new.
Standout track A Hundred Years Of Winter (written by Savage Garden's Darren Hayes) lyrically sums up the collective thoughts of people around the world, who find themselves hopeful of living in a brighter tomorrow, whilst the gloriously uplifting High sees the band encourage lost souls everywhere to believe that life will get better if they do their best to put their best foot forward, and relish in the limitless power of embracing change.
---
---
At the heart of the record however, lies Steps innate ability to create timeless, and infectious melodic songs that effortlessly glide and soar into the pop universe, capturing people's imaginations and transporting them away from the perils of everyday stresses to become the cornerstone and soundtrack of our lives.
Closing the album, the band strip things back to perform acoustic versions of some of their most recent hits, providing a much needed moment to showcase the groups talents as formidable vocalists, each sounding more confident and self-assured than ever in their respective lanes, with their emotive, soaring harmonies blending beautifully to create a truly full, rich and exquisite sound.
---
---
In 2021, Steps are a band who no longer need to trade on the nostalgia of their name, or rehash past successes to maintain cultural relevance in the ever fickle world of pop, for their triumphs now, as a group in the second phase of their career, boil down to the simple fact that they are a bloody, brilliant pop group; made up of 5 talented and creative individuals who understand their collective strength and power together, as one.
What The Future Holds Pt. 2 is available to download / stream now.
---
Let us know your thoughts on Steps over on Twitter @CelebMix now!