In celebration of the Queen's Platinum Jubilee, British recording artists Sarah Brightman and Alfie Boe have teamed up to record an extra special version of the national anthem. 
Set to be release Friday, May 27th 2022 via Warner Classics, the reimagined version of 'God Save The Queen' sees the two singers join forces with both the NHS Voices of Care Choir and the Royal Philharmonic Orchestra, in what promises to be a beautiful tribute the much loved Monarch.
---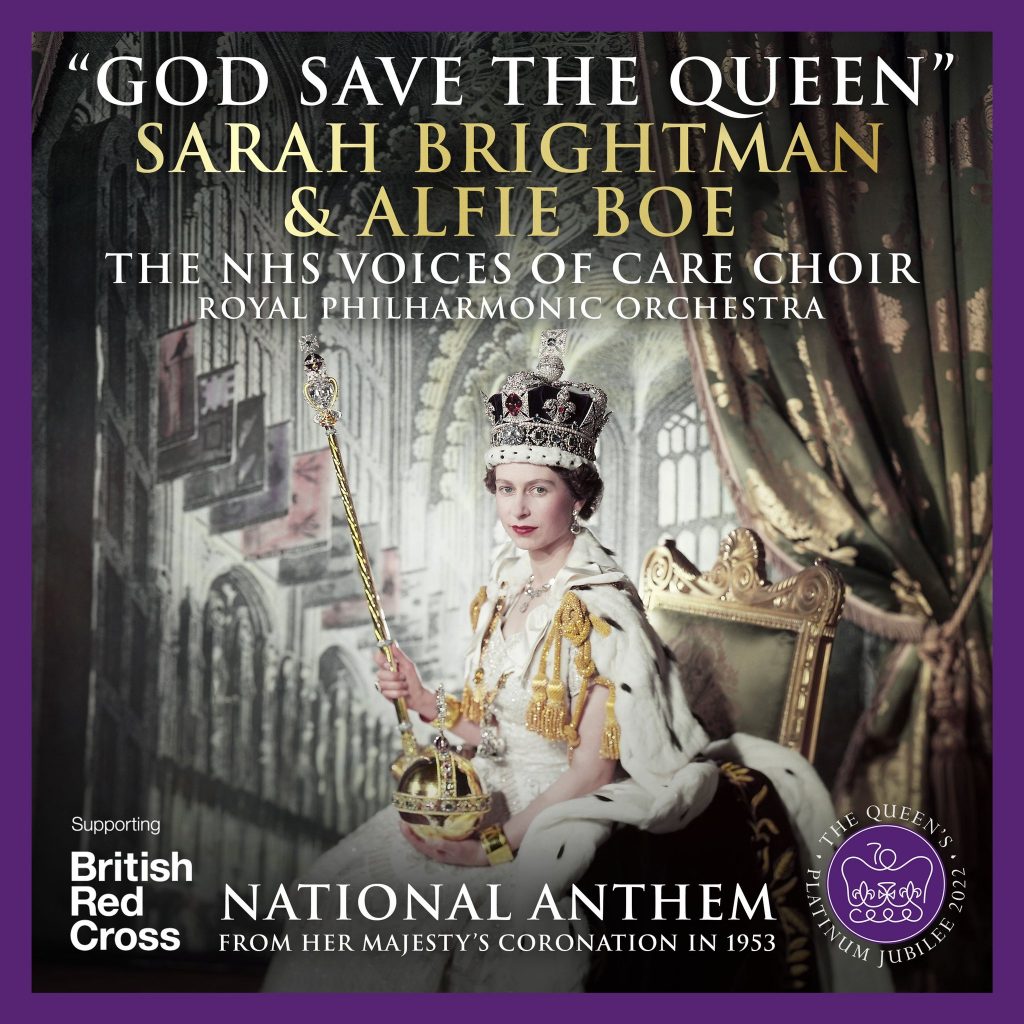 ---
In the hopes of getting Her Majesty to the top of the U.K. singles chart for the Platinum Jubilee weekend, Brightman and Boe have called upon the British public to download, buy and stream the single on the week of its release. Warner Music UK and iTunes UK proceeds from the single will be donated to support the vital work of the British Red Cross, of which Her Majesty is a Patron. 
In a press release Sarah Brightman says of the project: "When I received the call to ask if I wanted to be a part of this adventure with Alfie, I was excited about the opportunity and the efforts behind the project.  It means a lot to us both – we'd love to see the anthem get to the top of the charts and raise meaningful funds for the incredible British Red Cross during the Queen's Jubilee celebrations."
With Boe adding: "I feel honoured to be a part of this very special project with the amazing Sarah Brightman, the very talented NHS Voices of Care Choir and the Royal Philharmonic Orchestra. It's an amazing opportunity to raise money for the British Red Cross who do such a great job day-in day-out, whilst of course trying to get the national anthem to the top of the charts during Her Majesty's Jubilee Bank Holiday weekend."
Featured alongside the duo's duet is a remastered recording of the National Anthem sung at Her Majesty's 1953 coronation service in Westminster Abbey. The recording of the BBC's broadcast of the coronation service from Westminster Abbey on June 2nd 1953, was taken by means of a direct line to Abbey Road Studios in London.
Now remastered in Dolby Atmos, the music from the coronation service – which featured a choir comprised of more than four hundred singers – can be heard in immersive audio for the first time on a recording released by Warner Classics to coincide with the Platinum Jubilee. Highlights include much-loved classics 'I was glad' (Parry), 'Zadok the priest' (Handel), 'O taste and see' (Vaughan Williams), and a rousing rendition of the National Anthem, 'God Save the Queen'.
Sarah Brightman and Alfie Boe's version of 'God Save The Queen' is available for pre-order here.
---
Let us know your thoughts on over on Twitter @CelebMix now!