Back in October of 2019, US Country Music sensation Sarah Darling launched the gorgeous Campfire Sessions project with the release of her breathtaking version of The Wreckers' classic 'Leave The Pieces' to much critical and fan acclaim.
The new project from the Iowa native is a collection of acoustic covers of some of Darling's favourite releases from the most important stages of her life and career.
Speaking about the Campfire Sessions streaming and download project when it launched in October, Sarah Darling said: "These are acoustic covers of some of my favorite songs that hold special meaning to me or have influenced me at a time in my life. Most will have been hit songs when they were first released, although maybe not so well known now, so I'm really excited to be introducing them to my fans, done in my own way!"
The collection of acoustic favourites has been produced by renowned producer Cheyenne Medders and on Friday, January 17th, Sarah will share another cover track off the EP – the sophomore release will be a new version of The Dixie Chicks' hit 'Cowboy Take Me Away'.
The exciting news has not been formally announced by the adopted Brit, instead she has chosen to update her Twitter cover photo with the details allowing fans to stumble across the announcement in their own time.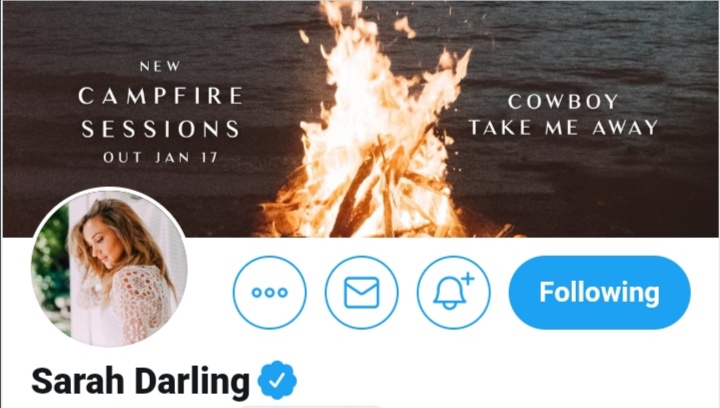 Keep an eye on the Nashville based singer/songwriter's socials in the coming days for an official confirmation regarding the release of 'Cowboy Take Me Away'.
Are you excited to hear Sarah Darling's version of The Dixie Chicks song? Let us know your thoughts across social media!