Hold onto your hats, ladies and gentlemen! Sherlock series four finally has a start date!
*drum roll*
1st January 2017!
Hmm. Only a year to go, then.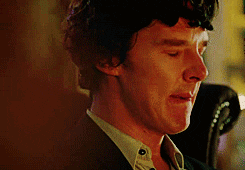 Yes! PBS in America released the start date for the fourth series of the detective drama, based on the novels of Sir Arthur Conan-Doyle. However filming isn't to begin until April as Mr Holmes himself, Benedict Cumberbatch, is currently in the middle of other projects after rising to fame after staring in the BBC show.
However, it is rumoured that Avengers star Tom Hiddleston is set to star in the fourth series although is role is yet to be announced. Bets are currently on him being either the third Holmes brother or Jim Moriarty's side-kick Sebastian Moran. We're kinda hoping the first as Michael Fassbender clearly has to play Moran!
However, Mark Gatiss has frequently said that they do not plan on featuring Moran in their series, although he had a brief mention in The Empty Hearse, the episode based on Conan-Doyle's book, The Empty House where Moran is the protagonist. So it's more likely Hiddleson with play the third Holmes brother who has a small mention in His Last Vow.
Are you excited for the new series and the possible appearance of Tom Hiddleston? Let us know on Twitter! @CelebMix