Supernatural has always been about more than just deceiving demons, misunderstood angels, and angsty brothers.
Over the last decade, the fantasy/horror show has gained a strong and passionate following. The cast has bonded with their fans so well that the fandom is even called the "SPN Family". There is a deep, genuine, and unique connection between the two parties that most series never come close to having.
With there being such a powerful force behind Supernatural, many stars from the show have used it to help make the world a better place. For the last few years, multiple cast members have participated in some sort-of charitable movement. Misha Collins (Castiel) is one of the founders of Random Acts, a charity that is built around spreading positivity through one act of kindness at a time. Kim Rhodes (Sheriff Jody Mills) and Briana Buckmaster (Sheriff Donna Hanscum) have the "Wayward AF" campaign, which focuses on self-confidence. Jared Padalecki (Sam Winchester) began the "Always Keep Fighting" movement about two years ago, which shines a light on mental illness. In March, Rob Benedict (Chuck Shurley/God) ran his "Rock God" campaign, which benefitted the National Stroke Association. For the most part, these campaigns gain their funds from selling merchandise that is related to the cause.
The latest campaign is from Rachel Miner (Meg Masters), who just debuted her "Be the Clarence" campaign.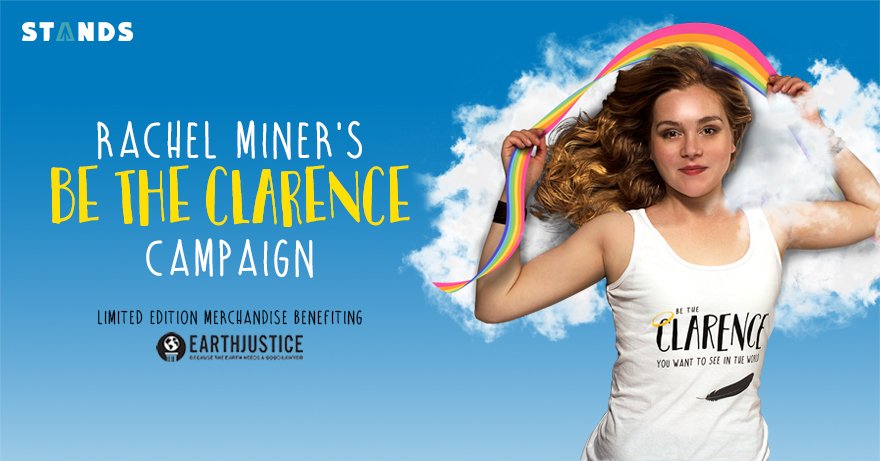 The name comes from her character in Supernatural, Meg Masters, who often called Misha Collins' Castiel 'Clarence'. According to Super-Wiki, it is "a reference to the movie It's A Wonderful Life, in which the angel Clarence shows Jimmy Stewart that life is worth living, and then finally gets his wings and goes to heaven". While the two began as enemies, as Meg was a demon and Castiel was an angel, they eventually developed feelings for each other. Before (spoiler) Meg's death, she referred to Castiel as her 'unicorn' and even admitted that she loved him.
Rachel Miner's campaign is benefitting Earthjustice, which focuses on making the world a healthier and safer place to live.
At the moment, there are multiple clothing items up for grabs. The campaign is offering two different styles for women, a unisex tee, a youth tee, a bracelet, and a cinch bag, with the prices ranging from $14.99 to $24.99. All of them can be found on Stands for the next eleven days.
What is even better about Rachel's campaign is that she has set up a 'pay it forward' option that is not usually available. If someone is willing to donate an item or two, they can fill out a form. Their donated items will then be sent to people who want something from the campaign, but cannot afford it. More info can be found in Stands' tweet down below.
Pay It Forward.
To Request: https://t.co/QJlImgpXcY
To Donate: https://t.co/55b1tqgSKn

Special thanks to the "Clarence" who set this up pic.twitter.com/XQWqB5jP6l

— Stands (@Stands) August 13, 2017
In Stands' words, special thanks to the 'Clarence' who set all this up. Rachel Miner may have played a demon on Supernatural, but in the real world, she is certainly an angel.
Will you be buying an item from Rachel Miner's "Be the Clarence" campaign? Were you a fan of Meg Masters? Tell us by tweeting us at @CelebMix.