After spending the last few days whipping their fans into a frenzy and teasing new music on the horizon, The Vamps have released new single 'Married In Vegas'.
Instead of dropping the release without any warning, the quartet made sure fans were warmed up and ready for their return. Throughout the week they have been posting a series of teaser videos across their social media pages. The distorted sound clips and intriguing visuals were enough to get fans wondering just what the week was going to bring. Much to everyone's delight, they haven't had to wait long for the release of 'Married In Vegas' along with a music video to accompany it.
'Married In Vegas' sees a fresh, progressive sound from the band whilst retaining elements of the trademark Vamps sound their known and loved for. Flaunting a fun, sing-along chorus and an alluring interlude; we can't wait to hear this track live once concerts are able to resume.
Speaking about how the single came to life, Brad Simpson explains "On the day we handed the album in I went on a Zoom call with Lostboy. We had a few beers and then four hours later Married in Vegas was birthed." James McVey continues "I was playing Playstation with my mates and it was about 11pm and I was pretty drunk too actually. Then Brad FaceTimed me and he was like 'I've just written this song!'. I love moments like that because even when you think something's done it can still change at the last minute."
A music video for the track has also been released and can be seen below. Seeing the band performing in an empty warehouse alongside a dancer pulling impressive shapes in another zone. Check out the captivating video below and see how many little nods to Vegas you can spot:
Following some much-deserved time off and upon revisiting a previously written half album from eighteen months ago, the quartet came together again, hanging out in Airbnb's jamming as the band. McVey explains "We ended scrapping all of the first batch of songs and starting again.". From this the band were able to plan, re-group and create their fifth studio album.
Alongside the release of their new single, The Vamps have announced that the album which they spent two years working on is titled Cherry Blossom and will be released on 16th October 2020. The title signifies a rebirth or rejuvenation and that's what this album looks set to be for the band. Speaking of the album Simpson adds "We'd be lying if we said we didn't want it to go out into the world and be received positively. But ultimately we love it so much, and that feeling of self-fulfilment is so exciting. These are songs that really touch on parts of our lives. The songs mean that little bit more.". Cherry Blossom is available for pre-order now from the band's official store.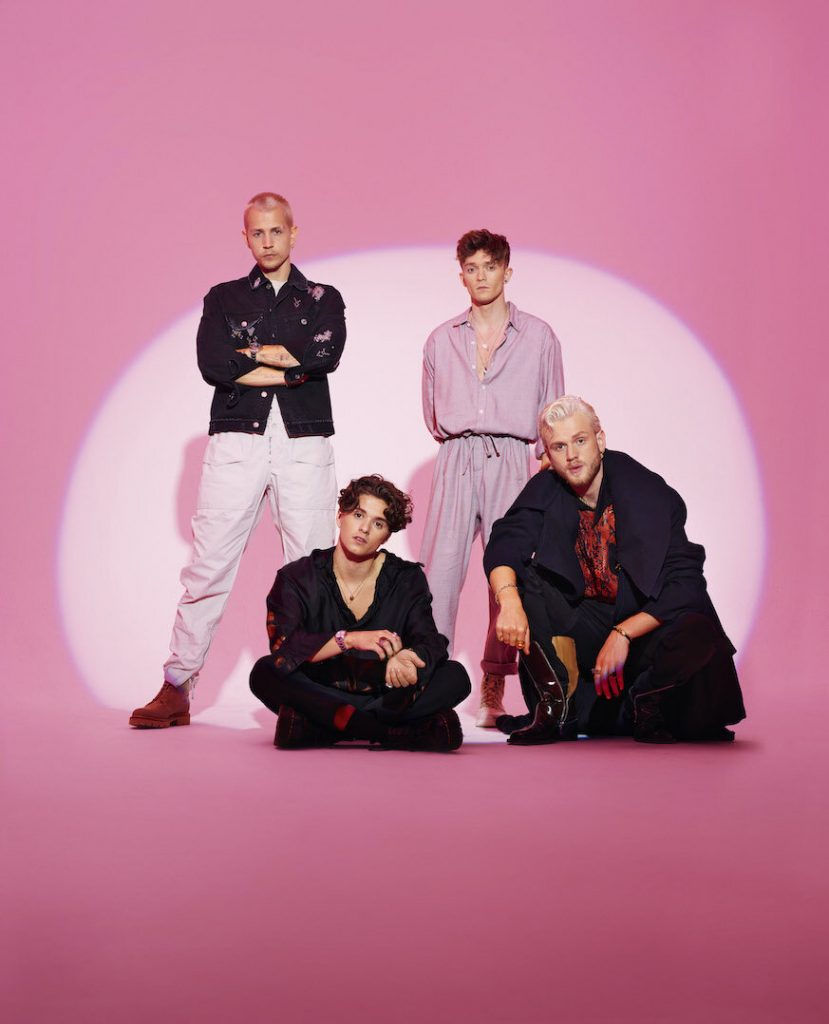 It's safe to say The Vamps aren't a band to do things by halves; since the release of their debut album Meet The Vamps in 2014 they've seemed to relentlessly be touring or releasing new music much to the delight of fans. Speaking to Hunger Magazine recently, the band opened up about what they've learnt during their time in The Vamps. James commented to the magazine: "The most important thing I've learnt over the last ten years is to accept the person I am. I think it's easy in your formative teenage years to try and be somebody you're really not and I definitely felt that in the first couple years of the band. It was important for me to recognise there are some things I feel I'm good at, and also certain things I'm never going to do or be, and that's fine!".
With their eighth band anniversary just days away, the quartet have grown up alongside each other on this incredible journey. Simpson opened up to Hunger Magazine about what has changed over the years and the importance of their relationship "I think we've developed a deeper understanding of each other throughout all of it, how each one of us works. I know I can be a big over-thinker when it comes to music and a lot of things and everyone has developed an understanding of that. You don't have anyone else in your life who can truly relate to what you're going through apart from the three other boys, and there is something so special about that. It's so much deeper than being friends in a band together. You learn patience and when to step in and step back, both in a working environment and in a personal sense. Ultimately it's about everyone having a shared bigger purpose; creating an album, putting a tour on together, surviving months away from family. Having that means you're all on the same ship going to the same destination, you have to make it as easy and enjoyable a ride as possible.". You can read The Vamps full interview with Hunger Magazine here.
A new chapter in The Vamps story has just been published and 'Married In Vegas' is the exciting first paragraph on the page. You can download/stream the track from here.
Have you listened to 'Married In Vegas'? Tweet us @CelebMix and share your thoughts on The Vamps new release.