Who is Theadina Von Seyfried?
Theadina Von Seyfried, an up-and-coming artist who excels in both modeling and acting, is a formidable performer no matter which industry she chooses to work in. People are drawn to her due to the traditional ways she plays characters on screen and her exceptionally refined personality. Theadina is not only the reigning queen of the acting and modeling industries, but there is a great deal about her that, once you learn it, will make you admire her even more than you already do.
The life background of Theadina Von Seyfried
The artist, who is skilled in multiple areas, was born in the city of Los Angeles, which is located in the state of California. Her parents instilled in her a love of art and an appreciation for its significance at a young age, both of which manifested in her life in remarkable ways as the years passed.
Developing an interest as an artist
The presence of art in Theadina's life has, without fail, been a source of personal growth and development. Her parents instilled a love of art and a respect for it at a young age, both of which manifested themselves in remarkable ways. 
Her parents were artists themselves. She has always placed a strong emphasis on the creative pursuits in her life. They took her to various museums and theaters throughout the city of Los Angeles, introducing her to a wide range of artistic expressions inspired by the city's rich cultural history. As she grew up, she became interested in modeling and acting by watching a wide variety of films, movies, and dramas. 
Starting her career as an actress
She decided to pursue a career in the industry after developing an interest in the arts. She did this by joining ballet classes at the Debbie Reynolds Dance Studio in North Hollywood in California and studying in a variety of other fields and institutions. Despite this, she never stopped working toward improving her abilities. Theadina can deftly navigate between the two worlds that she lives in: the glamorous world of Hollywood and the world of everyday struggles outside of that world. 
At this point, Theadina is a well-known actress and model, and the work that she does is held in high esteem by a lot of people. Because of this, she has a powerful platform from which she can easily influence other people's lives, assist them, and find solutions to the problems they are experiencing.
An outlook on her present life of Theadina Von Seyfried
Theadina's outlook on life underwent a significant shift after her father passed away, just as it does for everyone else at some point in their journey through this world, just as it did for Theadina after her father's passing. Even though it made her feel miserable, it had the most beautiful effect on how her personality evolved. After giving it some thought for a year, she realized that the things in life, such as clothing and purses, are not the source of true happiness but rather the capacity to assist others and be there for them when times are tough. She came to this conclusion after realizing that the ability to help others and be there for them when times are tough is the source of true happiness.
The primary focus of her life
Even though the primary focus of her life has shifted to becoming the support system for those who are helpless and impoverished, she has continued to work as an actress and a model because she sees it as a form of service to people. It is why she has continued to work in the entertainment industry. The purpose of Theadina is to serve as a source of motivation for people from disadvantaged backgrounds. Consequently, she is thinking about launching a new skincare line in 2022 to target women who are financially unable to purchase expensive skincare products. Her target audience will be women. The skincare line will produce products that are not only of high quality but will also be sold at reasonable prices.
One of the things that strikes one as the most remarkable and awe-inspiring about her is that she cares about herself and those around her. It is one of the things that she cares about. The phrase "heart made of gold" is one that Theadina takes to mean exactly what it says.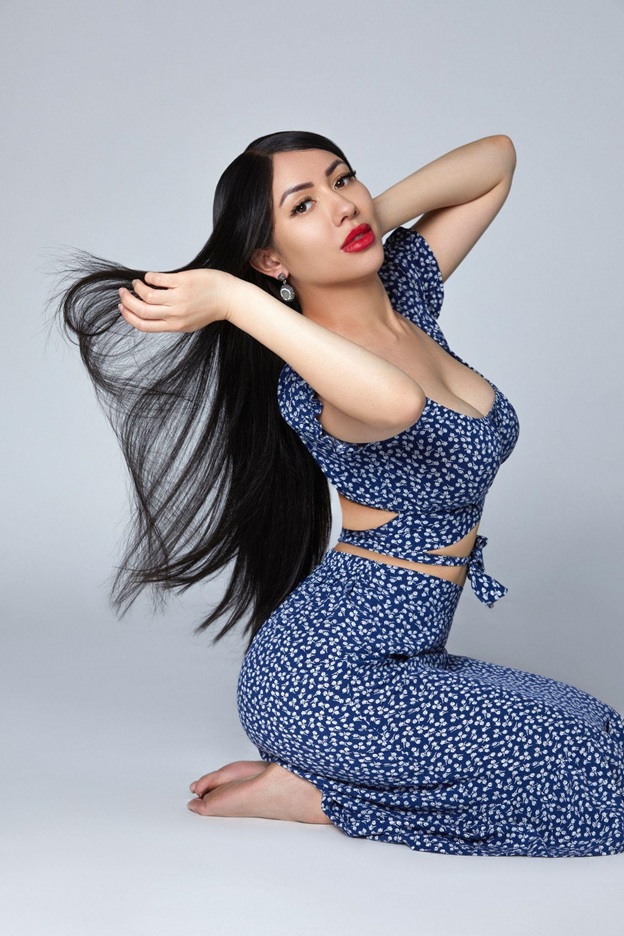 Theadina's abilities and interests
Her abilities and interests go beyond what appears to be the case at first glance. She was unquestionably successful in photojournalism when she gave it a shot at one point. In addition to her work as an artist and her contributions to charitable causes, she also tried her hand at it. She has put together a fantastic body of work made up of stunning photographs that capture the beauty, energy, and spirit of downtown Los Angeles.
Of course, the acting queen, who is also the queen of everyone's heart, has always inspired the audience with her work and acting, and she will continue to do so in the future. She has been, and always will be, the queen of everyone's hearts.
Theadina can fruitfully combine both of her interests, and she has every intention of carrying this pattern forward into the years to come. She not only wants to further her career as an actress, but she also aspires to become the leader of a non-governmental organization (NGO) or an orphanage. Her admirers and anyone else who becomes familiar with her background and the challenges she has overcome look to her as a source of inspiration.
Conclusion
Theadina Von Seyfried is a remarkable person with a great heart. She is a member of the Seyfried family. She persisted in her efforts, refusing to give up no matter how difficult things got for her. She picked herself up, took on more significant challenges, and worked very hard not only for herself but also for other people, although her father's death had left her in a state of grief. A considerable amount of time has passed since Theadina was last involved in charitable work.