Hold onto your hearts, because the official trailer for "All of Those Voices," the forthcoming documentary film by Louis Tomlinson, has just dropped.
Louis Tomlinson unveils the trailer for his highly-anticipated and emotive documentary film, "All Of Those Voices," slated to release in cinemas worldwide on Wednesday, March 22 for a limited time only. "All of Those Voices" is directed by Charlie Lightening, the award-winning filmmaker behind the award-winning 2019 music documentary Liam Gallagher: As It Was, as well as Louis' frequent collaborator throughout his solo career.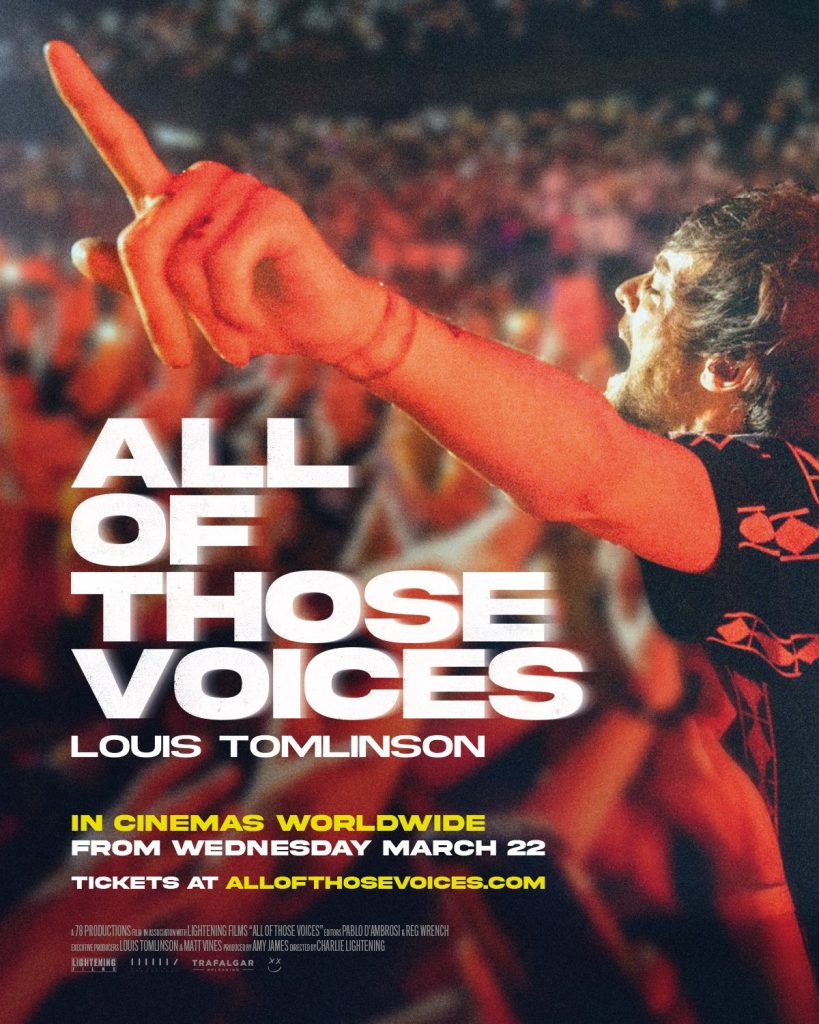 Ditching the typical glossy sheen of celebrity documentaries, this documentary film takes a refreshingly raw and real look at Louis Tomlinson's musical journey and gives audiences an intimate and unvarnished view of the singer's life and career. Through never-before-seen home movie footage and behind-the-scenes access to Louis' sell-out 2022 World Tour, "All Of Those Voices" offers a unique perspective on what it's like to be a musician in today's fast-paced world, which documents the highs and lows of stardom, from his early boyband days to the challenges he's experienced as a solo artist.
"I finally feel worthy of where I am and what I'm doing. Welcome to my world," says the British singer-songwriter during the one-minute trailer, and we couldn't be more proud of him. This documentary offers a rare opportunity, both for his obsessively denotes fans and the general public, to get a glimpse into the world of Louis Tomlinson.
Watch the official trailer for the documentary film below:
Having enjoyed exponential success as the former member of One Direction, one of the biggest musical groups of all time, Louis Tomlinson is now pursuing his solo career path and following his heart musically.
His debut album, "Walls," sold 1.2 million copies worldwide, while his sophomore album, "Faith in the Future," topped the charts in the UK, as well as in Spain and Belgium, and was in the Top 5 in the USA, Australia, New Zealand, and Europe, among other nations. He holds a rather more unusual accolade of a Guinness World Record for hosting one of the biggest live-stream concert events ever held. He sold over 160,000 tickets to fans in over 110 countries and raised funds for several important charities and touring crews affected by the COVID-19 pandemic.
Talking about the documentary, Louis said
"This has been something I've been working on for years, I'm really excited to finally put it out into the world. I've said it a million times but I'm lucky enough to have the greatest fans an artist could wish for, and as they always go above and beyond for me, I wanted to share my story 'in my own words."

Louis Tomlinson via PRESS
From the highs of superstardom to the lows of personal tragedy, Louis' story is one of resilience and determination. "All Of Those Voices" is a story about the power of self-discovery and the courage it takes to be true to oneself, as he grapples with the pressures of fame and the weight of his own voice. With a focus on honesty and vulnerability, this film is a refreshingly down-to-earth take on the life of a musician, capturing the real-life struggles and triumphs of a man who refused to be silenced by anyone else's expectations.
Marc Allenby, CEO of Trafalgar Releasing, said,
"We are excited to partner with Louis and his management team to bring his incredible story to cinemas worldwide. Louis' continued success beyond One Direction is inspiring, and clearly shows his global reach as an artist. We look forward to bringing his fans together to celebrate his life and work on the big screen this March."
In partnership with 78 Productions (owned by Louis Tomlinson), Trafalgar Releasing will bring "All Of Those Voices" to cinemas worldwide on Wednesday, March 22 for a limited time only. 
Tickets for the documentary are now also on sale here at www.allofthosevoices.com. Visit the website for more up-to-date information about ticketing and participating cinemas globally.
Are you as excited as we are for the release of "All of the Voices?" Share your thoughts with us on Twitter at @CelebMix!