'Wannabe' stars People Just Do Nothing's Lily Brazier, who plays Maxine, a has-been girl band member trying to relive her 15 minutes of fame.
'Wannabe' is one of BBC Three's latest comedy series, which has been available to stream on BBC iPlayer since late March 2018. The first series consists of four episodes, with a duration of roughly half an hour per episode. Throughout the series, we follow Maxine, played by Lily Brazier, who is a has-been pop star desperately grasping onto every opportunity she has left in the music industry. This includes being the 'manager' of an upcoming three-pice girl band called 'Sweet Gyal', a name Maxine came up with of course.
Sweet Gyal are desperately trying to make it big in the industry and score a record deal. This means Maxine, being their manager, books studio sessions, dance and vocal lessons with some insiders of the music industry. However, has-been Maxine tries her best to show the girls how it's done with her arrogant and obnoxious attitude. This then leads to Sweet Gyal firing Maxine due to having enough of her narcissism.
putting in the work#wannabe is on iplayer now pic.twitter.com/WM8T6auv6V

— BBC Three (@bbcthree) April 2, 2018
We also catch a glimpse of the 'Wannabe' lifestyle as we meet Maxine's husband, Neil, played by Benidorm's Nicholas Burns, along with their two young sons who aren't that fond of Maxine due to her divergent work-life balance. In between cringing at Maxine's ever-failing attempt at being Sweet Gyal's successful manager, we also follow Neil, who is Maxine's oxymoron when it comes to success.
Neil writes and produces jingles for adverts, which Maxine uses as her main source of financial income for the 'Wannabe' lifestyle. Although Neil is exceedingly more successful, this isn't how Maxine sees it, all due to her status as a 'one-hit wonder'.
this is *peak dad*

catch #wannabe on iplayer now pic.twitter.com/3k6mt1HrfK

— BBC Three (@bbcthree) March 31, 2018
After being fired by Sweet Gyal, Maxine has an epiphany and decides to reunite 'Variety', the girl group she was a part of back in the 90s. Before reuniting 'Variety', Maxine holds a gathering in her back garden to launch 'Mum Pop', a sub-genre of Pop music designed for mums specifically. She also announces the comeback of Variety as 'Variety 2.0'.
During her quest to reunite 'Variety 2.0', Maxine has to find the two other members first. She manages to find Mel, played by Amy Booth Steel but the third and final members seems to have gone AWOL. Nevertheless, Maxine manages to complete the trio by recruiting Sarah into 'Variety 2.0' after scouting her when she was singing in Maxine's back garden.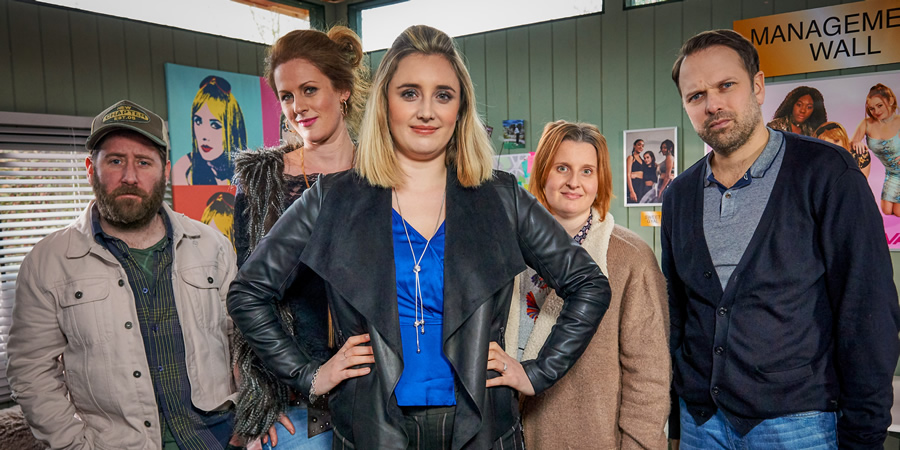 However as a viewer, we're left feeling unsure about Sarah being a part of 'Variety 2.0', considering her current job is prostitution, which she is adamant to not quitting. With 'Variety 2.0' now a full trio, Maxine is on the hunt for a concert booking, with the best offer being a local pub's Mic Night. Maxine, being Maxine takes the offer on the chin and prepares for the trio's first performance since the reunion.
Before their comeback performance, Maxine requests a VIP room for the girls to get ready and rehearse in, the room being a minuscule side room. Maxine also gets in the spirit by ordering bottle upon bottle of Echo Falls to be put onto her 'tab'. With the Mic Night commencing, Variety 2.0's comeback performance is around the corner.
The performance is surprisingly a hit with the locals and to celebrate, Maxine along with the rest of Variety 2.0, drink and dance the night away. Under Maxine's influence, the trio also manage to take some drugs as a part of their image as a 'Mum Pop' group.
We definitely recommend you to check out 'Wannabe' as it is available on BBC iPlayer for the next few months and hopefully a second series can be commissioned, we'd love that to happen!
What's the dumbest thing you've said in a meeting? #Wannabe pic.twitter.com/Sd226nxw4b

— BBC Comedy (@bbccomedy) April 3, 2018
You can watch the full series here.
What do you think of 'Wannabe'? Let us know on Facebook and Twitter @CelebMix