Let's be honest, there's never been so many Lilo moments as it had happen during the One Direction OTRA tour. Some shows, it's been just a tiny bit of banter, but it got pretty heated from time to time.
However, let's see the top 7 moments of Lilo!
#7 Water in Liam's hood
28th January 2015, Tokyo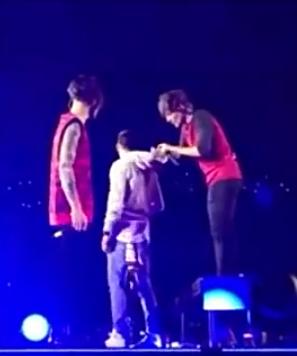 This happened during one of the first OTRA shows, when Zayn was still in the band. Liam was singing and Louis just casually poured water in his hood. Liam hadn't even noticed it for a moment.
#6 The chicken nugget
10th June 2015, Vienna
That was pretty simple. It's still worthy talking about it, though. When Harry started singing his (originally Zayn's) first line of Little Things, Lilo were still bantering and when Liam went to his mic, Louis threw a chicken nugget on him, succesfully, ha! The reactions were priceless.
#5 The hugs
There's been a lot of hugging amongst Lilo this tour. Isn't it sweet, how they're always here for each other to make the latter comfortable?
#4 The Naughty Boy piñata
28th July 2015, Kansas City
Will there ever be something to top all those Lilo moments that happened in Kansas City? I don't think so. The fans threw a piñata with Naughty Boy's face on it on stage and what had Louis done? Well, being Louis, he jumped on it, Liam lied on it and Louis kicked it off of the stage.
#3 Liam's shirt being ripped open
26th July, Minneapolis
Louis just casually walked over to Liam and ripped his denim shirt, like it was a normal daily activity (let's have a minute of silence for all Liam girls). Moreover, not that Liam's shirt ended up unbottoned, Louis geniunely tore it off (see the picture above). Anyway, that's not the end. Louis literally pinched Liam's nipple. What a show!
#2 The Lilo kiss
11th October 2015, Birmingham
Some people ship them (Where? Ha, see what i did there!), some people don't. However, the Lilo kiss is one of the most iconic moments of the entire OTRA tour. During one of the Brimingham shows, Louis wanted to whisper something to Liam, apparently, Liam did too. Louis himself said in an interview: "It's like when you're in a club and it's too loud, you know? And you go and you both lean in and say ahh." Anyway, this happened and the boys accidentally kissed.
#1 The Kansas City water fight
28th July 2015, Kansas City
Lilo and water fights, there's not a single person in the 1D fandom who hasn't heared about the water fights. The most memorable one, though, has in my opinion been the one in Kansas City. Louis and Liam were bantering even more than usual during the show and the moment when they drenched each other in Powerade, laughing and looking geniunely happy had been literally golden.
Is your favourite Lilo OTRA moment not on the list? Let us know! Is it on the list? Tell us which one it is! You can either tweet us at @CelebMix, or leave a comment bellow!