Welcome back to CelebMix YouTuber of the Week, a weekly feature in which we discuss one of our favourite content creators on the vast platform of YouTube. Last week, we talked about the lovely Hannah Witton. Now, introducing the latest YouTuber of the Week: PJ Liguori, also known as KickThePJ!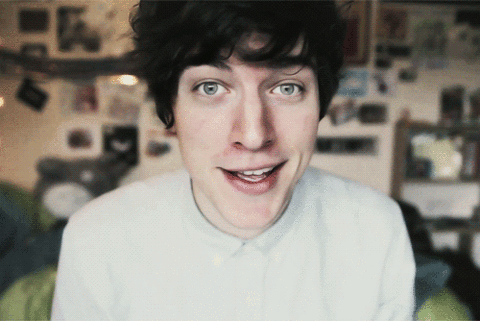 Who is KickThePJ?
PJ Liguori is a British YouTuber, filmmaker, explorer of tiny planets, and above all: an insanely talented storyteller. Through his weekly videos posted on his YouTube channel KickThePJ, he uses his seemingly endless supply of creativity to entertain with fresh content or put his own twist on something that's been done before. His channel is home to a wide variety of videos, dating back to his start on YouTube in October 2007.
His content is often centered around a traditional vlog format, which is then enhanced with funny cutaways or some sort of creative twist. PJ's most popular videos are his undoubtedly his stories. Some of these are films- which tend to be in a longer and more detailed format. Many other storytelling videos are shorter bursts of creativity with simpler storylines. His largest project to date is Oscar's Hotel For Fantastical Creatures, an original fantasy/comedy web series created in collaboration with New Form Digital that features cameos from plenty of other YouTubers.
Venture over to PJTheKick, his side channel, and you'll find everything from behind-the-scenes footage to video game lets-plays to some of the most random videos you'll find on the Internet. On top of several running series on his channel, PJ often collaborates with his close friends and fellow YouTubers, such as Dan and Phil, PewDiePie and Marzia, Chris Kendall, and Emma Blackery. PJ is well known for his crazy characters such as Wiggles the Clown- the psychotic clown with an unforgettable accent. He also dabbles in music since he left the band he was in as a teenager.
Why should you watch his videos?
PJ doesn't really do ordinary. Even in what may seem like the simplest videos, such as Q&As or tags, he manages to add some little twist to make it his own. For example, his ongoing Q&A series called "Slurp" usually features interesting themes or funny cutaways. Even videos like those from his series "Things I Almost Said on Twitter" give us a look into the crazy thoughts and random ideas that go through his mind. If you're someone who's getting a little bored of the content you regularly consume or even create yourself, we bet a couple of PJ's videos will cure you of the mundane and reinvigorate your creativity.
With PJ, you never really know what's going to pop into your subscription box every week, and that's part of the reason why his following of over 1 million "tiny planet explorers" (better known as subscribers) look up to him. His followers are a tight-knit group despite their size and have their own collection of inside jokes and stories from throughout the years. Given the creative nature of PJ's videos, the community thrives off creativity, frequently using PJ or his stories as inspiration for their own creations.
Like with many other YouTubers, artists, and people in general, there is not just one defining characteristic or quality to love about PJ. However, above anything else, there's no doubting that PJ is simply very good at being creative. His personal interests combine with his original ideas, artistic skills, story-telling abilities and hard work to create fresh and consistent content for his loyal audience. If that sounds right up your ally, we reckon you should give some of PJ's videos a shot.
In case you need any more convincing to dive in, without further ado, here are our top five must-watch KickThePJ videos.
1. How To Be Inspired
In this helpful yet still entertaining video, PJ gives us his very best tips on how to get inspired to create, based on his personal experiences. There are tricks we've thought of before, like taking a shower (which is proven by scientist PJ to induce creativity) and more obscure ideas that might actually work- like free-writing until an idea sticks. There's no better place to go than this video if you want tips for creative inspiration from the master itself.
2. The Sketchbook Soul
An example of PJ's shorter visual story-telling format, The Sketchbook Soul is a video that doesn't need a complex storyline to make it beautiful and captivating. Filmed entirely in stop-motion, the story follows PJ after he discovers a magical diary on the beach. Similar to Tom Riddle's diary in Harry Potter and the Chamber of Secrets, a soul is trapped inside the book. The soul communicates with PJ in a series of breathtaking animations, paintings, and sketches before PJ eventually releases it from the sketchbook to the place where it truly belongs.
3. Hair and Brimstone
PJ's most recent short film, Hair and Brimstone, tells the tale of Hades, Aubrey and Robin, who run an ordinary hair salon by day and an absurd hair salon for monsters by night. One night, an especially eerie creature appears for a haircut, and the crew has to prevent her mop of hair from causing havoc. Starring Chris Kendall, Andrea Valls, Jack Howard, Dean Dobbs, and Dodie Clark, the short film is yet another one of PJ's creative masterpieces. Oh, and if you're wondering, PJ himself does star in the film as well. Just keep an eye out for the sarcastic dolphin head mounted on the wall!
4. Oscar's Hotel
As we explained above, Oscar's Hotel is PJ's biggest project- a six-episode web series that aired on Vimeo in 2015. It all began with this 10-minute pilot that gives us the perfect glimpse into the strange Oscar's Hotel universe; and is directed, written, produced, and edited by PJ with the help of his team. The story follows Oliver, (played by Chris Kendall) who pays a visit to the hotel owned by his Uncle Oscar (played by Conor Jatter). He soon finds out that the hotel houses mythical creatures of all kinds, most of them harmless except one- the mysterious Shadow Beast. Watch as Oliver and Oscar, with the help of their new friends, protect the hotel and its guests from the Shadow Beast's mischief.
5. Date A Clown
We already mentioned Wiggles The Clown, PJ's original self-depracting and slightly insane character complete with pink hair, heavy eyeliner, red lips, and a classic bowtie and suspenders combination. This time, Wiggles attempts to find a date for Valentine's Day in this four-minute video of clown anecdotes and ramblings that eventually ends in a near breakdown and mini-life crisis for Wiggles. Apparently, he brings bad luck to anyone within a five-foot radius of him, so we'd advise PJ to keep his distance!
Have we convinced you to start watching PJ yet? If so, you can subscribe to his main channel and his second channel. Or, follow him on Twitter, Instagram, Tumblr, and Facebook.
Thank you, PJ, for almost ten years of hard work to produce creative, ingenious, and original content on YouTube. You are a true inspiration to many and one of the most talented storytellers on the platform. Cue video outro!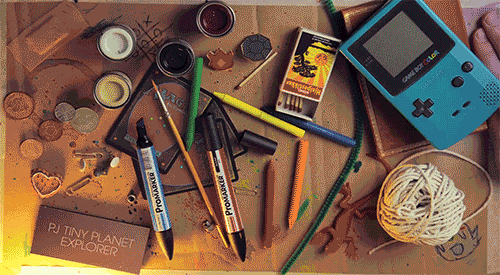 Want more? Check out YouTuber 101: KickthePJ aka PJ Liguori!
That wraps up this week's edition of YouTuber of the Week! Check back on Sunday to see which creator will be featured next. Catch up on the previous YouTuber of the Week articles by clicking here!
Are a fan of KickThePJ? Which of his videos is your absolute favourite? Let us know on Twitter @CelebMix.