Liam Payne may have the fewest tattoos in One Direction, next to Niall who has…well…none but he definitely has some incredible ones. We took a look at Liam's ink and chose 10 of our favourite designs.
10. 3 Roses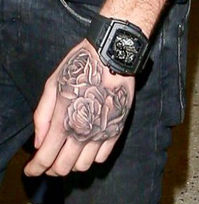 Liam sported his new tattoo while walking through LAX. The meaning of this tattoo is unclear but regardless, we're in love with it.
9. DCXVIII – XCVIII
You may have seen this roman numeral inspired tat when the boys were filming the music video for "Perfect"! That's right, Liam went under the needle while filming the video with the boys and decided to get his X Factor audition number in roman numerals! Aww!
8. The Feather
During an interview with ABC's Nightline back in August of 2013, Liam explained the sentimental value behind this artsy work of art saying, "The feather was a thing, when I was a kid we used to find feathers around the house and whenever we found them my mum used to say it was my nan leaving them around for us to find, so that was quite sweet."
If you don't think we're shedding tears, you definitely need to take a closer look!
7. Somewhere Is A Place That Nobody Knows
Maybe Liam likes having secret little rendezvous as much as we do.
6. "Liam" in Egyptian Hieroglyphics
As a lot of you probably already know, hieroglyphics go back thousands of years and were mainly used in ancient Egypt.  Hieroglyphics combine both alphabetic and logographic elements to form letters and words.
Using a lion laying down, a feather, a bird, and an owl looking to the side, Liam creatively used the hieroglyphics to spell his own name.
5. Only Time Will Tell
The brilliant quote got inked onto Liam's wrist shortly after he split with Danielle Peazer for the first time back in fall of 2012, only to reunite in December of that same year. The couple later split again in March 2013.  Some believe this tattoo was an ode to their bond.
4. Everything I Wanted But Nothing I'll Ever Need
During an interview with British DJ Scott Mills, Liam explained the meaning behind this tattoo saying, "It's basically that obviously we've got a lot of things from doing this and stuff, and there are things that I want, but all I ever need is my family and these four boys right here."
Liam proudly proves that no matter how big the boys get, fame and fortune will never change him!
3. I figured It Out
Know where this cheeky reference is from? You may have heard it in the beginning of "You & I", which was released as One Direction's single back in 2013. In the interview on ABC's Nightline, Liam explained his tattoo and said, "It's not so much what it says, that's actually some of the new words from one of our songs that's not out yet. That's a big exclusive, that's actually one from the start of the songs, so that'll come to play later on."
2. 4
Liam has not yet explained the full meaning of the ring finger tat, but many theories are floating around that Liam got another tribute tattoo for him and the boys since the chevron tattoo is one he's iffy about.
1. 4 Chevrons
We're all pretty sure what this tattoo is about! Each arrow is dedicated to one of the boys (excluding Liam of course) but in a recent interview with Ellen, Liam explained that he regretted getting the tattoo. "When I first got [these arrows], I was kind of like, 'What have I just done to my arm?'. I woke up in bed and the first thing I googled was how do I get this thing off me? My mom cried, my dad probably cried a bit, everyone was crying and stuff. So I thought, this was a bad move."
Do you have a few favorite Liam tattoos that you'd like to share? Let us know by commenting below or tweeting us @CelebMix1D.