Louis Tomlinson's incredible tattoos are just one thing on the very long list of the wonderful things about him.  He's talented, compassionate, and is an amazing storyteller, we could listen to him talk for days.  Some of those stories aren't spoken but are instead displayed across his skin.  This inspired us to have a look at Louis' tattoos and pick out some of our favorite ones!
10. The compass
"It has an arrow pointing to home. I miss it."
9. Cup of tea
Let's face it, Louis is a huge fan of tea! "I'm obsessed with Yorkshire tea. Satisfies me." We also take it he got this tat as a tribute to the line in "Little Things".
"You can't go to bed without a cup of tea / And maybe that's the reason that you talk in your sleep…"
8. Flock of birds
Now this tat is confirmed to represent him and each of his mates (5 birds for 5 guys), with his explanation, "Always stick together. Work as a team. Family and friends are on my side."
7. Tic Tac Toe
Louis playing a game of Tic Tac Toe by himself, we see!
6. The Large Bird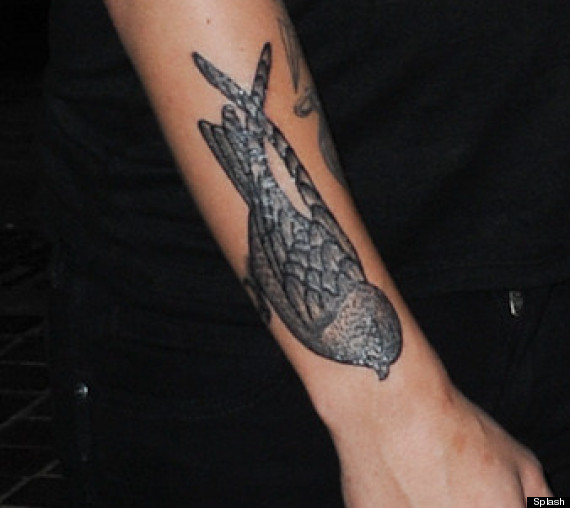 Apparently Louis isn't a big fan of birds, but this one is his favourite. Can you guess what kind it is?
5. Far Away
Apparently this tat is commemorate his hometown, family, and friends he left behind when he joined One Direction. Aww!
4. 5 Tally Marks
Not many people have taken notice of this tat or its meaning. It could be explained in 2 theories – a tribute to One Direction (Zayn included) or a tribute to the hit British sci-fi TV show Doctor Who. Whatever it means, we still think it's pretty cool.
3. The Rope
Louis never explained the meaning behind his tattoo but there is a lot of speculation online about what it could mean.  Broken ties? A rope to ground an anchor? Or is he just a fan of a general nautical theme? We'll let you draw your own conclusions.
2. Given A Chance
Louis was definitely given a chance to live his dream and make the most of it! Are you as proud of him as we are?
1. Bus 1
Louis went under the needle during the North American leg of the Take Me Home tour back in 2013, where he and Zayn got the term "Bus 1" inked together as a tribute to their tour bus!
Do you have a few of Louis' tattoos that you like more than the others? Let us know by commenting below or tweeting us @CelebMix1D.