All throughout 5 Seconds of Summer's career, fans have enjoyed seeing Calum Hood photographed dozens of times with a variety of adorable pooches on social media.
The love for the Calum being photographed with his canine companions soared after the bassist was featured as a dog walker in 5SOS's "Hey Everybody!" music video. Humorously, Calum had even created a Twitter account (@calwalksdog4u) for "Calum's Dog Walking Service", the "business" that became a running joke for the 5SOS Fam during 2015.
So, as to celebrate Calum's 20th birthday on January 25, we've decided to compile 20 of our favorite photos that feature Calum and dogs!
1. Dog walker!Calum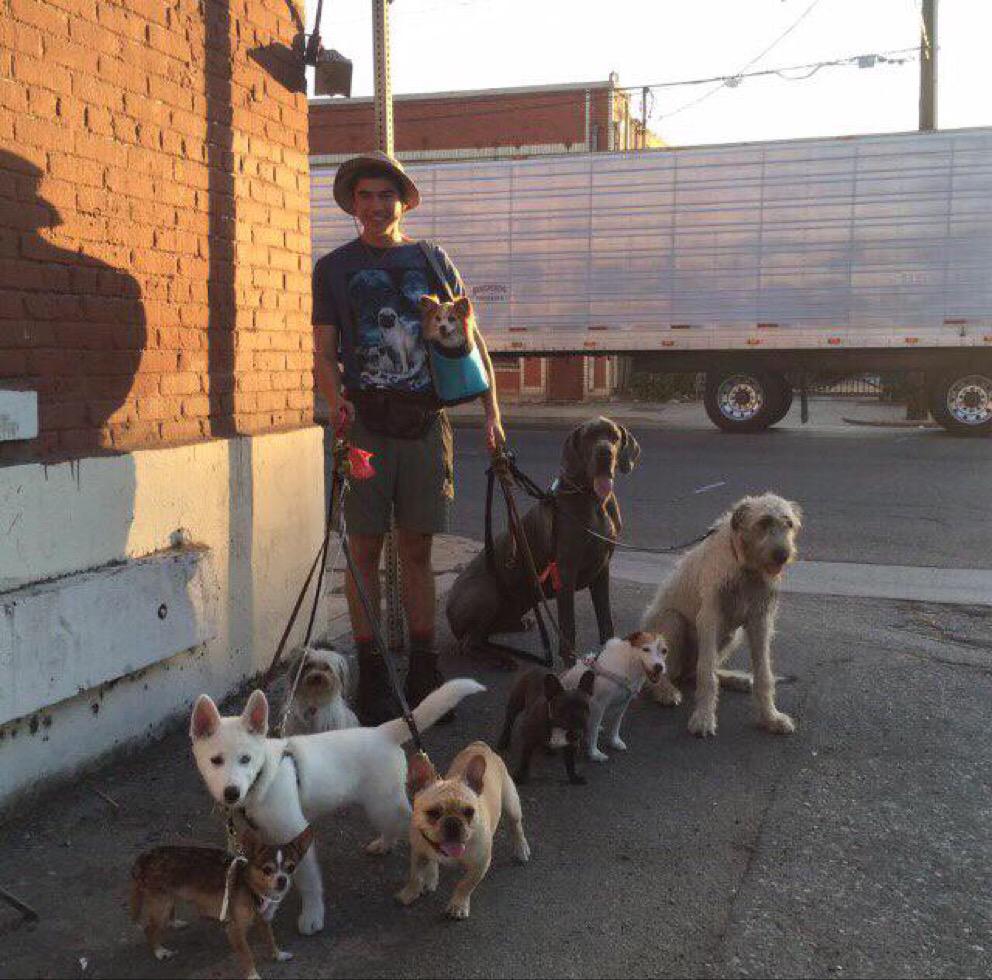 It seems appropriate that we start with Calum the Dog Walker. We're sure that if Calum were to ever really start a dog walking business, he'd be the best dog walker that there could ever be –– regardless if he's out walking one dog, or nine!
2. Chill dog lover!Calum
This photo of Calum laying down on the grass is relaxing to look at. With 5SOS's busy schedules, they don't always have much time to relax. As for his furry friend, it's just an average day of chilling out and belly rubs!
3. Puppy snuggler!Calum
Calum poses with Gizmo the French Bulldog in this aesthetic photo. Gizmo belongs to Francesca Giaimo, a talented makeup artist that contributed for many of 5SOS's music videos.
4. Dog petter!Calum
The 5SOS Fam absolutely adores RJ, and we know Calum does, too!
RJ was the band's "tour dog" for the "Rock Out With Your Socks Out" Tour. Even though RJ's owner Cookie Kennedy notified fans on his Instagram (@cookiesmusicbus) that RJ will not be touring for 5SOS's upcoming "Sounds Live Feels Live", we know that Calum and the rest of the band will always have a special place for RJ in their hearts.
5. Puppy embracer!Calum
We're not sure who looks cuter –– Calum, or that pudgy pup!
6. Dog attracter!Calum
Fans love Calum for his amazing bass skills, dulcet vocals, and all-around positive vibes. It's not a surprise that dogs can't resist him, either.
7. Dog owner!Calum
Here we have Calum showing off his dog Kuma's skills by shaking his paw. We wonder what other kinds of tricks Calum taught Kuma!
8. Canine kisser!Calum
Let it be said that nothing is as cute as Calum giving a puppy a kiss. Gizmo, we wish we were you!
9. Puppy-on-my-lap!Calum
Scratch that: Calum being excited about a puppy on his lap is an undeniable cuteness overload.
10. Dog selfie taker!Calum, pt.1
Calum probably has loads of selfies with RJ on his phone, and just the thought of that is going to make us smile for days.
11. Sleepy dog lover!Calum
Cookie took this heartwarming photo of Calum and RJ having some man-to-dog bonding time.
12. Shirtless dog petter!Calum
This filtered photo of young (and shirtless!) Calum petting a lovely pooch really tugs at our heartstrings.
13. Marnie lover!Calum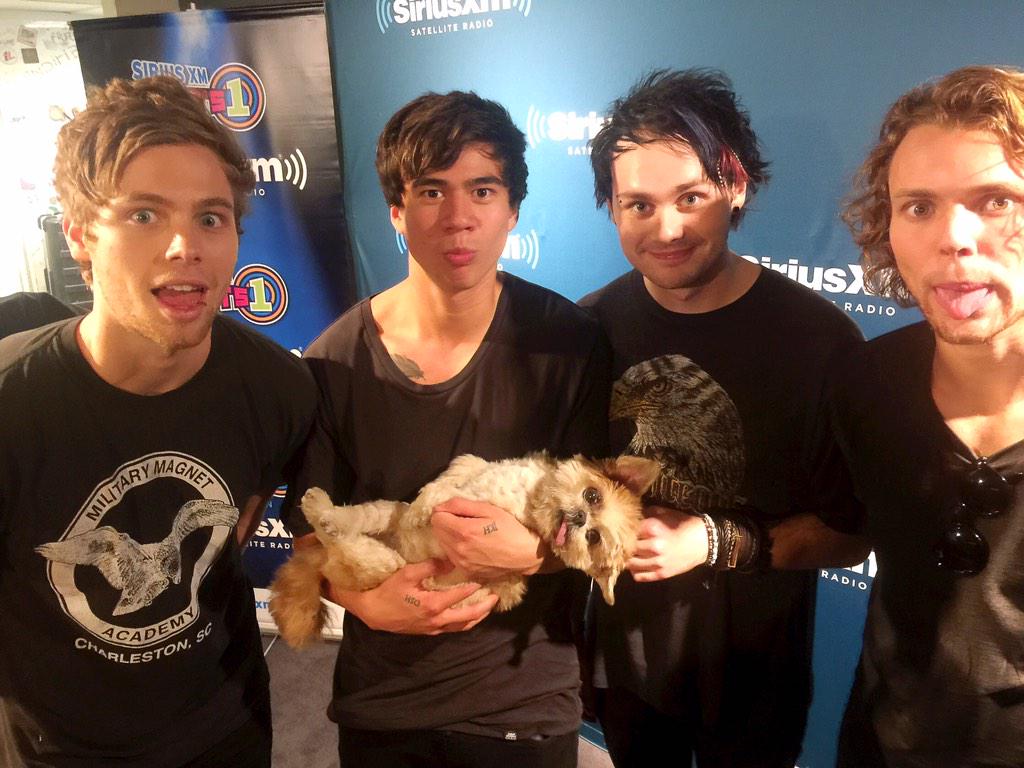 It vaguely looks like a family photo: Luke and Ashton are the two older sons pulling a silly face, and Calum and Michael are the proud parents of a newborn baby, whom Calum cradles in his arms.
Only, this "baby" is actually internet sensation Marnie the Dog, a 13-year-old Shih Tzu from New York. She was in a rough shape when she was adopted at the age of 10, but she now lives an active, joyful life. With her trademark head tilt and long tongue, Marnie has 1.9 million followers on Instagram (@marniethedog). She reminds the world to adopt senior dogs –– they have a lot of love to share!
14. Dog whisperer!Calum
We can see it now, on Animal Plant primetime: "My name is Calum Hood, and I am the Dog Whisperer."
15. Dog admirer!Calum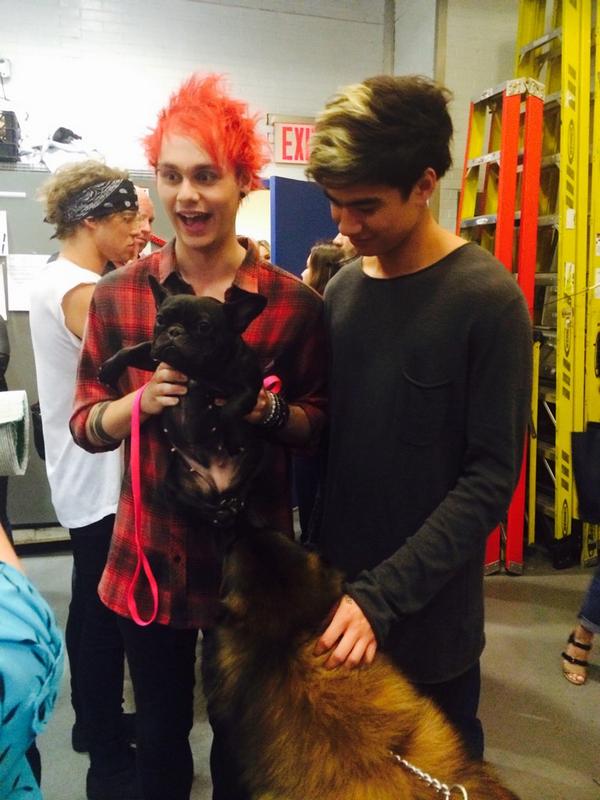 Is Calum smiling because he thinks that the big fluffy dog and the French bulldog that Michael is holding both look really cute? Or is he smiling because he thinks that the big dog smelling the Frenchie's butt is really funny? The world may never know.
16. Dog selfie taker!Calum, pt.2
How can one even hope to get over how endearing Calum's doggie selfies are?
17. Dog cuddler!Calum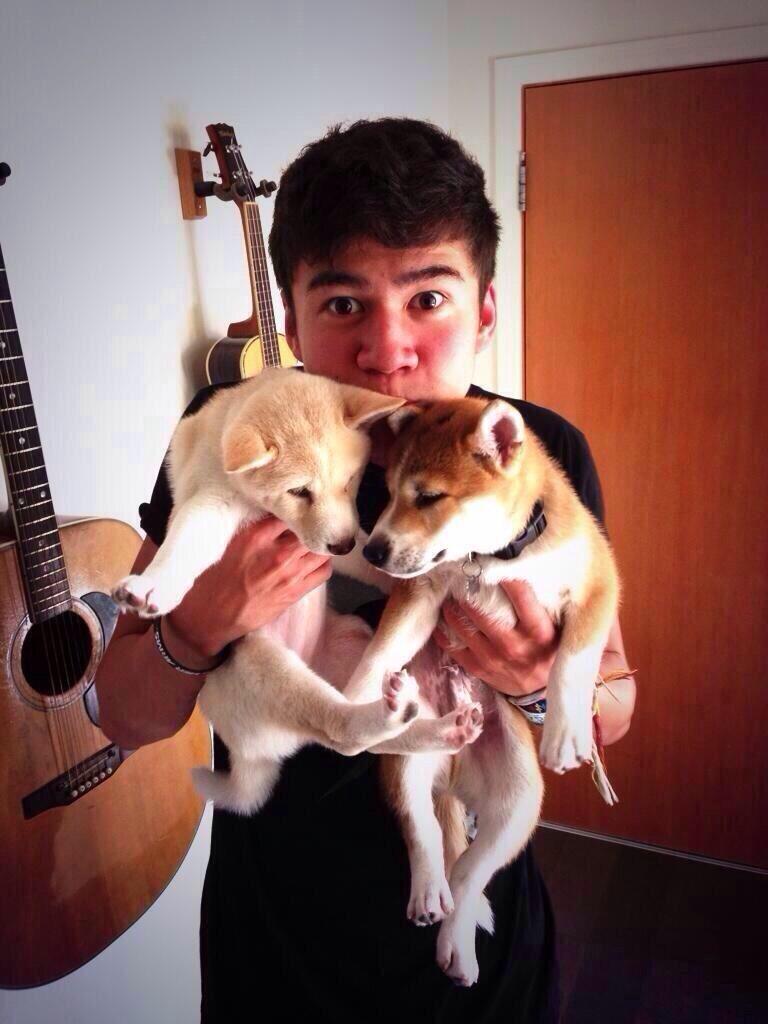 Shiba Inu puppies and Calum Hood? There's just too much love for this photo!
18. Dog scratcher!Calum
18 photos in, and still not the least bit tired of Calum's admiration for canines!
19. Canine hugger!Calum
Hey, Calum and this dashing pooch both have get to have luscious curls! What gives?
(Note: This isn't supposed to be an insult in the slightest. We love Calum's hair, and we love all hair types!)
20. Dog's Best Friend!Calum
We'll end this round-up of Dog lover!Calum Hood with a sentimental selfie of him and his beloved Kuma. The two pals look really happy to be together since Calum's band career means he isn't always home. We're sure Calum is a caring owner, and Kuma is a loyal pup!
Calum Thomas Hood, we wish you a fantastic 20th birthday. You and the rest of 5 Seconds of Summer have a massive year ahead of yourselves –– don't forget to have fun along the way, and good luck on the "Sounds Live Feels Live" tour starting in February!
(And, by all means, don't forget to share more lovable dog pics!)
–
Which Dog lover!Calum was your favorite of these 20? Tweet your answers to @CelebMix or leave us a comment below!
Don't forget to share this post with your friends so they can find out their favorite, too!