Elvisa Dedic is a multidimensional person. Elvisa has been a model, an entrepreneur, and a social media celebrity. She has been an ultimate source of inspiration for her followers, from influencing the public with her excellent fashion sense and love for running a successful brand. Influencers in fashion and lifestyle are growing in popularity, giving social media a boost. Elvisa Dedic, a Bosnian Instagram (elvisa) sensation, has recently ruled the site. 
This article is about Dedic's rise to corporate success from Bosnia and the personalities that inspired her to achieve and become an empowering woman.
Elvisa Dedic's Journey From Bosnia to the United States: 
Elvisa Dedic's journey began when she was born on the 16th of October 1995. She was born in Bosnia, in Bihac. Her parents were both Bosnian. During the conflict, with no relatives and being shot in the womb, her mother raised her daughter in Bosnia despite losing her loved ones. She recalls hearing explosions and screams, but she was too small to understand what was happening. Her family's stories are harrowing and can have a lasting impact on anyone's life. "You don't know their struggles to give their children a nice life," she said. "Therefore, we must always be patient with our parents."
She was captivated by American television shows and longed to visit when she was a child. It seemed like a place of endless possibilities to her.
She didn't speak any English when she arrived in the United States at three, contributing to her academic failure. After some time, she graduated from a prestigious university with three degrees and a 4.0-grade point average.
In America, she can achieve her aspirations and live out her life's purpose. On the other hand, her love for Bosnia will always be a part of who she is and where she comes from. Regardless of where she ends up in the future, she will never forget where she came from.
Elvisa Dedic's journey from model to cosmetics company CEO: 
Her career as a model began with a series of stunning Instagram images of fashion and leisure. Only after her photos went viral did she garner thousands of followers on Instagram.
It didn't matter that she was a brand ambassador for well-known firms and had gained celebrity; she still wanted more. Not wearing a label was the issue. "Being a brand was the goal." She kept her end of the bargain. She was successfully meeting her aim. After a great career as a model and fashion influencer, she became a successful businesswoman.
Early in her life, the fruits of her labour and perseverance could be seen. Her exquisite cosmetics line, Elvisa Cosmetics, is a new business for her.
Elvisa Dedic Is a Powerful Example of Women's Empowerment
Elvisa is making a difference in the realm of women's empowerment. Classy women from the '50s and '70s are significant influences on her. She hopes that today's women will be as strong and elegant as they were in the past. However, she is correct. These ladies were the first to propose the concept of women's empowerment in the wake of the negative experiences women had encountered. 
They were the ones that kicked off the first wave of feminist activism. It's essential to Elvisa Dedic that today's girls grow up to be strong women, just like she was. She's not just talking the talk; she's showing her strength in deeds.
In an interview, Elvisa started;
"There are so many young women who may benefit from my efforts to encourage and motivate them." So that the new generation knows that you don't have to disrespect yourself to succeed and that you never take the shortcut by surrendering your dignity, values, and respect for success. "
Elvisa Dedic's job in court
Many people think she's a model because she does it for a living, but she's a full-time employee. In her mind, she's just an ordinary girl who happened to gain a significant following on social media by simply being herself and taking pictures. Despite her social media fame, she is pretty down-to-earth and doesn't think she's better than anyone. As a result, she decided to pursue a study in criminal justice because her father was a police officer, and her stepfather was a narcotics agent and an International Firearms Lead Police Advisor. 
While working at the courthouse for six years, she earned a bachelor's degree in criminal justice and a master's degree in psychology. She began her career in the criminal justice system and has seen and learned a great deal over the years. Many things she hadn't seen before were revealed to her, not just on television but in the real world. 
Elvisa Dedic's role model and inspiration 
Rhonda, an African American female judge, is ranked number one, followed by Judge Eleni Derke, a second judge who influenced her greatly. These two people likewise influenced her daily life.
1. Rhonda, the first elected African American female judge,
For the first time, Elvisa wants to congratulate an African American female judge who she greatly admires. She is the woman whom she follows and admires as her inspiration and role model. The fact that an African American woman is writing history fills her heart with joy. She is awed by the accomplishments of this powerful woman in every way. The world needs more women like her, and she is a shining example of how to do it. Since she genuinely cares about helping the public and improving the justice system, she has worked with her on numerous occasions and is always willing to help everyone who comes into contact with her.
 2. Judge Eleni Derke and Elvisa Dedic's bond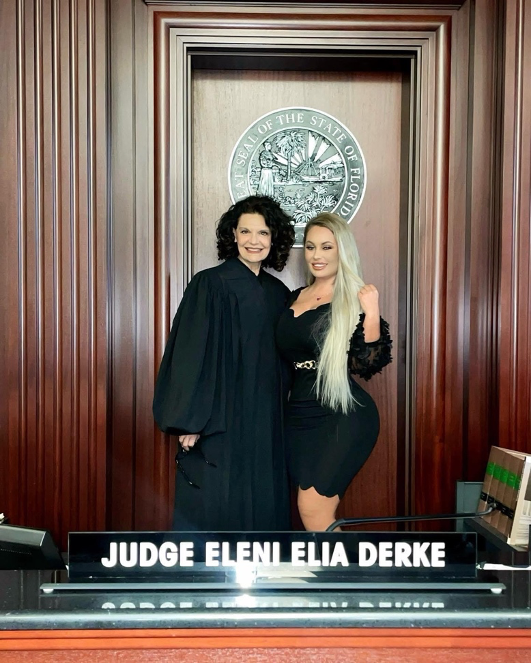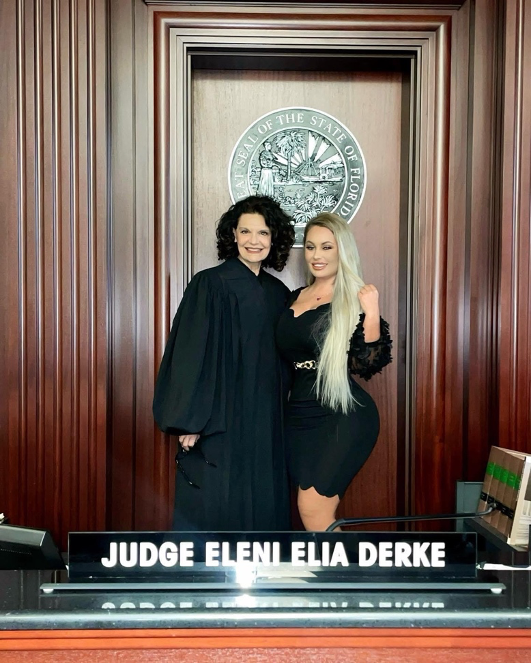 The second person on Elvisa Dedic's list is Judge Eleni. Judge Eleni is a strong, bright, and stunningly attractive woman on the inside and out. She has the power to brighten whatever room she enters. She has a favourable effect on everyone she comes into contact with because of her graceful and refreshing spirit. Whenever she has the opportunity to work or spend time with her, she always comes away with something new to learn. More people like her are needed in the world. She is an inspiration to me in every aspect, and she considers herself extremely fortunate to be able to call such a strong woman her friend. She will be a constant reminder of their friendship.