With the recent release of her emotionally charged new single "FUMD", rising American singer/songwriter Amelia Moore broke free from the shackles of heartbreak to showcase a whole new side to her artistry.
Produced by longtime collaborator Pink Slip, and featuring guest vocals from fellow recording artist jxdn, the arresting track finds Moore in a continuous state of emotional distress, wrestling with her inner subconscious night after after night, as a result of experiencing an onslaught of recurring bad dreams of a former lover.
---
---
Originally from Lawrenceville (a town outside Atlanta), by her own admission Amelia grew up in a conservative Christian household, and first discovered her natural musicality by singing in the choir and taking up violin at age five. But despite showing huge promise as a budding violinist, Moore says she felt compelled to expand her horizons…
"From a really young age I felt creatively trapped and knew I wanted to write my own music, so I quit violin and taught myself piano on a cheap little Casio keyboard," the singer explains. "I'd say I was about 13 when I first started writing my own songs, and from there I decided that I wanted to join an Atlanta-based artist development training program to develop my vocals and performance skills."
"My parents refused to pay for the program though… in fact I remember them telling me, 'Maybe music can be a hobby, and you can be pharmaceutical sales rep instead', which I wasn't impressed with so I got a job at a fast-food restaurant and raised the money to pay for the classes myself. It completely changed my life – from then on I believed in myself 1,000 percent!"
---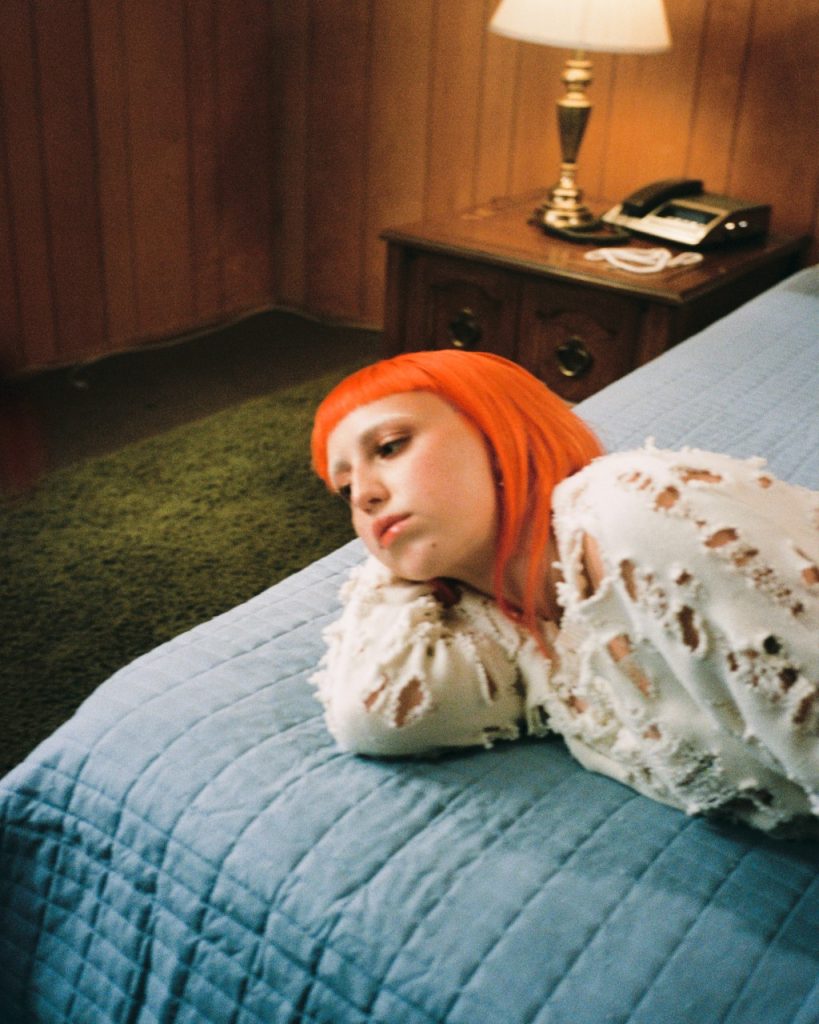 ---
Cementing her position as one of musics most exciting new stars, here Amelia Moore talks about the healing power of songwriting, working with jdxn, life on tour and her exciting plans for the future…
Hey Amelia! How's 2023 treating you so far?
Really great! Cant complain.
You've just dropped your latest single "FUMD" – talk to us about the series of events that inspired you to write such a personal song…
My best friend and co-writer Jbach came to me with the idea actually. This song means so much to both of us because we have experienced very similar situations… having feelings for someone who's playing games with you and not being able to think about something else. I'm super proud of how it came out!
Lyrically you appear to be trapped in something of an emotional abyss, haunted almost by the memory of an ex and desperate to break free from your past, has speaking aloud your thoughts helped you in any way to move on from all of those feelings?
Girl I've been feeling free since "teaching a robot to love came out" (laughs). Songwriting has always been a great tool for me to process my emotions.
How would you say this track differs from the material you've released previously?
My producer Pinkslip and I are really big fans of SOPHIE and wanted to experiment with some hyper pop sounds. This is the first song of mine that has such a dramatic switch up!
jdxn features on the song, how did that collaboration come about?
My A&R and bestie Carter Gregory is good friends with him, so he played him the song when they were out one night. Jxdn loved it and came to the studio with so much excitement and a bunch of ideas. He's so sweet and passionate about music, it was so much fun working with him!
What was it about his style, and energy that you felt best suited the tone of this particular type of record?
He has a gritty, punky badass rockstar vibe to him, so I'd say he brought a lot of that kind of attitude to the song. I think it perfectly depicts both of our artist projects together!
---
Amelia Moore x jxdn – FUMD (Official Music Video)
---
The singles accompanying music looks like it was incredibly cathartic to film. How important is it for you to create visual clips that help (to) further convey the narrative of what you're singing about?
Putting visuals together is so exciting. I think it gives the audience an opportunity to be in the world that I was imagining while writing it! Every detail is so important to me and I'm thankful to work with such talented creatives to help get my ideas across the finish line.
What has the fans response been to both the single and the video?
I was a little worried about what the response was going to be just because this song is different than my other ones, but everyone has LOVED it!!!!
Is there a pressure at all, to always make sure you're writing music and creating content that's reflective of your audience and demographic? Or can you not allow yourself to be that creatively calculated?
I don't feel any pressure in that way, I've always written what I want to write and thankfully people seem to feel connected to it. I feel like if I was trying to write for others instead of myself, my lyrics wouldn't be as authentic as they are.
You're heading out on the road with Lolo Zouaï this spring – how are excited are you to be getting back up on stage?
I'm so excited! I've been a fan of hers for a long time so this is a full circle moment for me.
What do you most enjoy about touring? Are there any downsides?
I really love meeting people after the show. There are times when the internet doesn't feel real so those moments are so special to me! Are there any down sides? Erm… all I'll say is that I'm very particular about my alone time, so I'm gonna have to get creative on the tour bus (laughs).
---
Amelia Moore – i feel everything (Jimmy Kimmel Live!)
---
You recently made your late night television debut on Jimmy Kimmel Live! Tell us EVERYTHING!
Oh it was Crazy!! It was cool to have family and friends across the country turn on the tv and see me. I'm definitely looking forward to more television performances in the future.
You're set to release a special vinyl edition of "teaching a robot to love …in other ways" next month – what can you tell us about the revamped version of your debut project?
It's the total package. The whole EP and additional data, and all my live performances! This is something I've seen my fans asking me for for a while and I'm really proud of how the design came together.
What can fans expect to see from you next?
A lot more personality, and fun in my music… and a lot of music this year! I can't wait to show another part of who I am to everybody. Being heartbroken is out hunny, it's time to start a new era!
---
Let us know your thoughts on Amelia Moore over on Twitter @CelebMix now!